Despite the album Collections being his debut one, the Southwest German Sebastian Schaffer is not a "newbie" at all. He is looking back to more than a decade on stage. However, he decided to go solo and record his very own pop sound. The release of the album is at 13th October 2023.
Sebastian Schaffer – About The Artist
Sebastian Schaffer is an artist from Greater Trier. He is working as a musician as well as a producer. He used to be part of the band Dream Casino, which was active from 2010 to 2019 and did alternative progressive rock. They released two EPs.
Sebastian Schaffer – Collections – Track by Track
The nine track album lasts 31 minutes.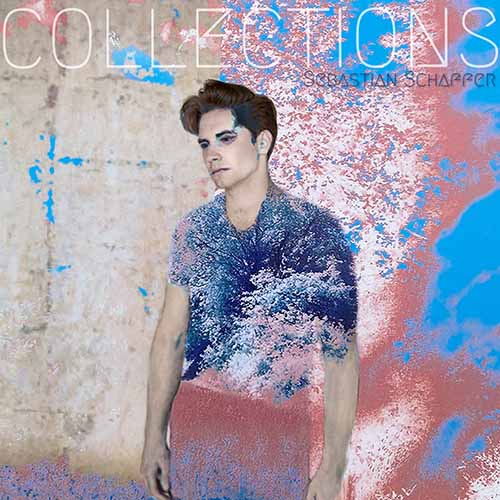 1. Silence
The opener Silence is already setting quite a strong direction for the whole album. Sebastian Schaffer and his voice is very present in this rather calm track. The melodic part is rather quiet synth pop with an indie touch. Almost a lounge music track.
2. About Ya
The first two songs of Collections are rather close and similar. However, About Ya works with more present rhythmic elements and also has some electronic distortion. The chorus sung with the very high voice of the artist stays in the mind of listener. The bridge is very melodic and shows another nice aspect of Schaffer's work.
3. Poets
With the gently strummed guitars, the third track Poets moves rather towards modern folk pop sounds and mainstream singer-songwriter pop. Thus, it is not that surprising that among all the single releases so far, this is one of the rather more successful listens.
4. Moon
If the main theme of Moon would be more powerful and energetic, the song would have been a lovely listen in the 1990's. However, Schaffer does a rather laid back style and groovy elements. The result is the cool, modern sound of this song. Thumbs up!
5. Touch Me
Touch Me presents a darker side of the German artist. The chorus does not surprise too much, but the stanzas have a nice sound. Some parts reminded even slightly reminded me of Depeche Mode.
6. Together
I could not absolutely verify that Collections is a debut album – but regardless of that, Together is the first new song of the album. Schaffer works out in that piano and strings ballad as well. This is a nice additional flavor to this set of nine songs. We could always be together if only we would try – there is hope for more love stories by this artist.
7. Stories
The 4:28 minute song Stories is the second new song of the album. Even though it is another slow and emotional song, the character of this one is very different. This story is more more sad and melancholic. But it is a good listen.
8. When You're Here
This one is a mixtures of indie-pop and folk elements. However, When You're Here does not leave a mark in your mind as strongly as other songs on this album do.
9. Answers
The closing song Answers starts rather slow and quiet, but then develops some stronger and louder sounds. Still, the vocal part of the song is in focus, but there are some nice, easy melodic parts in here as well.
Sebastian Schaffer – Collections – Spotify
Here is Collections on Spotify:
Sebastian Schaffer – Collections – My View
I enjoy listening to Collections. However, I also have to state that the album will definitely not make it to the very highest ratings. It is very nicely done, but not brilliant… And Schaffer gives us too much opportunity to dream away and stop listening to his music. Bad luck. Dare to be more demanding next time, please! And also: give us fewer already released tracks.
Favorite Song: Silence
German Pop Music in 2023
Here are all my postings related to Germany and pop music released in 2023:
Flyctory.com Floorball Postings
Here are all Floorball-related postings on Flyctory.com: