Since I have been registered at a promotion company, I receive quite frequent teasers and links to various types of albums. I have to admit that I did not know anything about Hamburg-based artist Marco Schmedtje, but at first, I felt to enjoy his (German) tunes, so that I decided to share the album with you. It is called 18 and will be released on 2nd October 2020.
Marco Schmedtje – About The Artist
Apart from the regular promo stuff, I had comparably hard times to find a good bio about Marco Schmedtje. Thereby, the artist is already in the end of his 40's and has played with a couple of more or less famous German bands. His solo music is majorly dominated by his guitar (often acoustic) and a strong voice. He is originally from Schleswig-Holstein, a German state North of Hamburg, to where he moved at the age of 19. His background is classic music, but he also founded a band called Vierwaender in the city. There are other bands like Zinoba, which he founded with the former Selig member Jan Plewka. He is also working as a producer and is a musician in theater productions. 18 is his third solo album, after he released Schöne Geister ("Beautiful Minds") in 2013 and a reminiscence to his old band Vierwaender in early 2020.
Marco Schmedtje – 18 – Track by Track
18 has twelve songs and lasts forty minutes.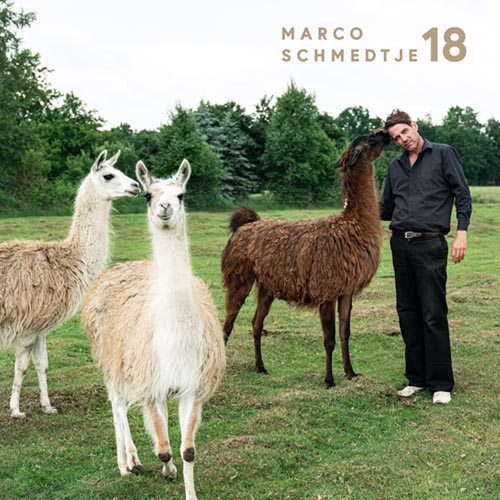 1. Tunnel aus Gold
Tunnel aus Gold ("Golden Tunnel") is a beautiful, soulful track, which especially impresses me with its beautiful atmosphere, caused by the background music. Soft and gentle,
2. Tag aus dem Glas
The second song ("Day out of glass") is connecting quite well to the first song of the album. Again, acoustic guitar and vocals are combined with atmospheric background tunes. Very gentle, dreamy atmosphere. tag aus dem Glas thereby feels a bit more emotional to me, has a touch of being soupy as well.
3. Falsches Lachen
Falsches Lachen ("Spurious laugh") adds a stronger rhythm, compared to the tracks before. However, the atmopshere is getting too emotional here. The song has too much of a German Schlager touch. That does not really fit to Marco Schemdtje, I feel.
4. Lass die Sonne scheinen
Lass die Sonne scheinen ("Let the sun shine") is even going further into the direction the track before has moved the album to. You may say that the track is emotional, intimate, close, romantic – I personally I feel it is just too much.
5. Weißt Du noch?
Weißt Du noch? ("Do you still remember?") is one of the favorite tracks of the album to me. The song is again emotional and deals with laugh, but the musical look back in time is cheeky, even has some childish elements. The song also also quite unique and has its own character.
6. Schönster Baum
If you are English speaking and have no / limited knowledge of the German language, Schönster Baum ("Nicest tree") may sound like Lass die Sonne scheinen to you. Most songs take their characteristic from the story only, the music is very close. The way the stories are put into the melodic structres strongly reminds me of the former German Schlager / NDW band Münchener Freiheit, by the way. They just made better and more versatile songs.
7. Halt mich wie den Stern
Even the more optimistic listener to 18 will likely lose hope that the album will significantly deviate from its monotonous style. Halt mich wie den Stern ("Hold me like the star") has a slightly different way of how the verses are presented (quicker, more like spoken words), but this does not add too much character.
8. Im Großen wie im Kleinen
You just cannot argue against that this eighth track has some own and unique sound. It is also a song which is not dealing with love in any way. That's the positive side. The song is boring and monotonous, the vocals feel flat here and there. Bad luck. Just not sufficient.
9. So weit weg
Again, it feels like the Marco Schmedtje is teasing a topic, an emotion, a style in one song and then developing it further in the following ones. So weit weg connects to the two songs before, especially to Halt mich wie den Stern. The song ("So far away") even has a stronger country music touch, one of the best tracks of the album.
10. So wie im Film
So wie im Film ("Like in the movie") has a nice musical dramatic structure – but overall, it feels too dissonant to me. Nevertheless, it leaves its mark in the collection of twelve songs. At least a song you do remember a bit longer.
11. Irgendwo
Regarding the lyrics, this sad love song ("Somewhere" – a track about unfortunate search for love) is maybe the best song of the whole album. The musical structure is focussed on the vocals, which are very present (like in most parts of the album). Nice.
12. Alles was ich denk
Alles was ich denk ("Everything I am thinking about") closes the album in a dark mood. Love and emotions – good or bad – are the key topic of the album, so this track feels like the suitable finish.
Marco Schmedtje – 18 – Spotify
Here is 18 on Spotify:
Marco Schmedtje – 18 – My View
As you may already spot from my comments, Marco Schmedtje did not convince me with that album. The songs on the album are too similar, the album feels boring, some songs are just too odd for me to enjoy listening at all. Very bad luck – as there are few tracks which show the potential of the artist, instrumentally and also regarding the stories / lyrics of the song. But the twelve songs of the 18 album are the basis for the review and not any discussions on how his sound could potentially be. 18 is definitely below average to me.
Flyctory.com in Hamburg
Here are postings related to the German city of Hamburg:
German Artist Music Reviews on Flyctory.com
Here are more Media Reviews of the German Artists: