I am a bit of jealous of Alexis Taylor. Not (just) because her Facebook and other social media accounts are much more successful than mine. The upcoming country music artist has published some travel vlogs – including countries like Guatemala. Looks cool. This one is about Taylor's music, of course. On 2nd July 2021, she released a new EP, Ain't No Quittin' You. A double negative – that's positive, ain't it? At least my first impression was really good – here are my detailed thoughts.
Alexis Taylor – About The Artist
Don't mix up Alexis Taylor with a British electronic artist. The artist in this Flyctory.com posting is doing country music (not electro pop), is Canadian (not British) and – last, but not least – is a lady in contrast to her namesake. She is from Huntsville in Ontario, North of Toronto. Interestingly, in the early years of her career, Taylor also toured some Scandinavian countries. Her debut single was the 2018 Blame The Whiskey. Her most successful song so far is likely Getaway, which has been released this year and is also part of this EP. Another major success was the the 2020 song Cool With That. Ain't No Quittin' You is in fact her debut EP, even though just very few of her postings and promotions clearly state that.
Alexis Taylor – Ain't No Quittin' You – Track by Track
The five track EP lasts 17 minutes.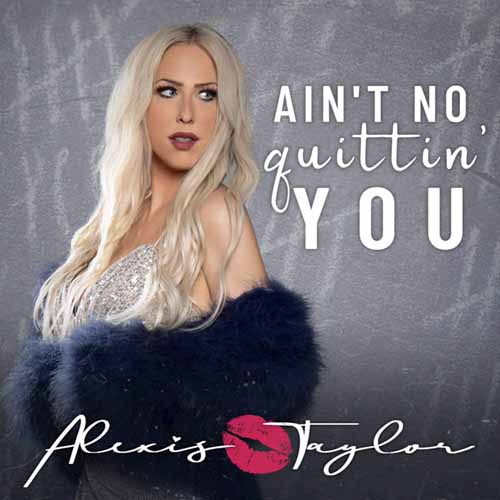 1. Say The Word
The EP starts with four songs, which are previously unreleased. Only the closing Getaway has been released already, as I stated in the introduction. The first song out of this collection of five is Say the Word, a lovely country ballad, which starts quite pop-ish. Nice song, great vocals.
2. Ain't No Quittin' You
After this comparably slow start, the second song is the title track. Rhythm, groove, power – Ain't No Quittin' You is very energetic and thus quite a contrasting vibe. Fun to listen to song with a very modern touch.
3. Don't Call Me
The steel guitars are howling and the percussion player has a rather easy day: Don't Call Me is again a ballad. The atmosphere of this one is a bit more n the traditional side – I favor it over Say the Word (but both are good songs).
4. Just in Case
I love when artists are doing the kind of music they love to do. A Nashville mainstream production would likely not allow a 4:50 minute song on a debut EP. Just in Case is another slow one. I absolutely enjoy to listen to Alexis Taylor's voice and I feel all three are good songs, but this selection of tracks takes away the opportunity to showcase your music in different styles. Risky choice, though.
5. Getaway
No risk, just fun on the closing track of Ain't No Quittin' You. There is a good reason why Getaway was Taylor's most popular one so far – it is simply a catching and good song. I would see it as a pop track with country influences, though. Nice finish!
Alexis Taylor – Ain't No Quittin' You – Spotify
Here is Alexis Taylor's EP on Spotify:
Alexis Taylor – Ain't No Quittin' You – My View
I did have fun listening to Alexis Taylor – that's one of the key reason why I favored her EP over other options. It was the first time I came in touch with her music – and I feel a bit of ashamed that there is no surprising track, some additional styles in it. Finally, her obvious talent keeps Ain't No Quittin' You a good EP – but there is no chance for these five track to reach the top ratings.
Media Reviews – Country Debut EPs
Here are my media reviews, which look into debut releases on country music (EPs only):
Hilton Top Pick Hotels
Here are all my hotel reviews of Hilton Hotels, which I assigned a Top Pick! rating: