All five albums of the 2010's of the US folk rock band Dawes made it to the US overall album charts, with placements between 36th and 64th. Thus, you definitely can saw that the combo is a quite present and established act in the national music scene. On 2nd October 2020, they will release their new album Good Luck With Whatever. Here is a review.
Dawes – About The Artist
Dawes is a folk rock band from the Los Angeles area. The band was founded by members of a former Malbu-based band, Simon Dawes, which even recorded one album and two EPs. The band members who transferred to Dawes were Taylor Goldsmith and Wyle Gelber, who are still part of the band. In addition to some departed Dawes members, the band today additionally is driven by Griffin Goldsmith and Lee Pardini. They released their debut  album North Hills in 2019 and already had quite some success with a 23rd spot in the US Heat Charts.
The following albums had quite good placements, especially in the US Rock and US Folk album charts. The 2015 All Your Favorite Bands and the 2016 We're all gonna die even lead the US Folk album charts. The latter album also featured the highest ranked song in the US AAA single charts, When The Tequila Runs Out. Good Luck with Forever will be the seventh Dawes album
Dawes – Good Luck With Whatever – Track by Track
Good Luck With Whatever is nine tracks and 40 minutes.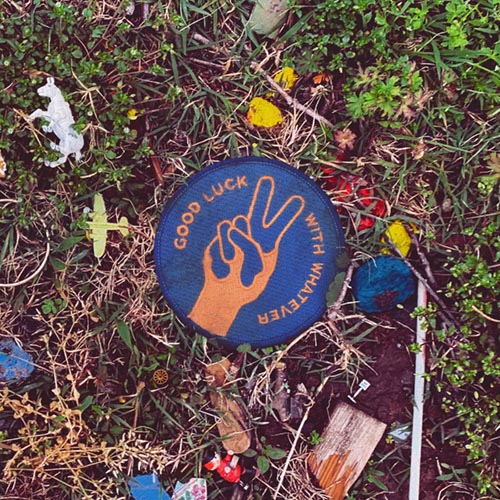 1. Still Feel Like a Kid
I just asked my folks not to pay my rent
But I still feel like a kid
I finally learned what NASDAQ meant
But I still feel like a kid
The very rocking starting track deals with the contrast between growing up and still feeling childish and young. Really nice starting song.
2. Good Luck With Whatever
Good luck with whatever
Whatever awaits
Whatever endeavors
I'm sure you'll do great
I'm cutting the tether
I'm clearing the air
Good luck with whatever
I really don't care
The title track of the album is a bit slower and deeper, but has a beautiful chorus. One of the best songs of the albums, definitely – once you listened to it, it will take a while until the chorus piano tunes get out of your head.
3. Between the Zero and the One
Between the Zero and the One is a lovely piano ballad with scattered powerful electric guitar sections. Dawes just do beautiful music in my point of view.
4. None of My Business
He grabbed me by the shirt while I was paying for my beer
And screamed "There you are, Balthazar! I knew I'd find you here!"
He hit me in the teeth and then he spit into my face
Took the keys to my Mercedes as he quickly left the place
Well if I were in his shoes maybe I woulda done the same
But I don't know who he was and Balthazar isn't my name
And it's really none of my business
It's really none of my business
It's really none of my business
I should be minding my own
The track is a bit more on the rock side again. It feels quite modern as well the way it is presented – but finally, this track majorly amazes me due to its beautiful storytelling. Lovely track with a lot of Rock'n'Roll in it.
5. St. Augustine at Night
If I called other songs on this album a ballad, the soft and gentle St. Augustine at Night is a die-hard super-romantic melody. Only the lyrics nd the vocals create a very intimate atmosphere, which just let's you calm down and listen. Amazing.
6. Who Do You Think You're Talking to?
Afte this quiet episode of the Good Luck with Whatever album, the album is rocking again. Who Do You Think You're Talking to? sometimes even feels angry. The result is a nice track, which I however is not as strong as other of the nine songs.
7. Didn't Fix Me
Didni't Fix Me beautifully describes situations which may look motivating and happy from an outside perspective, but finally turned out to be not as pleasing as expected. A 5:33 minute lovely story.
8. Free As We Wanna Be
After the lovely and catching story of Didn't Fix Me, it feels like a tough mission for Free As We Wanna Be to that track. It is a good song, indeed – but the predecessor is just better.
9. Me Especially
Me Especially is the longest of all songs: the final one of the album is 5:44 minutes. Back to the very slow and intimate tunes again – however, there is some more power towards the end, when the electric guitars play a stronger role. Nice one.
Dawes – Good Luck With Whatever – Spotify
Here is Good Luck With Whatever on the streaming platform:
Dawes – Good Luck With Whatever – My View
Good Luck With Whatever is definitely a nice album. Nice compositions, which are majorly strong on the lyric and vocal part. Here and then, I am wishing for some more power, though – the band feels to be really good if they do the electric guitars slightly harder. This finally avoids a top ranking.
Folk Music
Here are all Flyctory.com postings related to Folk Music:
Flyctory.com in Greater Los Angeles
Here are all Flyctory.com postings related to Greater Los Angeles: