Some very special experience: while US country artists typically make me struggle by releasing (almost) all tracks of an EP or album individually before they go for the long-player, LANCO chose the very different route. Neither of the five songs of Honky-Tonk Hippies has been available before the EP release on 2nd July 2021. Only fan club members could listen to the title track. I have the full view now and tell you my thoughts.
LANCO – About The Artists
LANCO is an abbreviation for Lancaster and Company. The lead of the band and lead singer is Brandon Lancaster. The other band members are Chandler Baldwin (bass), Jared Hampton (key), Eric Steedly (guitars) and Tripp Howell (drums). They are doing modern country songs. The band members founded LANCO in 2015. In the following year, they released their first EP. The title already tells that these guys may be special – they just named it Extended Play. The song Greatest Love Story boosted the career of LANCO. The song topped the US country charts and went double platinum there. In the Canadian Country Charts, the track went second place. The following single Born to Love You was another platinum single, the album Hallelujah Nights went to the top of the US Album Country Charts.
LANCO – Honky-Tonk Hippies – Track by Track
The five song album lasts 17 minutes.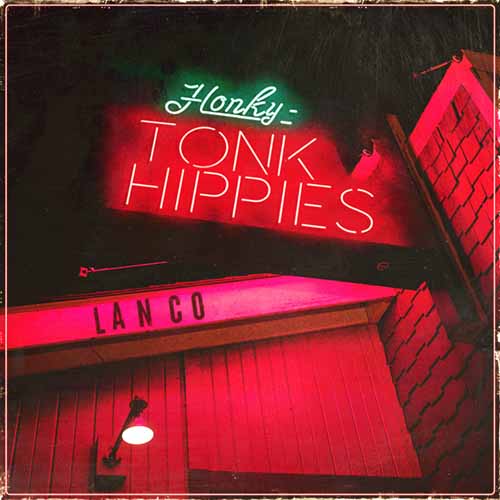 1. Honky-Tonk Hippies
I was born on Southern ground
Move to Nashville, Tennessee
Neon lights and broken hearts
Gave me all my memories
LANCO starts with title track, which is a wonderful praise of country music, partying – and honky-tonks. A song which is made to dance and sing-a-long with the band.
2. Wild Again
A rather slow song, but Wild Again has a really nice groove. A nice track if you are already longing for the slower ones at a party – but still don't want to have the too romantic ones. A song which is made for festival nights.
3. Moonlight Mingle
Moonlight Mingle is increasing the speed of the EP significantly. The song is a great country rock'n'roller, which has a lot of power during the whole three minutes. Fun guaranteed!
4. I Need a Beer
Okay, this fourth track comes with a clear message in its title already – but just in case you don't get it, that's the chorus:
I need a beer and a "Cheers"
And a place where I can drink it
I need a country song,
Kind of sing-a-long
And a state where I can sing it
So raise it up and throw it down
If you're thinking what I'm thinking
I need a beer
And a place to drink it
This one has the potential to be on any future country music party. Sound of Nashville, bring these guys to Germany. We deserve this country party!
5. Price You Pay
The farewell song from the album is very different again. Acoustic guitar sounds, a slow sing-a-long song, rather made for the campfire than for a country music party in a Nashville bar.
LANCO – Honky-Tonk Hippies – Spotify
Here are the Honky-Tonk Hippies on Spotify:
LANCO – Honky-Tonk Hippies – My View
I typically love the music done by LANCO – and also this time, they just do not disappoint me. You might always need some good vibes, but this EP is really perfect for partying. However, it also has its rather quiet moments. Great release, for sure.
Country EPs Reviews 2021
Here are all Media Reviews of EPs with country music I did in 2021:
Airports on Flyctory.com
Here are all other airport-related postings: