Endlevel are a German band, who mix thrash and death metal elements. On 24th February 2023, they released a new album, Weekend War. I had a listen beforehand already – here are my thoughts about it.
Endlevel – About The Artists
Endlevel are active since 2011. They are coming from Albstadt, a city South of Stuttgart. The quintet consists of five members. They are Jonas Frey (drums), Ken Ratheiser, Robin Willkommen (both guitars), Kai Bez (bass) and singer Robin Richard. After their debut album Time To Kill released in 2017, Weekend War is the band's sophomore album.
Endlevel – Weekend War – Track by Track
The eleven song album lasts 35 minutes.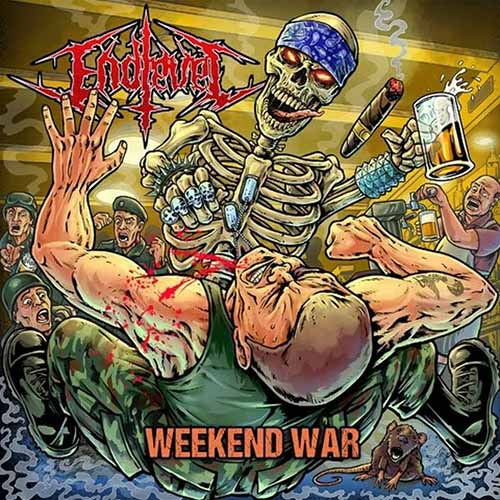 1. Intro
The first 94 seconds of the album are taken by the marching intro. There are even some violin-alike sounds in this part of the Weekend War – let's see if it stays like this…
2. Unleash War
The time of classical, instrumental sounds is over… After at most one second of Unleash War. Robin Richard is growling and shouting into the microphone and drummer Jonas Frey has a really busy day, even though the machine gun, which obviously has been used to form the rhythm is a bit of slow. The guitar section in the middle of the song is a really nice catch as well. Good one.
3. Drink Beer
Drink Beer, drink beer, drink beer – it is hard to imagine that this song does not find a nice spot in the hearts of the Endlevel fans.The thrash metal drinking song is marching forward with full force – you just cannot decline the order Richard and Ratheiser shout into the microphone. Cheers to the harder metalheads out there – this song is for you, indeed.
4. Headache Terror
If you feel that ten songs (which already includes the intro) is not enough, you record the Headache Terror, which is finally nothing but a series of guitar riffs. Maybe you just need that short (36 seconds) musical transition from Drink Beer to the Hangover from Hell.
5. Hangover from Hell
The Southern German's free their death metal heart to the fullest extent – I feel that this is a quite suitable essay to this fifth song, which has already been a single release. Head banging is madatory, regardless if you still fight against the Headache Terror.
6. Nuclear Inferno
Sorry guys – YouTube believes that this music video is too hard for the family-friendly contents of this block… You have to watch it on the platform itself. You can easily growl with the band. The full force song has a rather quiet bridge part as well, so that you can enjoy the song with a relaxing period in the middle.
7. Possessed by Trinity
Possessed by Trinity is a bit slower than its predecessor. However, there are more growling and other weird sounds, which make the song feel rather "metal-ish" as well. Nice catching listen.
8. Slaves to Instinct
In Slaves to Instict, Endlevel does Endlevel music. The song does not anything new to me, but it is based on a really solid style, so that this track is definitely not a weak spot on the album.
9. Division 1516
Jonas Frey can play it a bit more relaxed at the beginning of this some three and a half minute track. However, thereafter, the drummer has to move his hands and feet really quickly to drive his band mates. Death metal in the style of a high speed train.
10. Panzerheer 666
Even though the song is called Panzerheer Six-Six-Six, the song is majorly performed in German lyrics. I feel that this works out surprisingly well. The song is thus one of my favorites.
11. Beer
One growling, the sound of opening a beer bottle and a lot of laughter. The album closes with this kind of track
Endlevel – Weekend War – Spotify
Here is the album on Spotify:
Endlevel – Weekend War – My View
I like a lot about Weekend War – but overall, I am not absolutely convinced about it. Tracks like the second last one, Panzerheer 666, show the potential of the band – other songs are lacking that special touch. And, finally, you in fact just receive eight songs. Solid Death metal album, but Endlevel has definitely not reached their highest level yet.
Reviews – German Hard Rock & Heavy Metal
Here are all media reviews related to Hard Rock & Heavy Metal and Germany:
Flyctory.com and Stuttgart