Composers, writers, producers – while the artists typically get a lot of love and fame for their recordings, only few people behind the songs really become stars for the wider audience. Peter Vale is a composer, who wrote a lot of amazing global hits. In his album Deep River, he is also sharing four new songs, but majorly releases his original versifons of songs you all know. No tribute album, just as original as you can get it – I just felt I have to share this work with you. Release date has been 17th September 2021.
Peter Vale – About The Artist
Honestly, apart from numerous songs the English Peter Vale wrote, it was really tough to find bio about him. His most successful time was likely when he partnered with Mick Leeson and wrote some really huge pop and song tracks together with him. Vale is also a great soul singer – which you can also see in Deep River, especially in his four "originals" (at least this is what the press kit says, I feel that there are five of them… Strange…).
Peter Vale – Deep River – Track by Track
The seventeen song album lasts 60 minutes.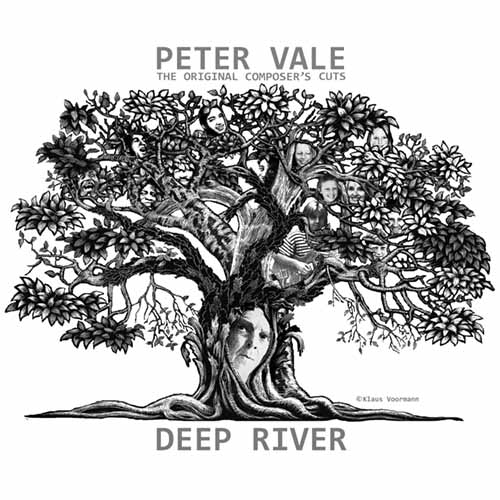 1. Would I Lie To You
If you don't know Peter Vale (like I did), you definitely know this song (like I did) and think of Charles & Eddie 1992 (like I… You know 🙂 ). Already this opener illustrates so well why Deep River is a very special album. The song feels familiar, you can sing along from the very moment, you smile, because the track gave you memories (good or bad). But there is still some difference. That's how the world hit started. Some of you might have laughed about Charles & Eddie – but I guess you would not do so about Peter Vale.
2. Drop Dead Beautiful
Just some two years later, Six Was Nine released Drop Dead Beautiful. I just love the wider, rougher, somehow more handmade arrangement and instrumentation in this version of the song. Cool!
3. Making Love Without You
After being cheered up with two 1990's classics of my teenage years, Making Love WIthout You is the first song, which did not have commercial success yet. The track is a pop-soul song, which beautifully connects to Drop Dead Beautiful. Feels a bit strange to listen to a song you don't know yet – but it is a good one.
4. Now I Know What Made Otis Blue
Now I Know What Made Otis Blue was a classic for Paul Young in 1993. The chorus is such a blast. The Peter Vale recording feels a bit more quiet and slower, though. This increases the R&B touch of the song. I feel it suits perfectly.
5. Love Will Keep Us Alive
By the bands who performed the most famous versions of the songs on Deep River, you can also see how talented – or genius – Peter Vale is as a composer. The fifth track was interpreted by The Eagles in the mid-1990's. Peter Vale turns it into a song with a lot of soul and a touch of funk.
6. Until The World Runs Out Of Love
This is the first song Vale wrote for Deep River – and he also used it as a single pre-release. Especially in the verses, Vale strongly reminds me in his vocal performance to Rod Steward. Until The World Runs Out Of Loveis a beautiful, slow song.
7. Roots To Grow
So far, all of the songs previously released were 1990's recordings. With Roots To Grow, we head into 2009, when this track was a hit for Swiss Stefanie Heinzmann. In Deep River, I am fascinated by the funk and soul touch of the original recording, including a very present and groovy rhythm.
8. Take Me Home Tonight (2021 Pop Soul Remake)
One reason why I might be confused with the counting of new songs in the press kit is likely Take Me Home Tonight. You know this song likely in the 1986 Eddie Money version. Deep River features this song twice. This first version on the album feels a bit more fresh, more pop-ish. Nice.
9. In A Heartbeat
I first thought of an Amy Winehouse song after a few notes – but in fact, In A Heartbeat is a cool soul-pop track. Strong vibes, great character. Really good song.
10. If There's Any Justice
Amazing how many songs we know are in fact written by Peter Vale. If There's Any Justice was a big one for Lemar in 2004. The song feels more accentuted, but also a bit more pop-ish than the song, which was Top 10 in Belgium, Hungary and the UK. Really nice.
11. Words Into Action
Back to the 1980's – Words Into Action was a single for Jermaine Jackson in 1987. I have a slight preference for the Jackson version here, but both are really nice classics.
12. You're The Only Woman I Need
I was a bit confused about this song – as first of all I did not know it and secondly it hasn't been a big hit for The Commodores when they released in the late 1980's. Nice version and good song, but still somehow the question mark recording on this album.
13. So Good
Two artists turned So Good into a well-reviewed single, Mica Paris (1988) and Al Jarreau (1989). Naturally, this recording feels a bit more like the latter. Nice soul ballad. Grab your darling and snuggle for 4:16 minutes.
14. Tears And Water
Tears And Water is a melancholic, deep song, which Peter Vale wrote earlier, but could not find an artist to publish it. The song feel to have a lot of potential for a modern song, though.
15. I'll Be There
The fifteenth track is classic 1990's soul pop. Ray Charles had this song, but again, the track has not been released as a single. Very rhythmic, but if you compare it to some of the global hits on this album, it is not competitive.
16. Take Me Home Tonight (2021 Jeo Pop Remix)
Take Me Home Tonight, the second. The sound of this 1980's classic is much more energetic, much more powerful than the first version of it on this album. The 2021 Jeo Pop Remix also has a very modern touch. Cool.
17. You Make Me Feel
Noooo, this is not 1978, this is not a song by Sylvester and nobody feels mighty real in here. The closing track of the album is a Peter Vale original. Very speedy, funky and a lot of fun. You just have to dance to this one. Love it!
Peter Vale – Deep River – Spotify
Here is Deep River on Spotify:
Peter Vale – Deep River – My View
I feel a bit of sad about some songs towards the end of the album. If Vale would have taken out two, three of the song there, the album would even be much more of a musical memorial to his great works in the past – and his still great songs in present times. More songs does not always mean better quality – a shorter album would have likely received a high rating.
Aviation on Flyctory.com
Here are all postings about Airports & Airlines:
Flyctory.com Sports Coverage
Here are all different postings about all kinds of sports: