In 2021, I introduced you to Alex Diehl the first time. That year, he released the amazing EP Die Songs, die ich nie schreiben wollte, which finally even placed second in my Best EPs of the Year 2021. The more I was happy to be able to listen to his new album, Das ist keine Übung ("That's no practice"), which Diehl will release on 6th October 2023. Here is my review.
Alex Diehl – About The Artist
Alex Diehl was born on 26th November 1986 in Traunstein in the Berchtesgadener Land region of Germany. He debuted in 2014 with the Ein Leben lang album. His song Nur ein Lied, which reflected the 2015 Paris terrorist attacks, became very popular and barely missed to represent Germany at the Eurovision Song Contest 2016. You can find more bio about im in the EP review linked above.
Alex Diehl – Das ist keine Übung – Track by Track
The ten song album lasts 34 minutes.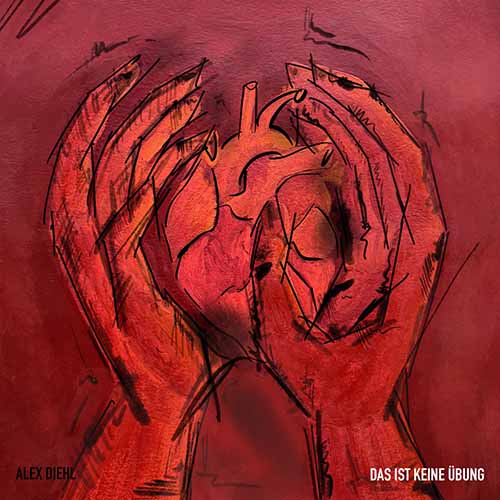 1. Zündet alle Feuer
Zündet alle Feuer has been the feature single of the album. The song has a very groovy style with a touch of hip hop. The chorus sounds very present and massive. Alex Diehl is doing great storytelling in here – this is generally one of the trademarks of his songs.
2. Nachtwind
Nachtwind ("Night Wind") is a slow very emotional song. The chorus comes with a very intense background vocal part, which is quite a contrast to the quiet moment the song has as well. Very intense, impressive listen.
3. Das Ende
The third song is about "The End". The song is a beautiful, melancholic one, which is on the one hand an amazing love song, but also expressing fear about climate warning and the impact on life on Earth. Wenn die Polkappen schmelzen und das Meer sich erhebt ist das Letzte was ich sage, "Babe, ich hab Dich geliebt" – "When the polar ice caps are melting and the oceans are rising is "Babe I have loved you" the last thing I am saying". Ain't that amazing songwriting?
4. Eine Flasche Glück
Alex Diehl just does not need much more than his incredible voice and an acoustic guitar at the beginning of this track. His masterful songwriting is precisely describing the emotions. Eine Flasche Glück ("A bottle of luck") is about suffering from a parent, who is abusing alcohol. Instead of celebrating his 18th birthday, he needs to call the ambulance, the neighbors are chatting about the family. Hast Du 'nen Plan, was Du mir antust? – "Do you have an idea what you are doing to me" is one of the key questions of the song. Wow, this one is amazing and incredibly intense. There is also some more in
5. Monolith
After this amazing listen, Monolith does sound like an easy folk-pop song. However, key phrases like Das Leben hat mich hart gemacht ("Life has made me hard") references the childhood memories. The song also deals about needing psychotherapy and other methods fighting back to a normal life. Nonetheless, Doch aufgeben werd' ich nie ("But I will never give up") and Doch ich bin ein Monolith, der alles übersteht ("But I am a monolith, which survives everything") are positive messages in this song.
6. Mein Revier
A part of the fight is also Mein Revier, "My Territory". The thumbing backing instruments and the screaming vocals are the perfect match to another dramatic, very intimate and personal message.
7. Küss Mich
The seventh song is about love. Alex Diehl asks to "Kiss Me" in this beautiful ballad. Mach diesen Augenblick perfekt – "Turn this moment into something perfect". Another lovely write on Das ist keine Übung.
8. Souvenir
In Souvenir Alex Diehl promises to stay with his love. Again, the unique voice of the Southern German artist creates such an intense feeling. This time, however, the instrumental bridge is a blast as well.
9. Es tut nicht mehr weh
The second last track is a slow scary-beautiful piano song. Similar to the predecessor, the song develops towards an intense finale. Not as catching as some of the songs before, but indeed still a great listen.
10. Auf Wiedersehen (Hamburg Live Session)
The songs of this album feel so intimate, so direct, so personal, that this live recording does not really feel to be special. It is just as touching as the songs before. However, it is somehow making me look forward to his shows at the beginning of 2024 (see below). Thus, the closing song perfectly fulfils its mission.
Alex Diehl – Das ist keine Übung – Spotify
Here is the album on Spotify:
Alex Diehl – Das ist keine Übung – My View
Wow. Das ist keine Übung is one of the most personal and intimate albums I have been listening to in recent past. On top of excellent songwriting, there is the amazing voice of Alex Diehl, which leads to an amazing experience. After the rather pop-ish opener, there are a lot of touching stories. Indeed, Das ist keine Übung – that's real life. In a straight way. Must-listen (if you understand German)..
Alex Diehl – Das ist Keine Übung Tour 2024
In early 2024, Alex Diehl will present his songs live on stage all over Germany. Here are the tour dates:
| | | |
| --- | --- | --- |
| Fr 26.01.2024 | Schwarzenberg – Hotel Ratskeller | |
| Sa 27.01.2024 | Hanover – Lux Club Linden | |
| Th 01.02.2024 | Münster – Sputnikhalle | |
| Fr 02.02.2024 | Cologne – Blue Shell | |
| Sa 03.02.2024 | Oberhausen – Kulttempel | |
| Sa 02.03.2024 | Bremen – KITO Altes Packhaus Vegesack | |
| Fr 08.03.2024 | Munich – Backstage | |
| Sa 09.03.2024 | Stuttgart – Im Wizemann | |
| Sa 23.03.2024 | Nuremberg – Gutmann am Dutzendteich | |
Music – German Artists 2023
Here are all my Music & Media postings published in 2023 related to German artists:
Flyctory in Salzburg & Berchtesgadener Land
All my postings related to the German – Austrian region of Salzburg & Berchtesgadener Land: