After I featured Marie Reim's debut album 14 Phasen in June 2020, I was really curious how her music has evolved during the period of some two years. On 5th August 2022, the German singer released her second long-play, Bist Du dafür bereit?. The title translates to "Are you ready for that?". Here is my review.
Marie Reim – About The Artist
Marie Reim is a 2000-born schlager artist from Cologne in Germany. Her parents, Michelle and Matthias Reim, are both very famous artists in that genre. I gave more information about Marie in the review of her debut.
Marie Reim – Bist Du dafür bereit? – Track by Track
The fourteen song album lasts 45 minutes.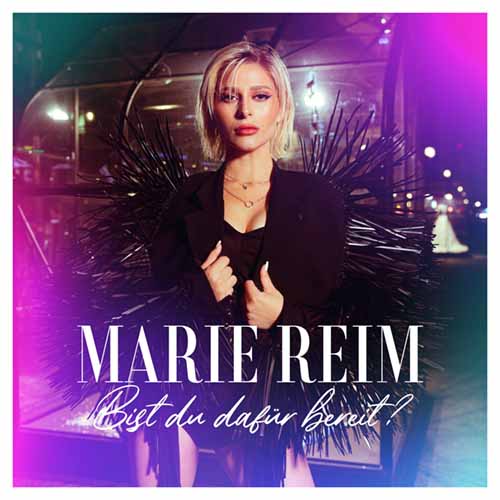 1. Im Rausch der Gefühle
Lag's an dem einen Glas zu viel – oder nur an Dir? Marie Reim opens with a song, which perfectly links to her debut album. She is questioning whether "Has it been due to a glass of alcohol too much – our just because you?". Emotional struggle a s a stereotypical schlager topic – the song has power and energy, but also feels very straight and predictable.
2. Ich bin so verliebt
The second song's title translates to "I am that much in love". The first notes with guitar riffs could also be an opening of a song by her father. Finally, the song is leaning towards rhythmic electro-pop. Bad luck, I would have loved to listen to more of the rocking side of Marie Reim in here.
3. Sie rief mich schon an
The song opens with a fatal call. Marie Reim is calling her lover – but there is a female voice on the other side of the line. Sie rief mich schon an ("She already called me") is a song about lies and fooling. The third song is the first one which leaves me with an unconditional smile.
Es ist vorbei, ich weiß Bescheid,
Sie rief mich an und hat mir alles erzählt.
Jetzt tut es Dir leid,
Verschwende nicht meine Zeit,
Du sagst es ist nicht so wie es scheint.
Verkaufst Du mich für dumm?
Glaubst Du, ich glaub Dir das?
Spar Dir Deine Lügen,
Sie rief mich schon an.
("It it over, I know it,
She called me and told me everything.
Now you feel bad for it,
Don't waste my time.
You say it is not like it is looking alike.
Du you feel I am dumb?
Do you think I believe in that?
Don't waste your breathe (literally: your lies),
She already called me")
4. Das mach ich ohne dich
The fourth song has been one out of four tracks, which have been released before the album. The verses don't feel too special, but the chorus of Das mach ich ohne Dich ("I do that without you") is a nice catch. The topic is another breakup song. The credits of the album mostly state Marie as composer and her father as one of the lyrics credits. I feel sad about all the unlucky love experience this young and fascinating artist already feels to have suffered from. At least this leads to some really nice listens.
5. Auf dem Weg ins Paradies
Auf dem Weg ins Paradies ("On the way to paradies") is another featured single. A song about a love affair. Marie sounds a bit like her mother in here – which is actually not bad at all.
6. Alle guten Dinge sind drei
I feel a bit bad while listening to this. Most of my favorite songs of Bist Du dafür bereit? have not yet picked as a single release. The same applies to this track opens like a 1980's synth pop song, but then more and more establishes as a very rhythmic and present dance schlager track.
7. Ich hab dich durchschaut
Nice melody, good rhythm. The seventh song is again rather predictable and feels like schlager listen already performed by some other artists before. In fact, it is an original – straight and without any special ingredients. Nonetheless, it is a nice listen.
8. Zum Teufel mit der Liebe
Zum Teufel mit der Liebe translates to "To Hell with the love". The verse is so rocking, so dark. I love Marie Reim's sound here. But then, she just does not dare keeping up that style. The chorus feels too schlager-pop compared to nice style of the verses. I like the chorus as such, but I feel that it just does not fit to the the remaining song.
9. Bist du dafür bereit?
I would really love if the album had more songs like the title track. Yeah, the song is predominantly a schlager-pop with electronic elements. But this ninth one has a nice level of energy, which is in fact kept for the whole duration of 3:14 minutes. Nice one.
10. Heute Nacht noch nicht
Ich verführe nur DIch – aber heute heute nacht, heute nacht noch nicht. The tenth songs comes with a beginning love, a lot of emotion and erotic feelings. However, there is also some conservative approach in this song. The verses translate to "I am just seducing you, but not yet during this night". Good one.
11. Vier Hände zwei Herzen (feat. Michelle)
Whenever the Reim family are in need for a duet partner, they have a lot of option. While Marie's father Matthias supported her half brother Julian for one song in his In meinem Kopf debut album, Marie is able to record this song with her mother Michelle. Great work, I definitely want more of these two artists working together. Will there be a Julian and Marie song one day as well?
12. Zum ersten Mal
After all the rhythmic, schlager-pop-alike listens, Marie Reim's second long-play presents this ballad. After a short time of being together, she is already thinking about having kids, a dog. Zum ersten Mal ist es schöner als im Film – "For the first time, it is nicer than in the movies". To me, there are some too many expectations for a short being of being together. Bad luck, the melody and arrangement is lovely.
13. Durch den Regen
Have the producers somehow felt ashamed for the ballads and slow tracks of the album? Durch den Regen ("Through the rain") is more rhythmic than Zum ersten Mal, but the song is overall also having the style of a ballad. Why are these songs so close towards the closing track?
14. Adieu
Adieu means bye-bye – and what could be a better last song title than this one? The song is one of the weakest spots of the album, unfortunately.
Marie Reim – Bist Du dafür bereit? – Spotify
Here is the album on Spotify:
Marie Reim – Bist Du dafür bereit? – My View
I do believe in Marie Reim – and I really like her as an artists. But after an very average review of 14 Phasen, her second major release does not do significantly better this time. Bist Du dafür bereit? feels to me as if she and her team wants to be on spot – which finally leads to a rather monotonous listen. There are some exceptions like the two ballads, which are right at the end of the album. And there are just two topics: happy love and unlucky love. Dare to develop your own profile, Marie Reim. This one is not the step forward you needed.
German Schlager in 2022
Here are all my postings related to German schlager published in 2022:
Hotel Reviews – Spain
Here are all my Hotel & Accommodation reviews related to Spain: