You just cannot deny that Brett Eldredge is caring about and loving his European fans. He was one of the first major country music acts who made it over the Atlantic Ocean after the Covid-19 restrictions have been lifted. This is also reflected in his presence on Flyctory.com: I already reviewed two of his albums – in addition, he is featured in a couple of concert reviews and postings. On 17th June 2022, he released a new album, Songs About You. Needless to say that I had to have a listen to this one.
Brett Eldredge – About The Artist
You will find a lot of information about Brett Eldredge on Flyctory.com already. For example, I gave some bio in the posting about his Cologne show in January 2020, which he had with Lauren Jenkins. I also acted some facts in my Sunday Drive review.
Brett Eldredge – Songs About You – Track by Track
The twelve song album lasts 37 minutes.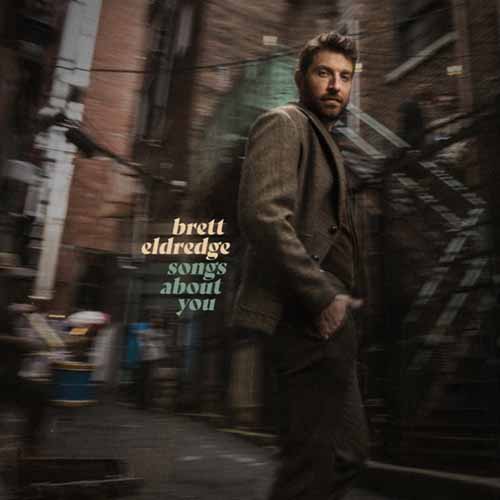 1. Can't Keep Up
The first sounds you listen to on Songs About You are… brass fanfares, which are supported by rhythmic clapping rhythms. Can't Keep Up is swing and big band track. Very uplifting track, which also illustrates: Brett Eldredge nowadays is much more than "just" a modern country music artist. Later, the opener even has a touch of jazz and gospel to me.
2. Songs About You
I was walkin' in Chicago by a Wrigleyville bar
Caught a scent of your perfume when I heard "Dancing In The Dark"
Now I'm just tryna get through
These songs about you
The title track is on the second position of the album. Eldredge is back to his soft gentleman country sound. A really precise breakup song, which beautifully describes the trouble between good and hurting memories – Now I'm just trying to get through // These songs about you. The album starts in a promising way.
3. I Feel Fine
Three songs, three very different textures: I Feel Fine is a slow, a bit of dark-ish song with a strong touch of soul. The song is very condensed and just does not need too many elements backing Eldredge's vocals. Great listen with a touching guitar solo.
4. What Else Ya Got
The word "touching" is a great link to the fourth one, What Else Ya Got. Again, Eldredge uses just what it needs to tell the message of this song. A lovely piano ballad, which comes with some guitar support in the second half.
So take my soul and break it down
Make my heart feel like it's found
My worries fade in your honest eyes
And I got a lot of time
So what else you got in mind?
5. Hideaway
This 2:37 minute song is rather short, but I feel it is really intense and impressive. I love the way Brett Eldredge is dreaming of his Hideaway condo with the guitars strumming in the background. Nice song, which is also a treat for his traditional country listeners.
6. Get Out Of My House
So get out of my house // Take your heart with you – Brett Eldredge is setting another clear message in this song. Again, breaking up is in focus of the lyrics – this time, the song is much more angry and energetic. Good listen.
7. Home Sweet Love
You've been lookin' for a home sweet love
And I've been lookin' for you
Love is represented in bad times and good times in this album. This one is a love song, indeed. I am sure that Brett Eldredge fans will love that track, as it beautifully combines a country music foundation with Eldredge's signature mature sound. Again, I feel a touch of soul music in here. I join the army of fans who love it.
8. Want That Back
Quite a lot of songs of the album have already been leaked… released. This is one of them. Another one in which Brett Eldredge is exceptional in describing emotions and putting them into the right musical setting. The song sounds so simple, but also so magical. A lovely song which wishes to turn back time… at least for some little moments.
9. Wait Up For Me
And when I get my hands on you
Do everything you want me to
You won't even have to spеak
Don't go to sleep
Oh damn, this album is getting really emotional. Nonetheless, it is not kitsch. You just can relate to the lyrics too well. One of the romantic highlights of the album.
10. Where Do I Sign
Baby, you're perfect, you don't need fixin'
You need a real man to hold you and listen
You can be you, I'll just be me
We'll come together whenever you need
I'll give you space, but I'll cross your mind
Pour on the heat whenever it's time
Oh, if you're lookin' for someone to put it all on the line
Tell me, baby, where do I sign?
The song is like a mashup of the whole album. Even though it works with brass again and touches swing sounds, there is still a country music vibe in it. The lyrics are beautiful. My favorite song of the album.
11. Holy Water
Holy Water is the last song, which is already known to the Brett Eldredge fans. A track which is written straight for your heart. Piano country with gospel qualities, which creates a lot of energy towards the end.
12. Where The Light Meets The Sea
This three minute closer is going for a very intimate, quiet sound. I feel that is the most suitable way to say farewell to the wonderful sound of Songs About You. The song is another beauty.
Brett Eldredge – Songs About You – Spotify
Here is Songs About You on Spotify:
Brett Eldredge – Songs About You – My View
When I thought about my sum-up about Songs About You, I thought about a friend from the German country music scene. He is doing short statements. Likely, he would say "It's a great one". And somehow, that's enough to say about this release. If you like Brett Eldredge's gentleman style to perform country music and maybe also enjoy to explore some other genres, you have to listen to this one. It is just too good. Full stop. And Top Pick!, of course.
Brett Eldredge on Flyctory.com
Here are all my postings related to Brett Eldredge:
(Greater) Orlando – Postings
Orlando is much more than Disney – here are all postings about the Entertainment Wonderland: