Miley Cyrus is simply a music superstar and talented in multiple genres. Thus, new Miley Cyrus albums are always exciting and surprising. On 27th November 2020, she released her latest album, Plastic Hearts. I have of course been very curious about it. Here is my review.
Miley Cyrus – About The Artist
Miley Cyrus' civil name is Destiny Hope Cyrus. She was born in Franklin, Tennessee, right South of Nashville, on 23rd November 1992. Most country listeners know Cyrus' famous father, Billy Ray – but also her mother Tish Cyrus is a big name in the US entertainment industry as actress and producer. Her godmother is Dolly Parton. Her first steps in the entertainment industry was a minor acting role in the TV series Doc. Her breakthrough was the role as Hannah Montana on Disney Channel. The first episode was shown in US TV in March 2006. About half a year later, Cyrus released her first album as Hannah Montana. The album topped the US album charts, but was also close to Top 10 in Austria, Canada and Norway. There are five Hannah Montana albums until 2006 and 2010, three of them topped the US charts.
Cyrus in parallel recorded music as Miley Cyrus. Her Miley Cyrus debut Meet Miley Cyrus was released in June 2007 and also topped the US charts. There were two additional albums until 2010, so that she overall released eight albums between 2006 and 2010. The album thereafter, Bangerz (2013) was likely her most successful one. Among many other merits, it became three time platinum in the US and included the five time platinum song Wrecking Ball. Plastic Hearts is Miley Cyrus' seventh album under that name.
Miley Cyrus – Plastic Hearts – Track by Track
Plastic Hearts contains 15 tracks and lasts 50 minutes.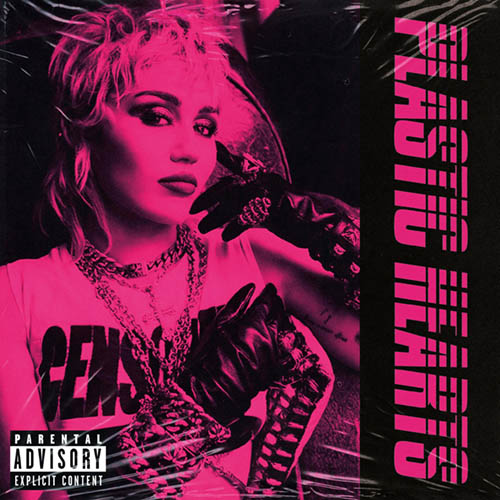 1. WTF Do I Know
What the fuck do I know? I'm alone
'Cause I couldn't be somebody's hero
You want an apology? Not from me
I had to leave you in your own misery
So tell me, baby, am I wrong that I moved on?
And I, and I don't even miss you
Thought that it'd be you until I die
But I let go, what the fuck do I know?
Plastic Hearts starts with a lot of power – a pop track with some strong guitars in the chorus like a rock track. The song already shows why Cyrus' music is attracting so many people – it is very versatile, even within one song.
2. Plastic Hearts
The title track is second on the album. The song is more pop-alike than the first track, a nice dance with a slight summer touch.
3. Angels Like You
I would describe Angels Like You as a beautiful ballad. Classic string instrumentation in the background, but Cyrus intense and a bit of raspy voice gives the track a certain rock feeling to me as well. The lyrics contain multiple references to her former girlfriend, Kaitlynn Carter.
4. Prisoner (feat. Dua Lipa)
If you pair up with Dua Lipa (here is my view of her Future Nostalgia), you are a big one in the business. The song, which has been selected as one of the singles, is a rhythmic pop track – I have to say that I feel that it is the weakest song of the first four – rather a matter of taste than lacking musical quality.
5. Gimme What I Want
Gimme What I Want is definitely one for the dancefloor. Electric sounds in the background, nice groove – the girls in the club don't need to move their high heels too quickly with that song, but they will have a lot of fun with it.
6. Night Crawling (feat. Billy Idol)
Ain't that cool? Two songs after Plastic Hearts featured a track with Dua Lipa, Cyrus is joined by Billy Idol. The song is rather a dance-pop one again, but it's got its guitar parts – and when the London-origin music legend finally starts singing, it is just a magical combination.
7. Midnight Sky
Midnight Sky has been the first single release of Plastic Hearts. A powerful dance pop one.
8. High
Sometimes I get a little too hurt
Got my mind goin' places it ain't wanna go
Sometimes I get a little too low
And I can't see myself through the fire and smoke
And you, like a neon light
Shinin' through a door that I can't keep closed
And you, like a rolling stone
Always buildin' cities on the hearts that you broke
And in my head, I did my very best saying goodbye, goodbye
And I don't miss you but I think of you and don't know why
I still feel high
Miley's voice and an acoustic guitar at the beginning – High is just magical and has a touch of country, a touch of an intimate soft rocker. After a couple of rather clubbing-oriented songs, this is such a beautifully done contrast.
9. Hate Me
I wonder what would happen if I die
I hope all of my friends get drunk and high
Would it be too hard to say goodbye?
I hope that it's enough to make you cry
Maybe that day you won't hate me
Hate Me is a clear reference to all the negative critics she received – the song also references a lot of the bad things happening like her house on fire and the death of her grandmother. Great listen.
10. Bad Karma (feat. Joan Jett)
Another great name of the music industry – even the the almost groaning ah-ah-ah-ah feels very pop-ish, the result is a result cool rock track – and ain't these two voices just a great combination?
11. Never Be Me
Never Be Me is again much more of a rock track than pop music. A lovely arrangement of the song including the great backing vocals. Lovely – reminds me of the Belinda Carlisle 1980's songs… Even though Miley Cyrus' voice has much more a Bonnie Tyler touch. Love that one.
12. Golden G String
I woke up in Montecito
I was thinkin' about my life
And the questions made more questions
Starin' out into the night
Yes, I've worn the golden g-string
Put my hand into hellfire
I did it all to make you love me and to feel alive
A slow and intimate track. This part of the album is just so amazing.
13. Edge Of Midnight (Midnight Sky Remix feat. Stevie Nicks)
Another music legend joining Miley Cyrus – and another track which is just so much fun. Again, the song feels like a 1980's one to me – and I loved this decade. Cool!
14. Heart Of Glass (live)
The album concludes with two covers. Does not sound super-thrilling, but I am really grateful for these track, starting with Blondie's classic Heart Of Glass. You spot Miley Cyrus' voice here and there – but overall, this sound is quite close to the original, just a bit more rocking and powerful. Cool listen.
15. Zombie (live)
The closing track of the album is Zombie, originally performed by The Cranberries. Again, the song is close to the original, but Miley Cyrus just performs it a bit more dirty, a bit more rocking. Did I really start banging my head to a Miley Cyrus recording? This girl simply deserves it.
Miley Cyrus – Plastic Hearts – Spotify
Here is the Spotify widget to the album:
Miley Cyrus – Plastic Hearts – My View
For sure, Plastic Hearts does not include a song which is as genius and as catching as Wrecking Ball. I nonetheless love the album, just because it is very balanced. It includes songs for a nice weekend dance in the club as well as country and rock elements. Plastic Hearts is (another) statement of the wide talent of Miley Cyrus. No Hannah Montana-alike forced character and music style – just Cyrus straight from the heart. This is why Plastic Heart is so special.
Top Pick US Media Reviews
Here are all other US media reviews, which have been awarded with Top Pick! status:
Postings about Nashville
Here are all reviews and more about and around Music City: