Even though Stephanie Ryann is already in her mid-30's, the New England artist is not a stranger to North American music lovers. Especially in her early 20's, she was auditioning for talent shows like Nashville Star or American Idol. Since 2018, the former model releases music. This Friday (on 17th September 2021), she has been releasing a new single, Over You. A great opportunity to introduce her a little bit in my Spotlight interview section. Enjoy learning a bit more about this interesting emerging country music artist.
Flyctory.com meets Stephanie Ryann
Stephanie, thanks for joining me for an interview. You have a new song coming up, Over You. Tell us a bit about the story of the song, please!
Thanks for having me! Over You is all about moving on from a relationship faster than your ex. There are so many country songs about this topic, though usually they're about a man who's moved on. My co-writers Dariann Leigh, Taylor Teasley and I wanted to share this story, but from the perspective of a woman who's moved on.
Is there anything about Over You you are particularly proud of?
I always get excited to share music that is empowering for women and I feel that Over You really hits that mark. I love telling stories from an unexpected perspective.
What is the most difficult kind of performance? A small bar concert or playing at a major venue?
In my opinion, they're really very similar. It could be two people or 200K people in the audience…what matters most is the energy you receive from the crowd and ultimately the performance you give them.
In 2018, you finally debuted with a self-titled EP. What was the most special feedback you received about the five songs?
I think people were just really excited to hear original music from me. For my entire life I've always performed in some capacity, but this was different. I had been wanting to release my own music for years, and I finally got the opportunity to work with a group of extremely talented writers/musicians to help make my dream a reality.
One of my most favorite songs from you is Nights Like These. What is the story behind that song?
Night Like These is a favorite of mine. I taught myself guitar over the pandemic and this was the first song I wrote on guitar. I was down in Virginia at the time, just reminiscing about my life before the pandemic…Spending time with family and friends, going out on the town, etc. I really missed those times and that's what sparked the idea for the single. Once I got my thoughts sorted, I brought it to my friend and co-writer, Scott Kurt, to help put the finishing touches on the song. Then off it went to be produced by my producer Brent Rader, who at the time, I had not worked with before. Needless to say, there were a lot of "firsts" with this song and I'm proud of all of them.
Nights Likes These is your most popular on Spotify with some 34k streams. On top of that, you have 5k followers on Facebook, some 21k on Instagram. How important are these kinds of statistics to you?
Statistics used to mean a lot to me, but if you really look at the numbers, they're not the end all be all. It's all about engagement, not follower count. Of course, we'd all like to have more followers and more streams, but organically, not bought like many others do.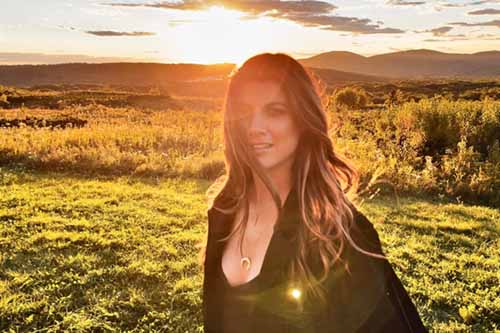 When you release a new song like Over You – do you set certain targets you want to achieve with it?
My goal every time I release a song is to reach more listeners. I'm constantly emailing and messaging people in and outside of the industry to share what I'm creating with the hopes that it will strike a chord with them.
What is the special thing about country music for you?
Country music really speaks to me through the stories they tell…and I'm not talking about the typical "beer songs" out there, those have their place. I'm talking about those songs that really hit you at your soul because of their lyrical content and beautiful melodies. Those songs are the songs that stand the test of time.
And which genre would you likely do if it wasn't country music?
That's a tough question…I'd probably say rock, because at my core I really love classic rock. That said, I think my voice is better suited for the genre I'm in.
Last, but not least: do you already have plans for the time after Over You? Some more releases or a tour coming up?
No "tour" as of yet, however at the end of September I am performing at Freedom Jam SeMo to benefit veterans and their families, and I'll be performing in New York City for the first time since the pandemic in November (date TBD). In addition, I have plans to release an original Christmas song around mid-November along with a music video while I continue writing and planning out my 2022.
Follow Stephanie Ryann Online
Women Country in my Spotlight Interviews
Here are all Flyctory.com Spotlight interviews, in which I chat with female country artists:
Top Pick! Technical Museums
Here are all my technical museum reviews, which have been assigned a Top Pick! rating: