30th August had quite a couple of album releases. While I published my view on Sheryl Crow's Threads and Tarja's In The Raw right at the day of publishing, two albums were presented later: First of all, country music legend Trisha Yearwood published her Every Girl album and finally Lana Del Rey released Norman Fucking Rockwell – the album title and the previous hits of the US Singer had quite some potential as well.
Lana Del Rey – About the Artist
Lana Del Rey, whose given name is Elizabeth Woolridge Grant, was born in New York City in 1985. She also performed as May Jailer (stage name) and Lizzy Grant, before she became successful as Lana Del Rey. In her early career, she even had releases under different names. She is likely the leading artist to make the sadcore sound popular. Her debut album as Lana Del Rey was not too successful, but the 2012 Born To Die hit the very first places in multiple markets worldwide and topped Australia, Austria, France, Germany, Switzerland and the United Kingdom. All of her following albums, the 2014 Ultraviolence, the 2015 Honeymoon and her latest, Lust for Life made it to the Top 10 in all major markets. Though she just released Norman Fucking Rockwell, the title of her 2020 album is already published (called White Hot Forever). Her breakthrough single was the 2011 Video Games, which topped the charts in Germany. Summertime Sadness was another successful single. However, Del Rey is rather successful on the album side.
Lana Del Rey – Norman Fucking Rockwell – Track by Track
The album contains 14 tracks and lasts 67 minutes. Norman Rockwell, by the way, was an American illustrator, who tried to paint the America in beautiful colors. The album is a challenge to American culture.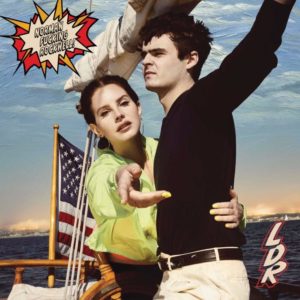 1. Norman Fucking Rockwell
The album starts with the title track – and these are the first lyrics:
God damn, man-child
You fucked me so good that I almost said, "I love you"
You're fun and you're wild
But you don't know the half of the shit that you put me through
Your poetry's bad and you blame the news
But I can't change that, and I can't change your mood
Ah-ah
This already defines what Norman Fucking Rockwell (the album) is about. Love, also sex, American live.
2. Mariners Apartment Complex
And who I've been is with you on these beaches
Your Venice bitch, your die-hard, your weakness
Maybe I could save you from your sins
sds
3. Venice Bitch
9:37 minutes – Venice Bitch is definitely the epos and by that one of the core tracks of the album. A quite explicit song like many of these albums. Lana Del Rey transports the stories she want to transport – and uses language in a way to make sure you will understand it.
Oh god, miss you on my lips
It's me, your little Venice bitch
On the stoop with the neighborhood kids
Callin' out, bang bang, kiss kiss
4. Fuck It I Love You
At least the title tells you already that the "Explicit" button is popping up when you listen to it. The song did not feel too "explcit" in the beginning, but there is something in it:
It turns out California's
More than just a state of mind
I met you on the boulevard
Wind through my hair, you blew my mind
And if I wasn't so fucked up
I think I'd fuck you all the time
It's killing me slowly
5. Doin' Time
The song start with Summertime and the living's easy– but the song is not continuing with the classic lyrics. The only pre-released song of the album.
6. Love Song
Some explicit lyrics for you? The beginning of the song:
In the car, in the car, in the backseat I'm your baby
We go fast, we go so fast we don't move
I believe in a place you take me
Make you real proud of your baby
In your car, I'm a star and I'm burning through you
Yeah, that is truly a (physical) love song. However, it is again a very slow and gentle song, focusing on her soft singing.
7. Cinnamon Girl
There's things I wanna say to you, but I'll just let you leave
Like if you hold me without hurting me
You'll be the first who ever did
There's things I wanna talk about, but better not to keep
But if you hold me without hurting me
You'll be the first who ever did
Ah, ah, ah, ah, ah, ah
Hold me, love me, touch me, honey
Be the first who ever did.
The song is called Cinnamon Girl to due the very first verse,
Cinnamon in my teeth
From your kiss, you're touching me
A very fragile song sung with a very high voice. It did not reach me very well.
8. How to Disappear
How to Disappear is maybe the track on the album, which has the strongest potential for a radio song. Still the typical sound of this album, but with a strong arrangement around it and a bit more rhythm in it.
9. California
California was the most catching song of the album to me. It was just more present to me than other songs. Maybe a very personal thing.
You don't ever have to be stronger than you really are
When you're lying in my arms
And honey, you don't ever have to act cooler than you think you should
You're brighter than the brightest stars
10. The Next Best American Record
The song is about what happened writing a (superb?) record. Just listen into it. Or read it
Whatever's on tonight, I just wanna party with you
Topanga's hot tonight, I'm taking off my bathing suit
You made me feel like there's something that I never knew
I wanted
We play the Eagles down in Malibu and I want it
11. The Greatest
This track is about climate change, threads, openly criticizes Kayne West for supporting trump. There is a music video for the song togehter with the fourth track of this album, Fuck I Love You.
12. Bartender
With my bartender, hold me all night
Bartender, our love's alive
Baby remember, I'm not drinking wine
But that cherry coke you serve is fine
And our love's sweet enough on the vine
Very impressing lyrics. Lana Del Rey could likely do so much great selling great-selling music with her talents… But she is just doing hers. Cool girl!
13. Happiness in a Butterfly
Another song, another story, similar arrangement – but I just feel like listening to the story Del Rey is telling me. She does it!
Happiness is a butterfly
Try to catch it like every night
It escapes from my hands into moonlight
Every day is a lullaby
Hum it on the phone like every night
Sing it for my babies on the tour life
14. Hope is a Dangerous Thing For a Woman Like Me to Have – But I Have It
Another epic song at the very end of the album. Wow. It is a bit more melodic than the songs before, the voice is still dominant, just catches you and won't let you go.
I've been tearing around in my fucking nightgown
24/7, Sylvia Plath
Writing in blood on the walls
'Cause the ink in my pen don't work in my notepad
Don't ask if I'm happy, you know that I'm not
But at best I can say I'm not sad
L. Del Rey – Norman Fucking Rockwell – Spotify
You may listen to the full album via the Spotify link:
Lana Del Rey – Norman Fucking Rockwell – My View
I first listened to Norman Fucking Rockwell while driving from Indianapolis to Chicago – not the right way to do so (at least not if you are not a native speaker). You need to listen to it to like it. You need to listen to Lana Del Rey's stories, to her critics and visions on (mostly: American) life. The musical arrangements are rather in the background, they support the stories. If you allow the stories to touch you, then Norman Fucking Rockwell becomes epic. Over more than one hour, it is personally just a bit too exhausting to me. But I admire her for doing ther thing with Norman Fucking Rockwell, which is just different.
Flyctory.com Media Reviews
Here are all CD, book and movie reviews: