One of these new emerging Nashville artists you don't know too much about, but somehow like the music: when I ran into John Gurney's EP Remind You, which he released on 19th June 2020, there was at least one song I knew of him – but somehow, I liked the whole set of songs. Thus, here is my view on the EP.
John Gurney – About The Artist
John Gurney is unfortunately one of these country artist, which give you a hard time writing a reasonable bio about. He was born in the Midwest and grew up in Chicago. His Facebook site states he is doing "Acoustic Pop", his songs are quite country, though. He is living in Nashville now and his first major TV appearance was in E! network's show Very Cavallari. I found that lovely cover of Lana Rey's Summertime Sadness.
John Gurney – Remind You – Track by Track
The five track EP lasts 14 minutes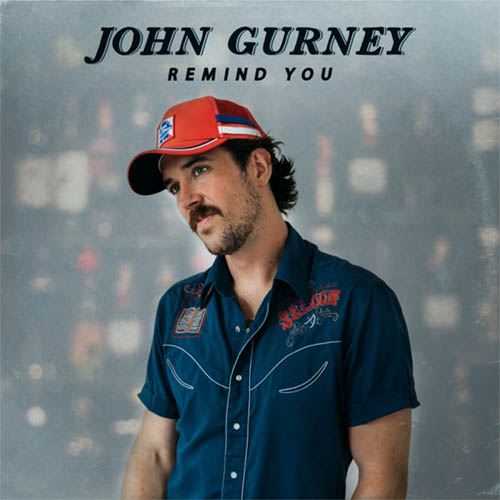 1. Remind You
The title track of the EP is a perfect radio track – I have to say also one of these tracks I struggle a bit with, because it feels a bit too universal (meaning: I do not feel a special character). Like dollar shop clothing: makes you happy for some weeks, but don't wash it too often.
2. That's How You Got It
I knew this song before I listened to the EP. Powerful, but also very classic modern country, Nashville style. Always good to have a listen to. Nice, makes me smile.
3. Home With Her
Nice composition of limited instrumentation, rhythm and vocals, which are have a touch of hip hop. John Gurney gives you the music, which currently sells well in the States. And I feel he does it in a good way.
4. Drink I Think
I could use a drink I think
But every time I drink I think of you
I would try anything to make me feel less the way I do
Now I'm left taunted by the thing I wanted
I pushed your love away
But it comes right back sippin' on a Night Cap
Your voice whispering my name
I could use a drink I think
But every time I drink I think of you
Yeah, this track is some months old, but finally, it is the song which makes me smile most on the EP. It combines the modern country elements best in my point of view.
5. First Things First
Finishing the EP with some summer vibes: country sometimes makes you dance like Jamaican reggae songs. Good mood one.
John Gurney – Remind You – Spotify
Here is the Spotify widget for Remind You:
John Gurney – Remind You – My View
I struggle with Remind You. Yeah, it is good music. Well produced, good voice, good vibes, all fine. Good radio sound. But it also feels random. I don't learn anything about John Gurney in these songs (which is quite close to the level of information on his webspace). Sometimes, I feel that the music superplace and the talent-metropolis turns into a musical throwaway society. Give these guys a fair chance – no argue: the EP cover might look a bit odd and nerdy, but this guy is a good one!
US-American Media Reviews
Here are all other music and other media reviews about bands originated in the USA: