Typically, after I have completed my first wave of reviews (which was quite quick on that 17th April 2020 due to some release postponements), I scan the list of new releases on a couple of websites, but also on Amazon Music and Spotify. One EP which Amazon suggested me to listen into was Repeat by the German artist Karen. I just liked the fresh German hip hop-pop fusion sound and felt that these five tracks are worth sharing with you.
Karen – About The Artist
Honeslty, putting together at least some bio information was about the hardest part of this posting. The 29 year old artist with Polish roots grew up near Heilbronn in Germany in Southern Germany. She grew in the Hip Hop, Rap and R'n'B genre before she reached major attendance for the first time in 2013, when she advanced in the The Voice of Germany TV show (with her civil name, Karen Firlej). She signed at Jugglerz Records and was part of the Hip Hop / Dancehall project Rudeboy under the artist name Karen Elektra. German Rapper Kool Savas ran into the music of the project and collaborated on his album Essahdamus on nine out of 18 songs. Karen Firlej, who then used her civil name again,also joined the corresponding tour. The EP Karen is solely released under her first name Karen.
Karen – Repeat – Track by Track
The EP covers five tracks at a total playtime of 15 minutes. Even though the title suggests English language, all songs are German.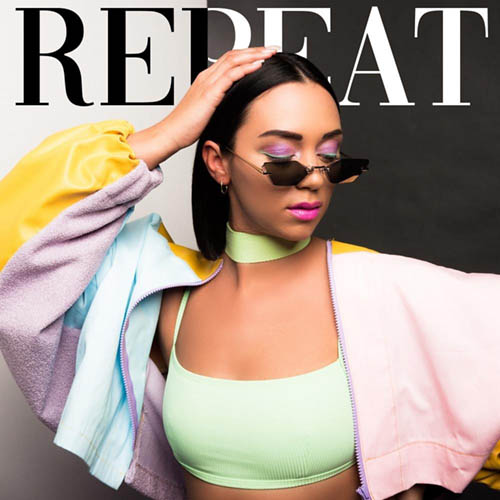 1. Repeat
The title track (and single release) of this EP is a nice pop track. Made to dance and to enjoy. A song about a relationship with a key motive that their common song is on Repeat. Fun dact: the
2. Palmen
Palmen ("Palms") has a stronger focus on the vocals, even though there is a lot of rhythm and beat underlying. I personally prefer this one over the single.
3. Dynamit (feat. Esther Graf)
This song is a duet with German Urban Pop artist Esther Graf. It has stronger R'n'B as well as hip hop elements. This leads to a certain atmosphere, but I still that this collaboration is somehow not really working out and the track is a fail. Maybe I am just not the right audience for Dynamit ("Dynamite").
4. Nie genug
The track starts rather slow, but then gets back in to the rhythm. Maybe the song which is closest to the hip hop genre. I struggle to state that I never get enough of this track – this is what Nie Genug means in English.
5. Fliege über Deine Stadt
While I am not too much into the third and fourth track, Fliege über Deine Stadt ("Fly over your town"). On the lyrics side, the song is maybe not the most complex one of the EP, but it is a nice and good radio song, quite melodic. Good!
Karen – Repeat – Spotify
Here is the Spotify widget for Repeat:
Karen – Repeat – My View
Repeat is a nice, well-produced five song selection of commercially produced pop tracks. It is a bit of a shame that the tracks do not reflect the full vocal potential of the artist, though. At least three out of five songs are really good, especially Fliege über Deine Stadthas a lot of sunshine and happiness. Nice musical statement – not in the top class of pop music, but a more than solid listen.
German Artists
Here are all Flyctory.com postings dealing with German Artists:
Pop Music Reviews on Flyctory.com
Here are all Media Reviews of the Pop Music: