After my review of MARBL's EP The Flight of the Hawks, I felt quite happy to receive another promo CD from the Greywood Records label in August 2019. Andy Clark was going to release his debut album I Love Joyce Morris. I was really looking forward to listen into it as I – I honestly have to say – did not know anything beforehand about the singer-songwriter and his music. Is album is going to be released on 30th August 2019. Here is my review.
Andy Clark – About The Artist
The name Andy Clark already pops up in the 1970s where a man with that name played in a band called Be-Bop Deluxe. However, UK singer-songwriter Andy Clark presented in here has nothing to do with that person. He names himself addicted to the 1970s, but his first musical works have been done in the 1990s. Apart from his home country, he also toured the States and Germany already. As his management is German, there is also quite a strong fan base in that country.
Andy Clark – I Love Joyce Morris – Track by Track
Andy Clark's debut album contains ten songs, which together take some 38 minutes. If you by the way ask yourself, who that Joyce Morris guy is: it is the local apple farmer – however, it is also a reference to "You're the apple of my eye", relfecting Clark's love to his children.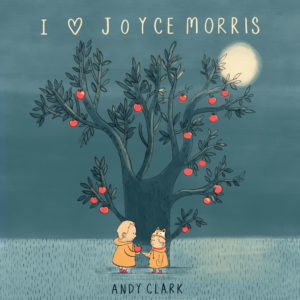 1. Welcome To The Party
Welcome To The Party was the first track released in late 2018 already. As said, I did not know anything, neither about the album nor about the author (apart from the press kit). This song is definitely the right welcome to the music party. A catching, happy song. I have to admit I had to think about the Beatles a lot when I listened to it – ain't it somehow a bit of their sound? I definitely love the track and also put it on my initial Flyctory.com Country Music Playlist.
2. But For You
This tracks feels nimble-foot but is very present and catches you. Any doubt to listen through this album are gone after But For You latest. I love this clear voice, these stories Clark is telling me. Not too suprising that this song has been selected the second single – it is just a great one.
3. Hunker Down
Third song, third very different style. After the retro touch of Welcome To The Party and the easy But For You, Hunker Down with a strong background sound including quite intense backing vocals is a very different song again. Nevertheless, they are all done well so far and a lot of fun to listen to.
4. Daddy Please!
Some new ingredients for Daddy Please!: this song sounds quite like country music – could even be bluegrass. There are banjo sounds, for example. The verses are partially recitative, which leads to a very unique sound.
5. Socks and Shoes
With 5:39 minutes, Socks and Shoes is the longest tracks of I Love Joyce Morris. There are some similarities to the first song. However, the song starts much more than a ballad before there are stronger rock elements and very present vocal elements. Another very nice production.
6. Sunny Boy
I love you, Sunny Boy – what a lovely and gently love song to his son! I love the way Clark arranges the music to his songs. Here, the guitar play is very discrete in the background, sometimes rather sounds like a harp.
7. Monsters
I needed to smile when I listen to this song. Don't fear the monsters – and the monsters may fear you. Another track which you could describe as children's song. But you definitely can enjoy it as an adult as well.
8. Alistair
Alistair confused me during listening. A gentle singing laid on a  quite mystical sounding bed.
9. All Aboard
All Aboard just lasts 61 seconds. The song itself is fully instrumental. However, in the background, you can listening to the giggling of a baby, which is another reference to Clark's children.
10. Apples
While the beginning of I Love Joyce Morris is so versatile, the final songs have beautiful songwriting, but are much closer together. Andy Clark here refers to the "apples of my eyes" again. Some sort of solving the riddle about the non-straightforward album name.
Andy Clark – I Love Joyce Morris – Spotify
The Spotify widget allows you to listen to the album on Flyctory.com:
Andy Clark – I Love Joyce Morris – My View
Andy Clark does lovely songwriting. The first songs of the album are outstanding and so versatile. It is a lot of fun to listen to a broad variety of songs. Unfortunately, the second half of the album has a much narrower characteristic. Still nice to listen to, but still a step back. I would love to make it to see Andy Clark live on stage on his long Germany tour (see below), the album definitely deserves a good rating and is absolutely worth a listen.
Andy Clark – On Tour 2019
Andy Clark will have quite a long tour through Germany in October 2019, hitting a series of cities throughout all the country. I visited his show on 19th October in Dusseldorf.
| | | |
| --- | --- | --- |
| We 09.10.2019 | Stolberg, Anderswelttheater | |
| Th 10.10.2019 | Magdeburg, Blue Note | |
| Fr 11.10.2019 | Ratingen, Bürgerhaus | |
| Sa 12.10.2019 | Kassel, Moonwalk | |
| We 16.10.2019 | Quedlinburg, KuZ Reiche | |
| Th 17.10.2019 | Homburg, Mandys Lounge | |
| Fr 18.10.2019 | Bad Bentheim, Altes Museum | |
| Sa 19.10.2019 | Düsseldorf, Beethoven | Review |
| We 23.10.2019 | Eckernförde, Spieker | |
| Fr 25.10.2019 | Bielefeld, Pappelkrug | |
| Sa 26.10.2019 | Lübeck Tonfink | |
Flyctory.com Media Reviews
Here are all CD, book and movie reviews: