Van De Forst is one of the most interesting German country music / country pop music act. Vanessa, the person behind this project, is coming from Muenster in the Westfalen region. She already gained some merits as supporting quite major German and international acts. I saw Van De Forst for the first time live when she was supporting one of the currently most successful German Schlager acts, Ben Zucker, in Cologne's largest indoor venue, the LANXESSarena.
As the debut of my new series of interview postings with musical acts, Spotlight, I had the opportunity to chat with Vanessa about her debut at the C2C – Country to Country Festival in Berlin, from 6th to 8th March 2020.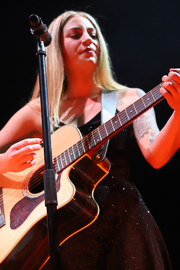 Spotlight – Flyctory.com With Van De Forst
FLYC: Vanessa, you are going to play your first C2C in Berlin this year. How much are you looking forward that for two days, Saturday and Sunday, you do need to answer a question how a talented German musician dares to decide for country music?
Vanessa: HAHA… It´s absolutely mindblowing to be apart of this great festival and yes it really shakes my bones and i´m really excited!i played so many gigs during my career and every single show is different, but to be amongst this heavy players gives me the extra kick to be better and get better every day.i dare myself, because…i can, i can do it and entertain the masses!
FLYC: You supported a couple of quite major acts in the past, e.g. Ben Zucker, Bonnie Tyler or Andreas Gabalier. In Berlin, you will face significantly smaller venues, but therefore people, who are interested in your genre. Will you be even more nervous due to that?
Vanessa: Not really, as I said before. Every show is different. I played here in Berlin in the Tempodrom and Waldbuehne and i hope to see a lot of familiar faces out there!
FLYC: Apart from Nik Wallner, you will be the only German act in Berlin. Do you feel that there will be an impact by that on your sets and the spectators?
Vanessa: Hard to answer. But as we all sing in English you can´t tell the difference in detail. We try to build up the German new country sector, so it is an honor to support this new arising wave.
FLYC: Is there any of the acts in Berlin you look forward to especially? (and why)
Vanessa: I try to see as many acts and making friends as much as I can. Nashville is common and i have to soak in all the meetings and performances.
I am Muenster – I am Country!
FLYC: Let's have a focus on your music. You live in Muenster in Northrhine-Westfalia in Western Germany. Your website states that working with Garth Brooks' guitar player Bruce Bouton added the "Spirit of Nashville" to your music. How will the people in Berlin feel the spirit of Muenster in your music?
Vanessa: Yes, it´s me… Muenster is my hometown i grew up and live there. It is in my veins. I am Van… I am Muenster… I am country!
FLYC: Apart from just being curious, what are the key reasons people should go to your sets in Berlin?
Vanessa: Because it´s pure, and comin' from the heart. I waited so long to showcase here and present the audience a new face with a voice and songs…
FLYC: You state to play "Country-Pop". How has the feedback been on your recent songs like "Walkin' Away or Round the Bend from pop music, but non-country media?
Vanessa: Everybody likes it,but we have to work in general on more platforms that deal with new country. More radio stations, more social network and more live gigs to spread the word.. So comm'on promoters, get this thing started!
FLYC: Last, but not least: what are your plans for 2020? Any new releases, tour dates etc.?
Vanessa: Finishing my album and play as many shows as possible to shake hands with my fans and friends all over the world!
Follow Van De Forst Online
Van De Forst at the C2C – Country To Country in Berlin
Van de Forst will play at the following times / venues at the Country 2 Country 2020:
| | | |
| --- | --- | --- |
| Sa 07.03.2020 | 11:45 | Townsquare Stage |
| So 08.03.2020 | 12:45 | Townsquare Stage |
All pictures taken from the Flyctory.com coverage of the Van De Forst / Ben Zucker concert in Cologne.
German Artists
Here are all Flyctory.com postings dealing with German Artists:
Flyctory.com about Country 2 Country
Here are more postings related to the Country 2 Country festivals in the UK, Netherlands, Ireland and Germany: