The Pentatonix are truly a synonym for top class a capella music. On 12th February 2021, they are already releasing their ninth studio album, The Lucky Ones. I definitely felt to share my thoughts with you.
Pentatonix – About The Artists
The Pentatonix (short: PTX) are a five people a capella group from Arlington, Texas. They currently consist of Scott Hoying, Mitch Grassi, Kirstin Maldonado, Kevin Olusola and Matt Sallee. They sing together since 2011 and made a huge step towards national popularity in the USA by joining the third season of the former NBC a capella band show, The Sing-Off. They finally won that edition of the song. They received massive popularity in their home country. For example, Barack Obama watched one of their shows during his presidency. Furthermore, they won three Grammy Awards.
They so far released eight studio albums, three of them featuring Christmas songs. Their first seasonal album, That's Christmas To Me, was an international breakthrough for the artists, having Top 20 album chart placements in the USA, Canada, Austria and Japan. Two Pentatonix albums topped the US album charts. The most successful single so far is likely the 2016 Hallelujah featured on the A Pentatonix Christmas album.
Pentatonix – The Lucky Ones – Track by Track
The eleven song album lasts 36 minutes.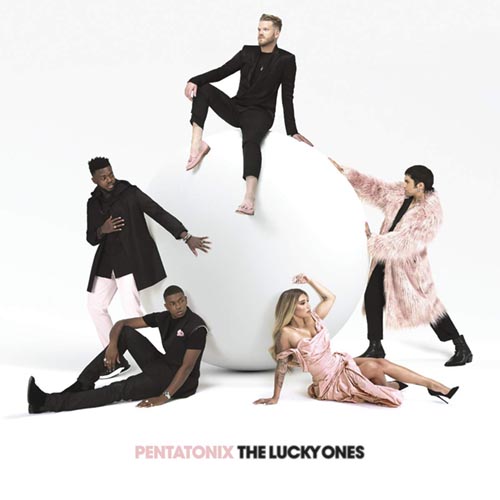 1. Happy Now
Am I happy now, right now
With or without you, right now
Am I happy now, just me
Me myself and I
Am I, am I
The song starts with a typical Pentatonix song: Olusola drives the song with an amazing rhythmic performance as a vocal percussionist (or: beat box) – the result is an R&B style party track. Definitely Happy Now after listening to the first song already.
2. Love Me When I Don't
When I'm too hard on myself
I don't ask for help
When I'm not okay
I push you away
But you pull me close
Cause you always know
How to love me when I don't
The chorus of Love Me When I Don't, which is arranged like a choir with all voices in parallel, is extremely catching. Beautiful track.
3. Coffee In Bed
If you ask yourself, why they love these five guys over there in the United States, listen to Coffee In Bed and be aware of there are no instruments in the recording. The pop track feels so rich, so complete. The level of perfection of sound is almost frightening.
4. Be My Eyes
Be My Eyes is one of the songs which have been released before the album. Wise choice: the song somehow comes with a timeless sounds – it reminds me of some 1980's songs as well as modern ones. And it comes with that special perfection I already stated about Coffee In Bed. Lovely!
5. A Little Space
A Little Space is one of my favorites on the album. It just comes with a nice rhythm, the chorus comes with a nice hook.
6. Side
Side is a very slow track. To me, it feels a bit too monotonous and thus boring. I enjoy "PTX" more when their voices interact, when they surprise and entertain me with rhythmic and groovy tracks.
7. Bored
After stating that Side was a bit too slow in my point of view, a song called Bored is maybe not the best next track. But in fact I like this seventh song on the album. Not a super-rhythmic party smasher (even though the song gains more and more power towards the end), but a decent pop track with a touch of soul.
8. Exit Signs
If you don't listen to the lyrics and just enjoy the melody, Exit Signs could easily be one of the recordings on a Pentatonix Christmas album. Very cozy and harmonic atmosphere.
9. Never Gonna Cry Again
I change myself for the internet
Design my piece of mind
I sold my soul
I'm a shell of it
Cause if everybody loves me
Then I'm never gonna cry again
This song is indeed one of the tracked which caught me most during the review. First of all, the sounds created by the five vocalists fascinates me. On top of that, I can deeply relate to the lyrics of the song. Beauty.
10. It's Different Now
It's Different Now is a lovely piano ballad. To me, it is not too much a signature PTX sound – you might this one on the album of better multi-vocal acts as well. Of course, still a great listen if performed by this Texas quintet.
11. The Lucky Ones
The closing track of the album is the title one, The Lucky Ones. A track on which the band is looking back to their amazing band history. Nice finisher.
Still can't believe we were the lucky ones
Look how far we've come
Pentatonix – The Lucky Ones – Spotify
Here is the Spotify widget to The Lucky Ones:
Pentatonix – The Lucky Ones – My View
The Lucky Ones is indeed another great showcase of the talent of the Pentatonix. However, I would not go to the very highest rankings with the album. There are definitely some great, catchy songs and deep moments on the album. On the other hand, there are just some weaker tracks as well (weaker on the PTX scale at least). If you love a capella sounds, you will have pre-ordered The Lucky Ones anyway. But it is definitely a nice listen for all others as well.
US Pop Music Reviews
Here are all Flyctory.com media reviews about Pop Music from the USA:
Musical History
These are all articles, in which I dealt with events and places influencing musical history: