The Sound of Nashville series of concerts more and more established in the German country music scene. While I visited one of the first shows in March in Cologne, Semmel concerts set up a major list of events with a quite entertaining and diverse selection of artists. On 9th September 2019, Jilian Jacqueline and Lauren Jenkins made it to the Cologne YUCA Club. UK Artist Gary Quinn supported the two US girls. Here is a review. One week later, I visited Lauren's birthday concert in Amsterdam with Austin Jenckes.
In addition to this posting, there is a 229 major size picture gallery in the concert gallery section.
YUCA Club Cologne
Together with its sister club, the Club Bahnhof Ehrenfeld, the YUCA Club is one of two clubs located below the tracks of Ehrenfeld station in Cologne. The traffic does not influence the sound – however, it leads to quite excellent connections by tram and rail. There are a couple of parking garages around, but they are very frequented.
The atmosphere in the club was very nice. From time to time, though, you just hear the trains running over the club. There werde some 150 to 200 people in the venue, who have paid roughly 25 EUR for the show.
Sound of Nashville, 9th Sep 2019 – The Artists
Jillian Jacqueline was the headliner of the evening. Her first release, the single Overdue dates of 2014. Unfortunately, I could not find too much bio about her – despite she was playing quite major stages at the CMA Fest 2019, for example. Her current single features Keith Urban and is called If I were you.
After playing at the Country 2 Country in Berlin and two Sound of Nashville shows thereafter, Lauren Jenkins traveled to Germany for the second time in 2019. As she is on my Featured Artist list, you will find plenty of information about the upcoming artist. She released an amazing debut album, No Saint, this year – six years after she moved from Texas to Nashville. A very impressive piece of her work is also the Running Out of Road short movie. Not that surprising, Lauren's Maker's Mark And You is also part of the initial list of songs in the Flyctory.com Country Music Playlists.
Just a couple of weeks before the gig, Semmel Concerts announced that Gary Quinn will complete the girls to make it a trio. The British country artist has already gained quite some reputation in his home country. For example, he won five British Country Music Association Awards so far. He received the first of them in 2013, when he performed the UK Song of the Year, He Don't Show Her Anymore.
Sound of Nashville, 9th Sep 2019 – The Show
More or less right in time, Gary Quinn started the evening at 20:00 hrs. He played a rather quiet and melodic acoustic set of songs, which made it hard to take pictures in a discrete manner. He started his songs with I forgot about you, followed by Body Language. Though I haven't heard of him that much so far, I really liked his songs, which he presented for some 30 minutes.His set finished with Shame and I love to watch you leave.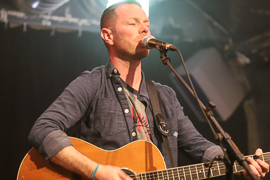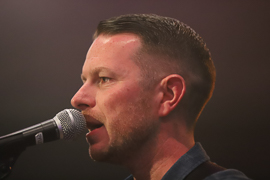 Not too surprising, I was looking forward most to Lauren Jenkins, who played another some 30 minute set after a short intermission. Her set started with a song of Kylie Rae Harris who died on 4th September 2019 in a car crash in New Mexico. After that thoughtful moment, Jenkins played a couple of their songs, like my favorite Makers Mark and You. The final song of her set was Running Out of Road.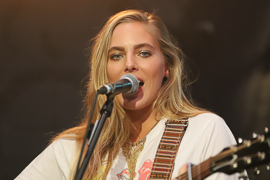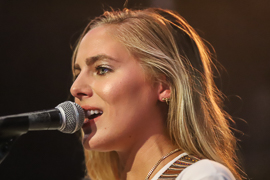 Jillian Jacqueline as supported on stage by her husband and guitarist, Bryan Brown. Not really sure what was the original played duration of her setlist, but as the two acts before her, Jacqueline just demonstrated a lot of fun playing in front of the compact German crowd. Finally, her set was roughly 75 minutes and included a huge variety of her songs. There were classic songs like the 2014 Overdue as well as a couple of excerpts of her 2019 album, which is going to be released soon. The crowd cheered and sang along with her songs and enjoyed an evening, which concluded at about 22:30hrs.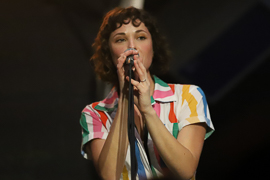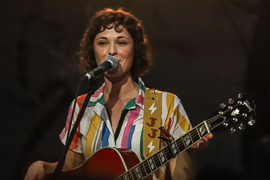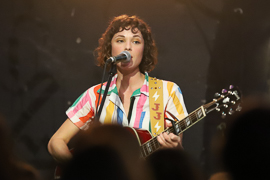 J. Jacqueline & Lauren Jenkins – My View
This start of a long series of Sound of Nashville concerts until the end of October showed what country music is about: honest music, which works in intimate venues as well as in stadiums, absolutely nice artists, which are comparably close to their fans and have a lot of fun to play for them – and finally, just great and straight music. This evening got it all. To me personally, it was of course overwhelming to see Lauren Jenkins in my home town – hope to welcome her back soon again. I think all three acts were very different and characteristic, which just made a nice and very balanced set of artists. Gary Quinn and Jillian Jacqueline, please excuse me that the lovely girl in the middle of the set was just my very special moment!
J. Jacqueline & Lauren Jenkins – The Gallery
The photographic conditions were a bit challenging. Still, there are 229 major size pictures of the evening in the gallery:
Flyctory.com about Country Music
Here are all Country Music-related postings on Flyctory.com: