All 4 Nothing is likely not true any more when you look at the career of Lauv: even though the album titled accordingly is just his second one, he has many millions of streams and views already. The thirteen song release will be published on 5th August 2022. I already had a listen.
Lauv – About The Artist
Lauv is the artist name of Ari Staprans Leff, who is an artist from San Francisco. Around these days, on 8th August, Lauv is turning 28. Lauv, however, grew up in Atlanta and Philadelphia, where he also got into music and took piano and viola lessons. He started his first band at the age of 12. He actively released music as a solo artist from 2015 onward. His breakthrough song, however, was I Like Me Better, which has been a Top 10 track in Belgium and Germany, even though it was "just" a Top 30 in the US itself. In 2020, he has been very active, not only releasing his debut album How I'm Feeling (physically and streaming), but also seven EPs (digital only) on top of that. How I'm Feeling has been a Top 10 album in Australia, Austria, Belgium (Northern part), New Zealand and the United Kingdom.
Lauv – All 4 Nothing – Track by Track
The thirteen track album lasts 37 minutes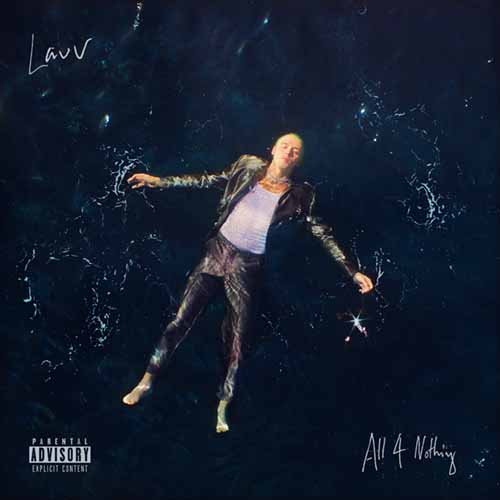 1. 26
The rather slow 26 is opening Lauv's second album. A thoughtful track with a decent groove and a lot of rhythmic elements going on in the background. Nice listen and a great opener to the songs, which mostly look back to his life so far.
2. Stranger
Stranger is a very modern style pop. The song lists up a series of things which Lauv is no a stranger of. Not a bad one, but even though the song is rather short (2:44 minutes), it has a bit of a potential to tire me towards the end.
3. Kids Are Born Stars
The third track on the album has been the last single release before the album publication. To me, Kids Are Born Stars is one of the best songs of the album. The chorus comes with a nice melody and summer vibes and is a key reason, why you have a nice time with this song.
4. Molly In Mexico
Some electronic distortion and an undeniable auto-tune has been used to recorded this one. The rhythm is a bit more in the background, the vocals also feel a bit fuzzy and not that defined. A touch of psychedelic music, but the song itself is a really nice one, so that I really enjoy learning about Molly in Mexico.
5. All 4 Nothing (I'm So In Love)
Not really being able to find a good definition for a relationship is the key topic of the title track. All 4 Nothing (I'm So In Love) is the key track of the album. The chorus feels familiar, the song is a lovely listen. Lauv is underlying is potential and talent in this song, for sure.
6. Stay Together
The short (2:21 minutes) and groovy Stay Together feels to have a nice potential to me, but the song is not being able to develop its strengths. The chorus could have profited from some more confidence in the final mix.
7. Summer Nights
Lauv takes us to the Summer Nights in the seventh song. The track starts like a beautiful and gentle piano time, but then is changing its character and becomes a mainstream pop song. Both parts are somehow valid, I would have loved to have them as two separate songs.
8. Time After Time
Time After Time (no Cindy Lauper cover, of course) starts slowly again, but then turns into a rhythmic, rather modern pop track. Some songs just leave a much bigger footprint in your mind after listening. Nice, brave, but not really special enough.
9. Hey Ari
The album features a lot of changes of Lauv's vocals, like distortion or auto tune. Hey Ari is different – and it beautifully illustrates how beautiful Lauv's voice in fact is. This ninth track is a very special listen on All 4 Nothing, indeed.
10. Better Than This
The 3:33 minutes Better Than This is a surprisingly nice listen for modern pop music listeners. The song (by the way, the second longest on the album) nicely works with its main theme and even introduces a nice collaboration with a female vocalists – unfortunately, I don't know who she is. Good one.
11. Bad Trip
All 4 Nothing is an album looking back to Lauv's life – and drug abuse feels to be an essential part, regarding the selection of songs. Bad Trip is dealing with this topic, leading to a very personal, rather intense listen. Good one.
12. I (Don't) Have A Problem
This song is majorly a very quiet one – but then has sprinkles of very loud and intense moments. I did not like I (Don't) Have a Problem too much at first listen, but the more I got into, the more I changed my mind.
13. First Grade
The closer of All 4 Nothing is a beautiful ballad. I love this piano and vocal combination. The most intimate song of the album.
Lauv – All 4 Nothing – Spotify
Here is the album on Spotify:
Lauv – All 4 Nothing – My View
I feel that Lauv has more potential than he shows in his second album. Some tracks like the title song, 26 or the two ballads have really lovely quality, others just don't really feel to be on spot. Not a bad listen – and fans will love it – but simply not the very good listen I expected.
US Pop Music Reviews
Here are all Flyctory.com media reviews about Pop Music from the USA:
Floorball & Germany
Here are all my postings related to floorball and Germany: