How to spent the time best between Country 2 Country 2019 in Berlin and Amsterdam and the "main events" in London (dairy and review of C2C 2019 in London), Dublin and Glasgow? The answer for some of the acts was simple: doing some additional shows in good old Europe. Keith Urban scheduled a second concert in London, Hunter Hayes gave his Swiss debut in Zurich.
Semmel Concerts, who also organized the C2C in Berlin, organized two sets of shows in Germany: Lauren Jenkins (review of her debut album), Craig Campbell and Logan Mize toured Frankfurt and Hamburg. On Ash Wednesday 2019, the Blue Shell club in Cologne hosted Twinnie, James Barker Band and Lindsay Ell, who played in Munich the day before. The event was held under the "Sound of Nashville" label, which is intended to become a series of country music events in Germany. The next one in Cologne will be Jarron Dickenson (6th June 2019, YUCA Club), who will also tour Hamburg and Berlin.
There is a designated major size picture gallery for this posting.
Blue Shell Cologne – The Venue
The Blue Shell in Cologne is located close to Barbarossaplatz and thus in the heart of Cologne's party district. Internet sources name it to have a capacity of 200, which means that the venue was very close to be sold out.
Overall, the atmosphere in the Blue Shell and the staff are very nice. The prices are very reasonable (e.g. small bottle of coke: 2.50 EUR). I also like the atmosphere in there. Due to the low ceiling and taking pictures from behind, the selection of pictures is slightly limited.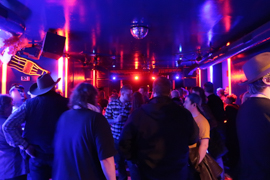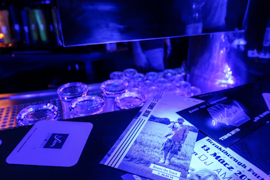 Sound of Nashville – The Show
The first artist to enter the stage was UK-based Twinnie. I already loved her performance in the intimate show in Berlin. Especially at the end of her 40 minute show, when she played the swinging Cupid and her latest single Better when I'm drunk, the audience danced with very rhythm of her songs. She is great prospect for the genre – artists like her or Catherine McGrath (Talk of this Town album review) show that Europe is already able to produce some really good country music. She is likely my favorite new artist of the C2C week, so that I also included her to my favorite C2C 2019 songs posting. You may also find pictures of her in the CMT Next Women of Country (Liverpool) posting.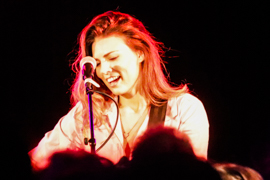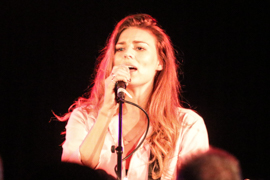 Twinnie was followed by the James Barker Band, whose hometown is Woodwille, Ontario, Canada, a 650 people village. I haven't seen the band in Berlin, but many country fans gave them highest ratings for their performance. In Cologne, they again made the crowd love them. One of the highlights of their show was when they "auctioned" one of their band members to the people. Their kind of party-alike music with sometimes ironic lyrics is just splendid. In May 2019, they released their third EP, Singles Only.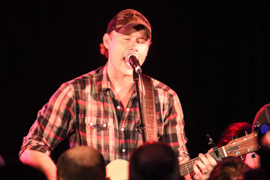 The final act on stage was Lindsay Ell, who is from Calgary, Alberta, Canada. Thus, "Sound of Nashville" did not feature any US artist in this series – which also shows how much the genre is growing. Lindsay Ell is having more than 280,000 followers on Instagram, it was her third time playing in Cologne – so she is definitely a more advanced act. She is impressive on stage. Nevertheless, there were many calm songs in the beginning of her setlist, so that a couple of people left the Blue Shell.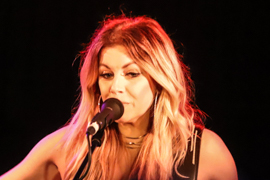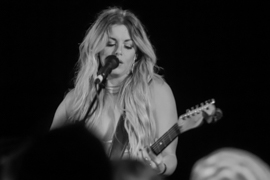 Sound of Nashville – My View
First of all, it is amazing to see that country music seems to find its place in the German music scene. Cologne was close to sold out, the parallel show in Hamburg was even fully packed. Country artists are amazing in small, intimate concerts – and especially Twinnie and the James Barker Band took the opportunity to raise their fanbase in Germany before heading on to London. We may hope that more country artists add some Central European stages to their UK tours.
C2C Berlin – Gallery
Here are 187 major size pictures of the concert in Cologne:
Flyctory.com about Country Music
Here are all Country Music-related postings on Flyctory.com: