I was quite surprised when I received the press kit for Antonia Kubas' debut EP: Liebe und Musik ("Love and music") was classified as schlager with a singer-songwriter touch. I feel that her songs are have quite a lot of a pop heart away from a disco fox firework. Here are my review of the five song set released on 24th February 2023.
Antonia Kubas – About The Artist
Antonia Kubas is a Berlin-based German artist. She was born on 9th March 1982. In the early 2000's, she was part of the dance pop duo Two in 1. You might also know her as backing vocalist for German schlager-rock artist Matthias Reim. Apart from her own artist career ,she is also running a PR and communication company. In 2021, she started to release German pop-schlager songs under her civil name. Her debut single was Baby, Liebe und Musik ("Baby, Love and Music").
Antonia Kubas – Liebe und Musik – Track by Track
The five song EP lasts 17 minutes.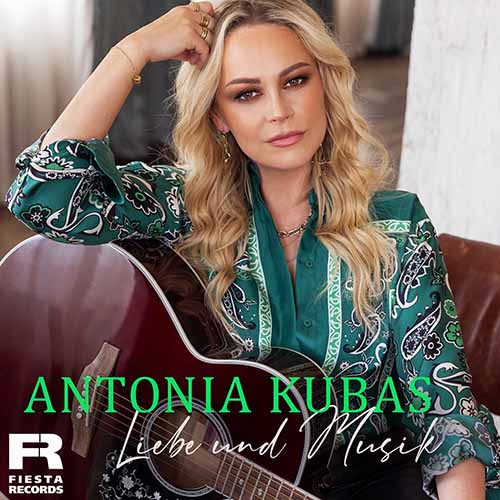 1. Jung für immer
Heute nacht bleibt die Zeit stehen
(Jung für immer)
Morgen darf sie sich weiter drehen
(Jung für immer)
Lass uns bleiben wie wir heute sind
(Jung für immer)
Hey, Hey, wir sind jung für immer
("Today, time stands still,
– young forever-
Tomorrow, she may continue turning
– young forever –
Let us stay as we are today
– young forever –
Hey, hey, we are young forever")
The opening track is a nice pop track which is having a slight touch of schlager and some energetic rock elements. Definitely a great catch for listeners whose first contact with Antonia Kubas is this EP. Let's see what the other four songs are alike.
2. Verdammtes Liebeslied
After the energetic and powerful opener, the "Damned Love Song" is a ballad. Ich habe noch nie ein Liebeslied geschrieben – "I have so far never written a love song" is a musical love letter to Kubas' husband. Beautiful song, which receives a nice touch by the slightly raspy voice of the artist.
3. Zum X-ten Mal
The third song of the EP is a straight schlager-rock song. The song comes with a catching melody, which makes the song stay in your mind. Good one.
4. Ein Stück vom Himmel
The last of three songs already published is Ein Stück vom Himmel ("A piece of heaven"). The song starts with acoustic guitars and string sounds. The chorus has a folk-pop touch to me, even though the lyrics are as kitschy as a schlager track.
5. Ich seh Dich
The EP closes with the mid-tempo song Ich seh Dich ("I see you"). The song is driven by piano lines and feels like a lovely fade-out to this set of five songs.
Antonia Kubas – Liebe und Musik – Spotify
Here is Liebe und Musik on Spotify:
Antonia Kubas – Liebe und Musik – My View
I really like this debut EP. Unfortunately, it feels rather catching to me at first listen than the second or third time thereafter. It is good produced, but does not come with these moments you just did not spot in the first turn. Nonetheless, it is really fun to listen to Antonia Kubas' debut, which is presenting a nice range of songs.
Music in Berlin
Here are all my Music & Media postings related to Berlin:
Travel in Austria
Here are all my Travel postings related to Austria: