On Friday, 10th May 2019, the Arts Club in Liverpool hosted the 2019 stage of the CMT Next Women of Country. The show was headlined by Cassadee Pope. Her latest Album Stages had a really good review on flyctory.com in February. A key motivation for me to travel to the Mersey was UK artist Twinnie, I really loved her music at the Country 2 Country 2019 festivals in Berlin and London. Furthermore, I enjoyed her at the Sound of Nashville show in Cologne between these two major festivals.The third artist at Liverpool was Logan Brill, which I haven't seen on stage berfore. I really looked forward to this selection of country music female artists presented by the CMT (Country Music Television).
There is a group of more than 700 major size pictures, split by artist's set, for this article.
CMT NWoC – The Venue
I knew the Arts Club already from a Catherine McGrath concert in September 2018. However, this time, the so-called Theater and not the "Loft" hosted the event. The theatre is a bit more intimate. On the other hand, it is quite ideal for the amount of people. There is also an elevated area, a nice bar. The balcony was closed for public, but a great place to take pictures. Compared to the Blue Shell in Cologne, for example, where I took pictures of Twinnie and other artists at the Sound of Nashville show in March , the Arts Club also offers very nice light – I guess there will be some very decent mobile phone pictures of this concert around as well.
CMT NWoC – The Artists
Twinnie is a 1987 born UK artist and actor. She is also quite well-known in some TV series in Great Britain. Funnily, I saw Twinnie Lee Moore for the first time on stage when she was playing in my favorite musical, Rock of Ages, at the Shaftesbury Theatre in London in 2011 and 2012. I love her very straight lyrics. For example, I selected her current single, Better when I'm drunk, which is having significant UK airplay, as one of my favorite 2019 C2C songs.
Logan Brill is a Tenessee artist. Her first album release is dated 2013. While it did not lead to any billboard position, it received some very good receptions. I just added her latest song Roll below, which has just been released a couple of days ago.
Cassadee Pope became very popular in the States when she won the third season of The Voice late in 2012. In the blind auditions, three of four jury members turned their chairs within the first 20 seconds of singing "Torn" by Natalie Imbruglia. She has several time been saved by the public vote until reaching the final in that show. Her first album, Frame by Frame (2013) topped the US Country Billboard Charts. Her biggest success was the duet Think of You with Chris Young. Below is her highest solo performance Billboard song, Wasting All These Tears, which has 33 million YouTube views until now.
This series of shows (also hitting Bristol, Birmingham, London and Glasgow) is the first time Cassadee Pope is headlining a show in the United Kingdom. I also had the chance to see her live at the Cassedee Pope Fan Party 2019 during the CMA Fest in Nashville.
CMT NWoC – The Shows
The doors opened at 19:00hrs. The opening act started at 19:30. While the Next Women in Country series is already quite established in North America, the 2019 edition was the first one to travel to Great Britain as well. The band was the same for all three gigs, which lead to very short stage change times of ten to 15 minutes. The concert finished at some 22:05.
Logan Brill
Logan Brill opened the show with a thirty minute set. It was the first time I saw the artist on stage. A very soft and clear voice, loved to listen to her, even if I did not know any of her songs. Nice start of the set.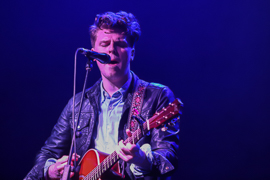 Twinnie
Twinnie was second. Her set was slightly longer, some 40 minutes. She played all the hits you could expect, opening with Hollywood Gypsy and finishing with Better when I'm drunk, which was introduced with her interpretation of Dance with somebody. The set was a bit slower and less powerful than the ones I saw, but I absolutely loved to watch Twinnie and listen to her.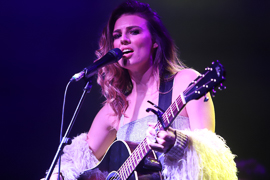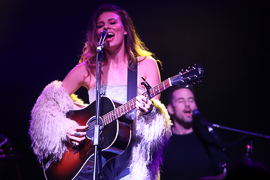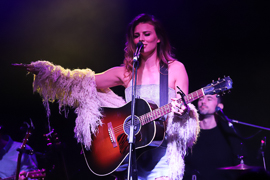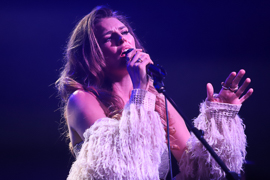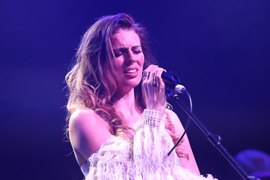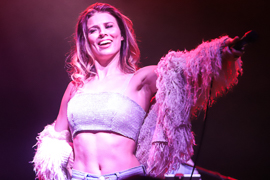 Cassadee Pope
The headliner of course stepped on stage last. She played a great one hour set, which even included a song of her time playing in the band Hey Monday. The highlight of this set was likely when all three, Pope, Twinnie and Brill, performed Lady Antebellum's Need you now together. Just when I packed my camera equipment, Pope's boyfriend Sam Balladio (who is British) joined her on stage. They performed Think of You – what a lovely duet!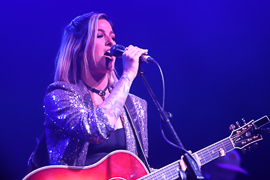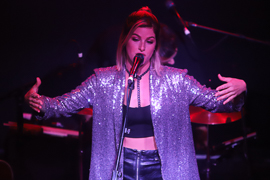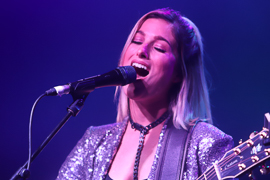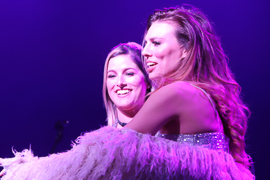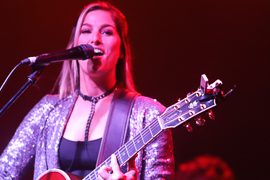 CMT NWoC – My View
Three great artists, a nice and intimate venue, good music – the evening at the Arts Club was a really nice one. Unfortunately, the crowds were a bit lousy on that Liverpool afternoon. To me, it is always amazing to see how good even "minor" Nashville artists like Logan Brill are. Cassadee Pope was just amazing – as I love Twinnie anyway, it was a lovely trip to the UK to me. Nice concert!
CMT NWoC – Gallery:
As the light in the venue was that brilliant and there were so many good photos, I decided to split the full group of more than 700 CMT next Women of Country pictures by artist / set:
Flyctory.com about Country Music
Here are all Country Music-related postings on Flyctory.com: