Catharsis by pain – that's a quote I read frequently about the Hamburg doom metal bnd Moor. For their debut album Heavy Heart, they quit the traditional release rhythm and share it with us on a Wednesday, the 17th May 2023. I had a listen before the album release already.
Moor – About The Artists
There is a very special, but also sad story around Heavy Heart. The band recorded the album in their original lineup, singer and guitarist Kasalar, the additional guitarists Ben Laging and David Kaiser, bassist Christian Smukal and drummer Chad Popple. Within two weeks, two band members, Laging and Smukal had been diagnosed of cancer. Christian Smukal died of the disease in 2022. The two band members are currently replaced by Ralph Ulrich (bass) and Elinor Lüdde (drums), also due to the explicit wish by Smukal to continue with Moor.
Moor – Heavy Heart – Track by Track
The seven track album lasts 41 minutes.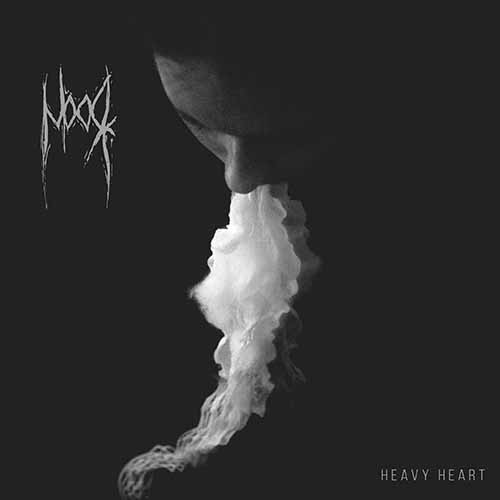 1. Heavy Heart
Intros are a waste of time, aren't they? At least Kasalar is screaming at you once you hit the play button on your stream or CD player. The title track is already giving a certain direction. MOOR is doing what you likely expect: heavy, dark, melancholic sounds. You feel the pain in the music – luckily, you don't feel pain due to the listen.
2. Pale Grey Snow
With the first three tracks having a total duration of almost 19 minutes, you see how Moor easily gets around to write a full-length album solely consisting of seven songs. Pale Grey Snow is one of these epic tracks. It comes with some surprises, like a rather quiet, slow instrumental part. In general, the band is making use of their virtuous potential having three six-strings in their lineup. Really nice write.
3. Tears From Acrid Smoke
Moor chose the next two songs as single releases, the third of the more-than-six-minutes openers – and the shortest track on the album, Void. Tears from Acris Smoke thereby works with similar elements as the first two songs, but even feels more painful and wailing than these two songs. Thus, it does create a very intense character.
4. Void
Apart from that Void is very short (2:29 minutes), the previous single release is especially kind of special as it is in fact an instrumental track. However, it is very quiet and instead of being a showcase for the guitars or other instruments, it rather takes the role of an interval song.
5. Restless
Even though Restless is the shortest song of the album, apart from the intermission track, MOOR is leaving a lot of space for instrumental parts in here again. The song is quite a massive blast and feels like a metal headwind smashing the dark doom atmosphere right in your face. One of the most intense listens to me.
6. Under Your Wings
Some of the vocal parts of Under Your Wings rather feel like a howling wolf to me. In general, the Hamburg band is showing a bit of a different side of their music. This is a bit of surprising here and there, maybe, but it also leads to the situation that the album does stay entertaining.
7. Breath Like Nails
Last, but not least, the nine minute finale lays ahead of use. The duration, of course, leaves a lot of potential for atmospheric experiments, which overall work out very nicely. Additionally, the song works towards a foggy cloud of guitar sounds at the end, which breaks down from one seconds to the next. Stunning.
Moor – Heavy Heart – Spotify
Here is Heavy Heart on Spotify:
Moor – Heavy Heart – My View
Heavy Heart is a good, straight listen, with a lot of variation, but also a straight character. The Germans do doom metal just as you like it to sound. Congrats to your first long-play, guys!
Hard Rock and Metal Reviews in 2023
Here are all my Media Reviews related to hard rock and metal published in 2023:
The 40 Best Rated Hotels so far on Flyctory.com
Here are the 40 best rated hotels on Flyctory.com, in descending order: