Every Friday, I do a second wave of Flyctory.com preparation and scan new releases of various genres which I have not been aware of in my general preparations. Some of  them make it to the reviews on my website. Aftermath by Elizabeth Cook should really have been in my focus already before 11th September 2020, when the established country and Americana artist released her seventh album. Better late than never – here is my review.
Elizabeth Cook – About The Artist
Elizabeth Cook was born on 17th July 1972 in Wildwood, Northwest of Orlando, in Florida. Both of her parents were instrumentalist. She first graduated in Accounting and Information Systems. When she moved to Nashville in 1996, she thus worked for a consulting company. She pursued her musical career in parallel and debuted with The Blue Album in November 2000. She released two more albums under different labels in 2002 and 2004. The 2007 album Balls was the first one which made it into the US Country Charts, peaking on the 72th spot. After having the even more successful album Welder in 2010, Cook made a six year break. Her 2016 album Exodus of Venus was her most successful one so far, with a 23rd spot in the US Country Album Charts and a 7th one in the US Heat. Despite not being a member of the Grand Ole Opry, she has over 400 stage appearances there.
Elizabeth Cook – Aftermath – Track by Track
Aftermath consists of twelve songs and lasts 50 minutes.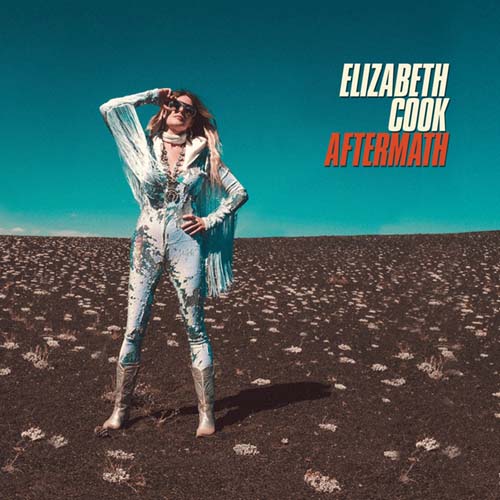 1. Bones
Aftermath starts with the powerful and angry Bones. A lot of electric sounds on top of a very traditional groove. Bones was the first song of the album I listened to and one of the key factors, which made me feel, that Aftermath should be on Flyctory.com. It is just a very individual country music sound… Definitely like it!
2. Perfect Girls of Pop
All the perfect girls of pop                          
They bat their eyelashes a lot
And sing sweetly, they sing sweetly
Like they never been hurt before
Like they never had their heart slammed in a door
They sing sweetly, they sing sweetly
Just had to smile when I ran into these lyrics. Fun fact about that song is that is having quite a lot of touch of a pop song itself. Like that one, definitely!
3. Bad Decisions
A slower and darker track, which has a strong country / country rock touch. The song also feels quite classic. A very nice spirit to me. Hope you enjoy, too!
4. Daddy, I Got Love For You
What surprised me at very first when I listened to Daddy, I Got Love For You was the voice of Cook, which sounds a quite younger, clearer – I would even say more maiden – than in the songs before. What a beautiful, but also fragile song. I love it!
5. Bayonette
The first tones of Bayonette already tell you that Elizabeth Cook again has a very different kind of song for you now – Aftermath just does not get boring. The track is darker, angry again – and by that also very present and powerful. It spreads a very classic country music mood. Nice!
6. These Days
These Days connects quite nicely to Bayonette – at least there is not that much of a difference between the tracks than between the two tracks before. A slightly more fortunate-sounding song, definitely.
7. Stanley By God Terry
After Aftermath presented some very different songs at its beginning, the album feels to have found a certain "musical homeland" now. Stanley By God Terry is again a track which will be especially loved by people who love traditional country music sound. By the way a track which Elizabeth Cook fans have been waiting for quite a while – there are radio and stage recordings of this song from very early 2019 already.
8. Half Hanged Mary
Half Hanged Mary don't mind the weather
Birds of a feather gonna burn together
You can cut her loose, but that's okay
She coming down anyway
Not a witch before but sure one now
Her tongue'll look ya in the eye and lie ya out a vow
Ain't worried about fate, ain't worried about sin
Can't make her afraid of dyin' again
Blow, Blow
Half Hanged Mary sounds quite much like a powerful Miranda Lambert track to me (maybe with some more electric settings applied while recording). The song is definitely very catchy to me.
9. When She Comes
When She Comes is not just the only track on the album which is shorter than three minutes, it is also a very different in its sound. The musical distortions as well a the very monotonous verses (compared to a melodic chorus) leads to a new flavor in this album. The track is not my favorite one though, anyway.
10. Thick Georgia Woman
She's gonna lock the door, take off her bra
Call up her sister in Arkansas
Pour her rights in jar of wine
Talk about class in decline
In her chest is a treasure trove
Rich as the groceries on the stove
A world of hurt in disguise, happy as hell otherwise
I very often write that songs make me smile. One factor for that might me my language limitations as a non-native speaker – but very often these songs just fascinate me from the very beginning, grab me and suck me into their world, their story. Thick Georgia Woman is just one of these songs. It's showtime for the electric guitars – and the way cook describes the scenery is of that song is just amazing. That's just a lot of perfect listening to me.
11. Two Chords And A Lie
Okay, we are definitely not in the Three Chords And The Truth philosophy here – or are we?
Two chords and a lie
Is that so wrong
You wanna tell the same ol joke
Just put it in a song
Cause time is shy and life is long
And that's why it hurts so bad
When a lover moves on
In fact, this track is an amazing way of packaging a breakup and sad love music story into a vocal driven, very classy sounding country song. I just smile on.
12. Mary, The Submissing Years
There were a lot of surprising songs in this album – and it is great that the album is finishing off with a very different sound. The whole first verse (which is roughly taken 1:20 minutes) is just spoken word – before there is a chorus. Same applies to the other verses. It really feels like a story told by that. Nice!
It was hot, 100 in the shade
When Mary got a note from this guy named Gabe
She don't remember getting pregnant but, she did
And by all accounts she churned out one heckuva kid
But walking home from church one day, he just up and disappeared
Maybe he went to find Santa or maybe he went to get beer
He was just twelve years old, this miracle she carried
It was all so confusing, she wasn't even married
So she fled south to Elizabeth, her eldest cousin
Who despite her old age, also had one in the oven
And in a duplex with a busted cement gnome
Chattanooga was as good as home
That's in Tennessee
There's Barbie lovers and firecrackers, train trackers, Coca Cola makers, insurance takers
And a lotta hot preachers
Elizabeth Cook – Aftermath – Spotify
Here is the Spotify widget for Aftermath:
Elizabeth Cook – Aftermath – My View
I am really glad I ran into this Elizabeth Cook album. I just enjoy to run into different flavors, different ways of interpreting country music – and I enjoy the wide range Cook is present her country music Aftermath. There is such a span between Bones and Mary, The Submissing Years. There are few songs which I appreciate less than the rest, but the album is a great book of stories of very different kinds – and Cook presents them well. I love the way she works with her voice in these twelve tracks as well – so I definitely give you the recommendation to dare a listen.
Media Reviews – Women Country
Here are all my music reviews of female country music artists:
Postings about Shopping
Here are all postings related to Shopping: