Radio, Radio – I have a very special relation to this Elvis Costello classic: whenever something goes completely wrong at a Weird Al Yankovic concert, the band is "rescuing" the situation by diverging from the original setlist and going for the Costello tunes. This may just be a very minor proof that Elvis Costello is undoubtedly a major player in rock music history. On 30th October 2020, he is releasing his album Hey Clockface.
Elvis Costello – About The Artist
Declan Patrick MacManus, which is the civil name of Elvis Costello, was born on 25th August 1954 in London. The fact that he is nowadays member of the Order of The British Empire already shows his outstanding meaning for the British music. His father has been a famous singer and trumpet player. Costello's first steps as a musician was in a folk duo called Rusty. He finally sold his first solo record deal in 1977. As a result of that deal, he also formed his final artist name Elvis Costello. Already the debut album My Aim Is True has not only sold quite nicely, but had received overwhelming critics. The album is placed 168th on the Rolling Stone 500 list of The Greatest Album of All Times and has been recorded with Clover, in which Huey Lewis played as well. Costello founded his own band, Elvis Costello and The Attractions, with which he regularly released songs in the following years. The first Top 10 placement in the singles charts was Oliver's Army, which was second in the UK singles charts in 1979.
Commercially, Costello had its strongest period in the middle to the end of the 1980's and the early 1990's. Thereafter, the chart placements slowly decreased again. Until the first decade of the 2000's, Costello released new albums regularly – Hey Clockface is "only" the fourth studio album since 2010 – and the 31st studio album overall.
Elvis Costello – Hey Clockface – Track by Track
The 14 track album lasts 50 minutes.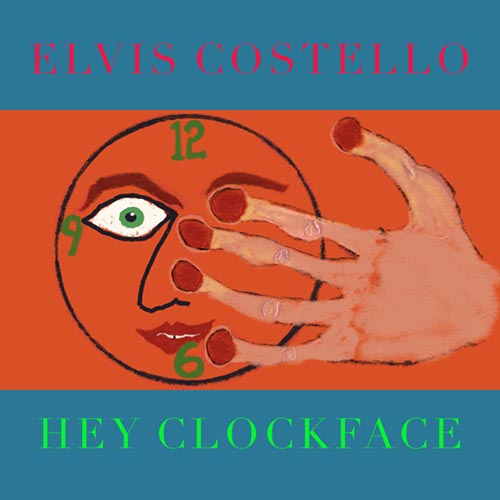 1. Revolution #49
Just Arabian oder Indian alike music sounds and spoken words – Revolution #49 is a mystical start of Hey Clockface. It is definitely atmospheric, but also thrilling. Love is the one thing we can save is the key wording of the track. Promising, even though I would rather see it as a "premium intro" to the album.
2. No Flag
No time for this kind of love
No flag waving high above
No sign for the dark place that I live
No God for the damn that I don't give
A completely different sound for No Flag: the distorted guitar sound has a strong touch of indie rock. Costello does very contrasting sounds in two tracks already, and there twelve more to come. Promising.
3. They're Not Laughing At Me Now
When the last of the garlands and laurel crowns and fine bouquets have all been swept away
You were lost in the smokescreens of cavalcades and accolades instead of traitor's pay
Where will you find the courage to say?
"They're not laughing at me now"
This rather slow pop track with very scattered Oriental music elements feels like a sung tale rather than a music track. Interesting listen.
4. Newspaper Pane
In Newspaper Pane, Costello mixes pop/rock tracks with brass elements. One of the tracks I can hardly describe with words – glad that there is a music video for you already.
5. I Do (Zula's Song)
I Do is a piano ballad, which is again supported by a comparably wide instrumentation, here trumpet, tenor saxophone and cello. The song has a very sad, but also intimate and intese atmosphere. One of my favorites.
6. We Are All Cowards Now
This song, which has been recorded in The Helsinki Studio (like several others on the album) illustrates Costello's musical talent – vocals, a Fender guitar, the bass, a sythesizer and the piano – Costello simply played all these ones on his own to record We Are All Cowards Now. Very nice rock track with the special Costello touch.
7. Hey Clockface / How Can You Face Me?
The title track comes with a very different sound again – a very swinging traditional sound, feels like a 1920's or 1930's track in a very modern recording. Cool!
8. The Whirlwind
The Whirlwind is again a lovely ballad with the piano being the key instrument of the song. You may somehow remark that Costello's voice is a bit squeaky here and there, but I just love to listen to him in here.
9. Hetty O'Hara Confidential
From the very beginning, there is no doubt that this track will sound very different again – and this track was also fully recorded by Costello himself. The result: definitely the coolest song on the album, a very cool and rhythmic track. A touch of jazz, but cool for the dancefloor. Wow!
Who's got the needle?
Who is fit to burst?
A morphine tattoo an unquenchable thirst
Who's got your girlfriend?
And who had her first?
Reading her column was essential
Hetty O'Hara Confidential
10. The Last Confession of Vivian Whip
A quiet and intimate moment. Maybe the deepest song of the album – what a big contrast to the song before. But it is finally just done too well to feel too confused and stop listening.
11. What Is It That I Need That I Don't Already Have?
It almost feels confusing that What Is It That I Need that I Don't Already Have? (what a long title) is another slow track – after listening to the eleventh song now, you are just used to contrasts and surprises already. You majorly listen to the voice and the guitar, but again, Costello is going for a quite wide instrumentation with an organ, a horn, a bass flute and a cello. Lovely. A track which feels like a jazz one, somehow.
What is it that I need that I don't already have?
Who was there in the past that I couldn't even see?
But will I seem so smart, me and my broken heart
When I am pretending to be free?
12. Radio Is Everything
Radio Is Everything is majorly spoken word with atmospheric background sound.
I'm sitting here wondering if this matchbox will hold my dreams
Will the red head in my arms go up in flames?
Or dissolve mighty regimes with her screams, or so it seems
She dragged my face from the eye to my lip on the rough side of the striking strip
To the port side of a sinking ship
Staring in a compact mirror
A siren calling from another era
While you made faces and then blew kisses
Drowned in a pool that hypnotized Narcissus
Lovely storytelling – and thus simply so deep.
13. I Can't Say Her Name
A touch of blues, a bit of jazzy – I Can't Say Her Name is one of the many recordings on this album at which Costello is joined by Steve Nieve et le Quintette Saint Germain. They just do a very nice traditional sound together, even though this song ends a bit weird.
14. Byline
I read by line by line by line
Some words of yours, some words of mine
Some sentiments are best forgot
Some letters read then folded shut
The album ends with a ballad, which has some scattered deep elements. Nice finale.
Elvis Costello – Hey Clockface – Spotify
Here is the Spotify widget to Hey Clockface:
Elvis Costello – Hey Clockface – My View
If there is something like the most versatile album of 2020, Hey Clockface definitely has a lot of potential to win this award. Rock, r'n'b, country, blues, jazz – you find a lot of different elements here and there in this selection of 14 songs (not too rarely multiple influences in one song). If you are solely keen on pop or rock sounds, you will not enjoy Hey Clockface too much. But you will miss a lovely one.
British Media Reviews
Here are more music and other media reviews about bands originated in the United Kingdom:
London Hotels at Flyctory.com: