I like the way Mira Goto describes her business on her Facebook page: I write songs, and then I sing them. Music business can be so easily explained, can't it? I ran into her music a couple of weeks before she released her debut EP Nobody Warned Me on 16th October 2020 – and I even felt it is worth to listen to her music as well. Here is my view on her seven track EP.
Mira Goto – About The Artist
Unfortunately, my information on Mira Goto is very limited, apart from the typical marketing stuff you receive in a US-style press kit: Mira Goto is a California artist, who is still commuting between her home town Santa Cruz and Nashville to fulfil her musical career. In 2017, she enrolled to a West Coast songwriting contest and reached the finals. Her first single is dated as of 2018, All Your Fault. This is also the only original track I found of her which is not also part of Nobody Warned Me. The same year, she released Next Life. There was no publication in 2019.
Mira Goto – Nobody Warned Me – Track by Track
The EP covers seven songs and lasts 23 minutes.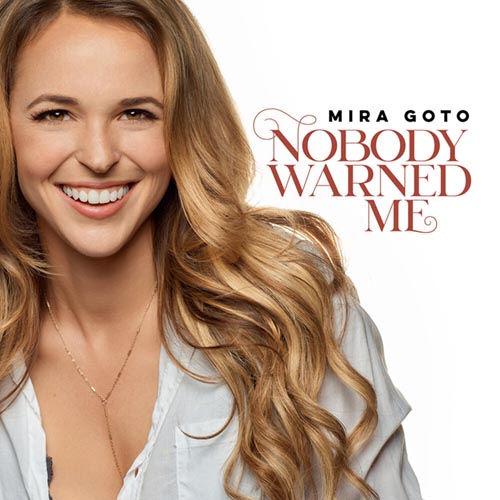 1. Nobody Warned Me
The title track of the EP has been released some seven months before the EP itself already. They tried to warn me, but nobody warned me about you – the song caught me from the very first moment when I listened to it. Lovely one!
2. One Step Closer
One Step Closer has been my first contact to Mira Goto, when I added the song to my New Country Hits playlist. A powerful song, with a dark touch. Well done!
3. Fine
There are unfortunately only two songs which are new to the EP – Fine is one is of them. After two quite powerful and present songs, Mira Goto shows a very different atmopshere in here: Her voice, almost fragile, and the acoustic guitar. That's all. And that's really nice.
4. Anybody Else
I ain't no good in being anybody else – I won't comment on the double negative and discuss what the real meaning of that is. The song itself is a catchy one, using electric and steel guitars to create a nice country sound.
5. Next Life (feat. Marc Broussard)
Song number five is something for the lovers and romantic gals out there again. A perfect snuggle duet with two lovely voices. Simply beautiful!
6. Tequila Told Me To
Oh no, what did I do, Tequila told me to – this track is something like the hidden gem on the EP. A superb country party track. If you can't dance to this one, you can't dance at all. Great one!
7. Circus
The EP concludes with the melodic Circus. I personally feel it is the weakest track of all seven – but the other songs are simply very good. And I like the different way of singing Mira Goto uses in here. Still a nice one.
Mira Goto – Nobody Warned Me – Spotify
This is the Spotify widget to the EP:
Mira Goto – Nobody Warned Me – My View
Even though I knew few songs of Mira Goto before, this debut EP is definitely a very positive surprise to me. I love versatile productions, I love EP as showcases of the talent and styles of an artist, especially at his/her first major career steps. Mira Goto does this one close to perfection. Listening to Nobody Warned Me is just made for the very high ratings.
Debut Albums and EPs on Flyctory.com
More excitement – here are all debut albums & EPs in the Flyctory.com Media Reviews:
Women Country in my Spotlight Interviews
Here are all Flyctory.com Spotlight interviews, in which I chat with female country artists: