Chronicles Of The Kid is a typical Flyctory.com album review. I scanned new releases in a promotion platform and stopped by a sound, which I just felt is worth sharing. Finally, this album by US-American artist Ayron Jones even makes it on the Wednesday preview spot in my posting structure. The in-fact release date will be on 23rd June 2023.
Ayron Jones – About The Artist
Ayron Jones was born on 23rd August 1986 in Seattle. Active since 2005, his music blends blues, soul and rock elements. He released two studio albums in the 2010's. However, a record deal boosted his career. Especially the 2021 singles Mercy and Supercharged, which were taken from his Child of the State album, had very good placements in the US Mainstream Rock Single Charts. Chronicles Of The Kid is his fourth studio album overall.
Ayron Jones – Chronicles Of The Kid – Track by Track
The ten song album lasts 35 minutes.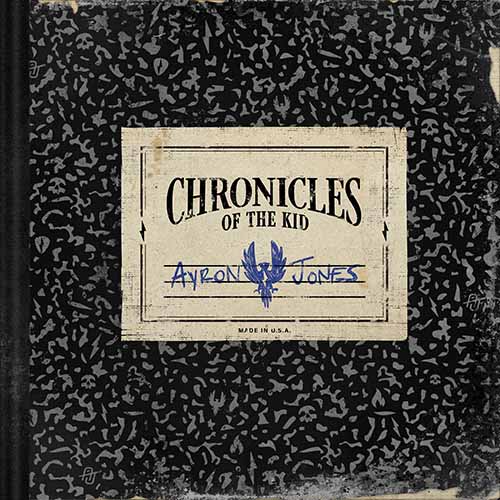 1. Strawman
You can burn me like a Strawman
But you'll never kill my name
Been left to die
But I'll survive
Ain't no stranger to the pain
You can hang me like a scarecrow
And make me dig my grave
But like the phoenix flies
I will rise
I'm a child of
A child of the flame
If you like a slow starter at the beginning of an album, Chronicles Of The Kid gives you a tough time. The first tunes of Strawman are some heavy guitar riffs – and the sound is pounding on during the duration of the song. The chorus is a blast. Cool one.
2. Blood In The Water
After this rock afterburner, the very melodic and melancholic Blood In The Water shows a very different aspect of the work of Ayron Jones. However, after the first minute is very much concentrating on the vocals of the musician, the guitars claim their part of the sound back. Great rock sound with an alternative touch.
3. The Title
Even though Ayron Jones is present as the lead vocalist almost all of the time, this one is for the strings: Jones and Scott Stevens drive the song on the guitars, while Marti Frederiksen is creating a lovely groove, which creates a cool touch of groove metal and blues. The sound reminds me slightly of Nickelback, but Ayron Jones and his musicians feel more forceful.
4. Otherside
Was something missed
Do you dream of something more
Before death comes knocking at your door
The lyrics above are quoted from the beautiful pre-chorus. The sound of this track is simply a beautiful piece of modern 2020's style rock music with hard rock elements. There is a slight touch of R&B in these melodies as well.
5. My America
Is this my America
Is this my dream
A battlefield of hysteria
In the murder scene
How can this be my America
If I can't breathe
In a world where they're selling ya
The death of me
Just if you think it just cannot get better, this song comes around the corner. A bit of pathetic but also with a clear social-critic message. On the melodic side, this track comes with airplay potential as well as having a great chance to make rock music fans love it. Great one.
6. Living For The Fall
During the very first tunes, I felt that Living For The Fall is a bit too kitschy. This especially applies to the vocals. However, Jones is altering his vocal style in this power ballad. The 3:44 minute listen even has a rather angry or aggressive part. And Jones proofs me wrong by finally delivering a really good power ballad.
7. "Filthy"
The seventh song is one of the single releases shared so far already. The singing style rather reminds of hip hop tunes than Jones being a real hard rocker. Luckily, the guitars howl sufficiently to bring this track straight back into the rock genre. Nonetheless, I feel more comfortable with other songs.
8. Get High
Even though Jones is having an inflationary usage of a bad word starting with, the smashing chorus is still giving me a certain smile in my face.
9. The Sky Is Crying
Ayron Jones is contracted with Big Machine – so I feel it is just right that he is also adding some Music City vibes to his recording. The song reminds me of Bruce Springsteen songs – maybe rather with Bryan Adams on the microphone. Finally, this blending of genres works very fine on this album.
10. On Two Feet I Stand
Have we made it already? Jones is going back to the basics and closes his album with a straight hard rocker. I am sure that there are quite some hair flying around the heads of the audience while this one is played live on stage.
Ayron Jones – Chronicles Of The Kid – Spotify
Here is the album on Spotify:
Ayron Jones – Chronicles Of The Kid – My View
I really like this album: it is cool, straight, versatile, modern – but also rather simple and does not work with too many elements on the melodic side. There is not much more for me to say than: give it a listen! To me, a clear Top Pick!.
Media Review (Rock – Top Pick!)
Here are all media review about rock music, which received a Top Pick! rating.
Free Entry Locations (USA)
Here are all my free admission reviews, which are related to the USA: