The sheer number of talents in US country music is massive. Some even make it to Europe quite early in their career. One of them is Jade Jackson, who had a quite successful 2017/2018 tour with her debut album. Wilderness is her second long player.
Jade Jackson – About The Artist
Jade Jackson is a Central Californian girl ages 27. After some serious acciddent some seven years ago, she started writing. Her first album, Gilded, which has been released in 2017, got really good reviews. After that tour, she had already sufficient material for Wilderness. Jade Jackson states about her 2019 album:
The message of 'Wilderness' is in how to get through all those tough situations—if you visualize yourself somewhere, all that good energy and intention can get you where you want to be. That doesn't happen if you have doubt or fear; in the wilderness, it'll get you eaten by a lion. So you have to figure out how to get through it. There are always solutions if you're open to them
Finish Line is taken from the 2017 Gilded album.
Jade Jackson – Wilderness – Track by Track
The 12 track album Wilderness lasts 44 minutes.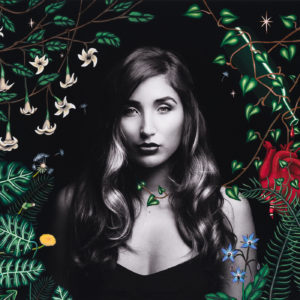 1. Bottle It Up
Though the chorus might suggest a too easy problem solving, the first track Bottle It Up is definitely one of the best on the album.
Bottle it up the way we feel right now
Whenever I get lonely gonna drink a little down
Bottle it up the way you're holding me
If ever I get lonely gonna pour myself a drink
2. City Lights
City Lights is also a very powerful track. Maybe not just as catching as Bottle It Up, but a very nice country rock song, definitely.
3. Don't Say That You Love Me
Don't Say That You Love Me is softer and more gentle than the two tracks before, but I love the well-being atmosphere of this track. Definitely nice to listen to.
4. Multiple Choice
Multiple Choice is which you will love if you just want to have a relaxing time with a drink and some country music or when you want to have a good time on a road trip. Nicely produced good mood song, which is not that present. Like it.
5. Now or Never
The longer the album lasts, the more it catches me. Nice country rock song again.
Yeah, you ask me to wait
So I wait, feels like forever
It's got to be now or never
The song definitely not feels like forever. It just makes me smile, makes me feel happy. Good Job, Jade Jackson.
6. Tonight
Tonight, I don't want you tonight – the chorus might not be sufficient to win a poetry slam contest, but it makes the song very easy to listen and sing-along. Thus, I feel it is a good one – there are more complex plots in other songs.
7. Dust
Dust is very special because the song does not contain any chorus, there are just four verses. Andreas Dorau did it vice versa in his 2019 album Das Wesentliche. Dust, though, is nice storytelling and a nice melody, like it!
8. Long Way Home
This song about going home instead of staying with a guy after a nice evening is quite catchy – also because the lyrics are not that long. Nevertheless, I love the song. Nice melody as well.
9. Loneliness
The slow Loneliness ballad is the second longest track on Wilderness. A very nice song. The basic chorus
How come loneliness is something we don't talk about?
Broken promises, hardly ever spoke aloud
is combined with other thoughts in the song. Really nice plot and story.
10. Wilderness
Track 10, here we go – the title track. the song is more uptempo again. My knee is going up and down with the rhythm from the very beginning
I hope you find your way out of this mess
And you surrender your pride
Have no fear in your wilderness
Through the darkness to the other side
Sad topic though. Still, I love the song.
11. Shiver
Shifter is as catchy as Wilderness. Maybe the vocals are a bit more present.
12. Secret
Last, but now least: Secret. The secret is by the way told in the chorus:
And all, all the walls inside me fell down
I don't want my bones to be buried in this town
I like the strong presence of her voice in this song. No secret: this is a nice finale!
Jade Jackson – Wilderness – My View
Honestly, I did not know Jade Jackson too much and just knew about her new album due to the 2019 tour and promotion material. Wilderness is close to a five star rating. I finally went for four points, but you will definitely not regret if you invest in Jackson's music. Look forward to enjoy this girl on stage!
Jade Jackson – On Tour
Jade Jackson will come to Germany and Central Europe for the second time after 2017.
| | | |
| --- | --- | --- |
| Wed 18.09.2019 | Paris (FR), 1999 | |
| Fri 20.09.2019 | Munich, folks! club | |
| Mon 23.09.2019 | Hamburg, Nochtwache | |
| Tue 24.09.2019 | Berlin, Privatclub | |
| Wed 25.09.2019 | Cologne, Blue Shell | |
| Thu 26.09.2019 | Amsterdam (NL), Bitterzoet | |
| Sat 28.09.2019 | Groningen (NL), De Oosterpoort | |
| So 29.09.2019 | Den Haag (NL), Paard Van Troje | |
Flyctory.com about Country Music
Here are all Country Music-related postings on Flyctory.com: