A lot has happened since the Country 2 Country 2020 headliners for all five venues have been published in October 2019. In October, I already wrote that especially Berlin becomes more and more an alternative to country music fans, who might not want to spent two weekends in a row with the festivals – or invest in the London ticket prices. Just three weeks to go and all participating acts finalized, the Berlin festival is on the final straight. Here is my preview of Country 2 Country 2020, which will be held from 6th to 8th March 2020.
The C2C in Berlin has been selected as my Best Concert / Festival Event in 2020.
C2C Berlin 2020 – My Postings
For each of the three days of the Country 2 Country 2020 in Berlin, I did three postings on Flyctory.com: First of all, one daily view concentrated on the headliners on main stage. The second one was about all side stages (including the Spotlight Stage in Main Arena). Last, but not least, I felt a Splitter giving you stories away from the stages may give you some insights what has been going on during the festival – and also gives you some smile. Here are the Flyctory.com postings of the C2C 2020 in Berlin:
Verti Music Hall – The Venue
For most country music fans, the Verti Music Hal will feel like home already in this second edition of country to country. We might all be longing a bit to move to the Mercedes-Benz Arena next door, which would mean that you have a four times higher capacity compared to the a bit more than 4,000 people holding Verti Music Hall.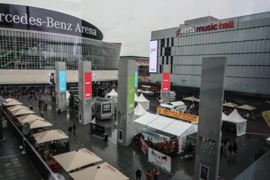 What is very nice about the area is that it attracts a lot of additional facilities around, as the area is quite recreational. Last year, the Sound of Nashville / Semmel Concert people, who organize the festival in Germany, used a bowling lane and a cinema for additional venues, the central Town Square had some merchandise and shopping and in the Verti Arena, they also added a Spotlight Stage for upcoming acts, especially to present themselves during the intermissions between the concerts. For 2020, some venues have been added – the most prominent one is definitely the Bluebird Cafe session, which is held during a river cruise in Berlin.
The main arena offers quite good views. Very surprising to me (as it is a very new place), Verti Music Hall just holds a very limited number of seats – the vast capacity are general admission standing tickets. In general, I liked the place during the 2019 C2C. They had some terrible organizational lacks, especially about the gate opening times, which I feel should be solved this year. The only thing I did not like at all was the floor, which felt very hard for me so that I had pain standing there all the time.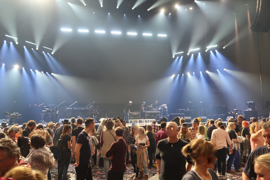 Verti Music Hall is quite easy accessible with local transport. The Ostbahnhof and Warschauer Strasse are closeby. Thereby, the Ostbahnhof is not just only featuring a supermarket, but also long-distance train connections.
C2C Berlin 2020 – The Line-Up
Already during the presentation of the main act lineup in October, it was clear that Berlin and Amsterdam will not be too far away from the London/Dublin/Glasgow experience. Some main acts are missing on the tableau – the country music community is likely most longing for Eric Church.
There is still quite an interesting line-up. Friday comes with Luke Combs, who is likely currently one of the most dominating acts in the country music scene, who also equalized the longest running album-chart topper of all times with This One's For You while his next great album, What You See is What You Get was already released. The Cadillac Three guarantee a great party in Berlin (their recent album contains some really good ones for that…), while Lindsay Ell has already established quite a fan base in Germany. A Thousand Horses will have the honor to open the Berlin main stage.
Saturday will be fantastic. Darius Rucker will give a powerful show and finish of the day in style for sure. I am not too much a fan of Old Dominion, but they just made me love their latest album released in October 2019. Jimmie Allen guarantees to be a treat on main stage – I haven't seen him on stage yet, but all his reviews are very positive. Saturday will start in style with an Introducing Nashville songwriters' round. Abby Anderson got so much power and positive energy in stage and Eric Pasley, who I saw live in September 2019 in Aschaffenburg the last time, is one of my favorites – a great artist and an amazing songwriter. I did struggle with Tenille Townes' recent EP, a preview to her March 2020 album – but I feel she could be great in the round live on stage.
Sunday on main stage starts with Noah Schnacky, who did already gain some merits in his young career. Runaway June will definitely perform their smash hit Buy My Own Drink, which will be fun. I had mixed feelings about their album Blue Roses, maybe they proof me wrong. Charles Esten is one of the big names of the US country music TV series Nashville and guarantees a high level of entertainment. Brett Young will shut down main stage. There has been some discussion in the community if he is really already on headliner level – at least some of his songs will cheer up the arena definitely!
C2C – Side Stages & Side Events
I will not go through each and every artist which will be presented on the side stages, but pick some in the next section. However, there are some very interesting side events. First of all, the fans (if they are not already tired…) will enjoy the after-show parties, which are hosted by different artists. The Friday party's host is Jimmie Allen, who will be followed by Willie Jones and Twinnie, who is one of the Flyctory.com Featured Artists.
The most interesting events, though, will likely be the two Bluebird Cafe sessions. These intimate songwriter rounds will host three artists each. The very characteristic thing about these events that they will be held on a boat cruising on the River Spree – this just has to be a lot of fun, I feel. The Saturday cruise features Austin Jenckes, Caylee Hammack and Filmore, while you set (virtual) sails on Sunday with Charles Esten, Tebey and Tony Arata. The Bluebird Cafe will also be featured in the Bluebird movie showcase on Saturday.
All these events require additional tickets. The bad news is, though, that the Friday and Saturday parties as well as the Sunday cruise are already sold out.
C2C Berlin – My Favorites and Acts To Watch
Apart from the main artists, which I listed above anyway, I personally recommend you the following artists on the side stages:
Friday:
First of all, there are two Flyctory.com Featured Artists on Friday, Kenny Foster and Twinnie. Kenny is an amazing artist, who feels way too underrated to me. Twinnie is always a lot of fun as well. Her very personal, very individual country music songs will leave you with a smile. Kenny Foster will perform on Sunday as well, Twinnie on Saturday (apart from hosting the closing party).
Austin Jenckes is an amazing artist with a catching voice. I saw him in September 2019 in  Amsterdam with Lauren Jenkins – it was just great! He will also perform in Berlin on Satruday, including the Bluebird Cafe cruise.
Jake Morrell is a great British artist. His Englishman is close to legendary, but also a lot of other of his songs are great. He will have his first German appearance and be on stage all three days.
I look definitely forward to see Nik Wallner again – a Southern German artist, who will be the only act in fact singing in German. Very nice person, who I saw supporting Noah Guthrie in December 2019 in Cologne. Nik Wallner is in the lineup for all three days, so you will likely run into him.
I absolutely love Tenille Arts. Her album Love, Heartbreak, & Everything in Between was definitely in the upper ranges, but Tenille is even better on stage. She will be on the side stages on Saturday as well
Finally, the very exceptional, but also very powerful Willie Jones is always an excellent choice, when it comes to just hanging out and having a good time with a bit of different country music. I loved his show in the Cologne YUCA. He will also perform on Saturday.
Saturday (in addition to above):
Kassi Ashton already has a great fan base in the UK. I haven't seen her live yet, but I really look forward to see her on stage – which you can do Saturday and Sunday.
Mr Denim on Demin, Tebey, will be on stage Saturday and Sunday as well. The Canadian has a lot of potential. I loved his brief set supporting Scotty McCreery in October 2020.
Finally, I look forward to see Van De Forst again. Vanessa is the second German artist in the lineup of the Berlin C2C. She is likely one of the most advanced German country music acts and already had some really remarkable shows as a support act. For example, I could see her supporting German Schlager star Ben Zucker in LANXESSarena Cologne.
Sunday (in addition to above):
There are not too many artists on the side stages, who do not have appearances on the side stages on one of the days before – the more, there are two really interesting names. One of them is Catherine McGrath, who felt to be an outstanding talent and act when she released her massive Talk of This Town album in 2018. I followed her career during that period very intensively. She is lacking new material, but her debut album will be sufficient to give you a blast at her German debut performance.
Tim Hicks is an amazing Canadian singer-songwriter. A bit of surprising that he is a side stage artist in Berlin – he has the potential for the large one.
Finally – The C2C Berlin 2020 Ticket Prices
The prices for the C2C in Berlin are still very moderate. If you wen for the very first wave of presales, you even paid siginificantly kess than the 231 Euro you pay for the for the full weekend ticket now. Berlin is indeed the only C2C venue with general admission / standing tickets, but compared to the more than 400 Euro I paid for a not too superb London ticket one week later, Berlin is quite a bargain. In the current phase of presale, day tickets are about 83 Euro.
C2C Logo protected 
Flyctory.com about Country 2 Country
Here are more postings related to the Country 2 Country festivals in the UK, Netherlands, Ireland and Germany:
More postings about Germany
Here are all Flyctory.com postings related to Germany: