Getting more and more into country music, I more and more love songwriters rounds. Several singers or songwriters are on stage together and presenting one by one in multiple rounds new or well-known songs. Typically, there is a strong focus on the background and stories in the songs presented, which makes it a very unique kind of concert. As part of the events happening in parallel to the CMA Fest 2019 (here is my trip report how I got into Nashville), Kenny Foster invited some artists to a songwriters round. It was located in The Listening Room in central Nashville and hosted himself, Twinnie, Jenn Bostic and Sarah Darling.
There is a designated gallery with major size pictures to this article. Unfortunately, I just travelled Nashville with my compact camera equipment.
The Listening Room – About the Venue
The Listening Room is in the heart of Central Nashville, slightly South, located at 4th Avenue. From the Southern tip of Bridgestone Arena, you will easily walk within 15 minutes.
I unfortunately did not take any pictures of the venue itself. It is quite lovely and cozy, though it might not have a too overwhelming look from outside. The tickets were 6.50 USD including all fees. However, there is a 15 USD per person food and drink minimum. The food I had was very delicious and the staff very kind. There are regular concerts, so you might love to have a look into this place.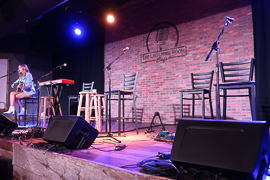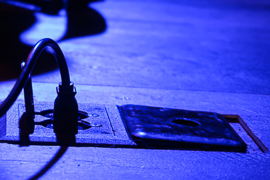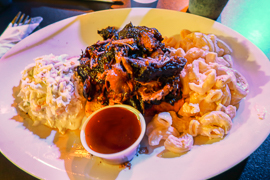 Kenny Foster & Friends – About the Artists
The four artists now each other from performances in the UK and Europe, especially Foster, Twinnie and Darling are also well known in Germany due to their performances at the C2C 2019 in Berlin and the Sound of Nashville concerts thereafter.
Kenny Foster
Kenny Foster is a Missouri-born artist who is living in Nashville for over 15 years now. He is well-reputed in the music press and his performances, e.g. in Berlin, are very well reviewed as well. He is a great musician, I love his storytelling. Forster is currently working on a new album, his last one, Deep Cuts is a 2017 one. Here is the title track, Stand.
Jenn Bostic
Jenn Bostic is a Philadelphia-born artist, who is doing country music as well as Christian songs. Many of her songs have strong keyboard / piano melodies, she is an amazing in these instruments. Her song Jealous of The Angels, which is dealing with her father being killed in accident at young age, is likely her best known song and was also an amazing moment of this session. This song itself has over three million YouTube impressions. I also put it into the initial set of songs for the Flyctory.com Country Music Playlists.
Twinnie
You will find a lot of information about Twinnie on this website. I just fell in love with the straight lyrics of her songs, when I first saw her on stage. Born in York, she also became known for playing musical (how could I not love her? She played Rock of Ages 🙂 ) and having TV and movie appearances. This year, she topped the UK country charts with the Better when I'm drunk EP and played her first headline show in London. In May, she supported Cassadee Pope in the CMT Next Women of Country and will support Lauren Alaina in the UK as well. Because you find Better when I'm drunk already in my C2C 2019 favorites, I here is the video of the lovely Cupid, which was not part of the Listening Room performance.
Sarah Darling
Last but not least, Sarah Darling, born in Des Moines, Iowa, is characteristic in having very strong vocals-based country music. Her songs often sound a bit of mystic (in a lovely way). The day after that Listening Room performance, Sarah Darling released her 2019 album Wonderland, which I absolutely recommend. Her debut album, Every Monday Morning, is from 2009. I love her picturesque lyrics. Her biggest commercial success was Home to Me, which you find in the Wonderland review. Her song Where The Cowboys RIde was one of my C2C 2019 favorites. The song below, Wasted, touched me most at the Listing Room as was an essential part of the whole session.
Kenny Foster & Friends – The Show
I feel it is very hard to split up the sets of a songwriters round. At an ordinary concert, I would describe the artists set by set, but I feel it is not appropriate at this format and would not reflect its story.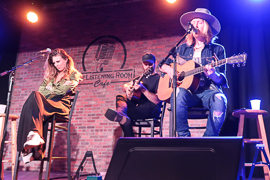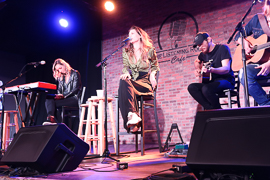 Sarah Darling started the round with Talk about the Weather of her (at this point of time) to-be-released Wonderland album. The second song of each round was presented by Jenn Bostic, followed by Twinnie and Kenny Foster himself. Darling and Bostic are amazing voices, Bostic in addition was very special in this round as she played the keyboard (instead of the guitar, which is the "classic" songwriter round instrument) to her songs. Both artists are amazing in making you travel in their world of stories. Twinnie and Kenny Foster are both very good storytellers, but are more straight in their lyrics. They also deliver elements which make you smile and laugh during the show. Twinnie's Daddy issues or Better when I am drunk are perfect examples.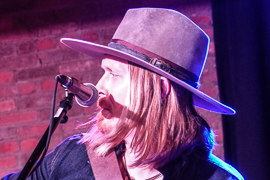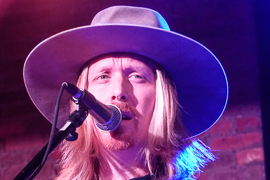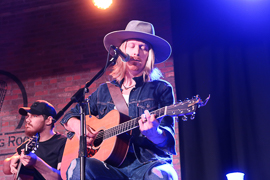 Sarah Darling – New Song one Day before Album Release
Despite just about to release Wonderland, Sarah Darling performed one song together with her songwriter, which is already new material. This was absolutely new material, they still needed the lyric sheet to perform it.
I feel that the most memorable part of this round was when Kenny Foster performed a song about somebody having a "stop word" with his wife. During the song, you understand that their stop word is simply "yes" – so any discussion is easily ended with agreeing on one's opinion. The lyrics were hilarious, most people, on and off stage could not stop laughing. I really hope he will publish this one. Sarah Darling had a tough time thereafter, choosing Wasted as her final song, which is about alcoholic abuse. When Jenn Bostic finalized her series with Jealous of the Angels, which I quoted above, it was definitely the emotional highlight of the 90 minute session.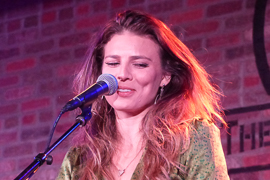 Kenny Foster & Friends – My View
I obviously chose this songwriters round due to my personal contact to the artists, Twinnie and Sarah Darling. Nevertheless, I feel that you can objectively state that the Listening Room had very enjoyable 90 minutes. The artists are very different in their kind of music, but all very talented. Kenny Foster and Twinnie are lovely in their ironic, humorist, sometimes even sarcastic lyrics. I deeply like Sarah Darling's new album Wonderland and enjoyed her songs – amazing to see that there was already new material. Jenn Bostic's musical and vocal talent is fantastic, I loved to listen to her, her songs maybe touched me most. Finally, congrats to Twinnie, who had her first songwriters round in the Listening Room.
Regarding all four artists, each of them in his/her very special way, I can say that I deeply recommend to visit one of their shows when they are around. You will have a great evening!
Kenny Foster & Friends – Gallery
Though I just used my compact camera equipment, I felt that I did some nice shots of the show. I added them to this concert gallery.
Kenny Foster & Friends in Germany
Sound of Nashville will present four shows in Germany which feature three of the artists of this show, Sarah Darling, Twinnie and Kenny Foster. Twinnie will not join the Berlin date, though:
| | | |
| --- | --- | --- |
| Sa 12.10.2019 | Cologne, Helios 37 | |
| Su 13.10.2019 | Frankfurt, Das Bett | |
| Mo 14.10.2019 | Hamburg, Nochtspeicher | |
| Tu 15.10.2019 | Berlin, Musik & Frieden | w/o Twinnie |
Flyctory.com about Country Music
Here are all Country Music-related postings on Flyctory.com: