Hardy is quite well-known in the country music scene as a songwriter. Florida Georgia Line, Chris Lane or Morgan Wallen have already used his writing skills. After two EPs, he is aiming for his debut solo album A Rock, which has been released on 4th September 2020.
Hardy – About The Artist
Michael Wilson Hardy was born on 13th September 1990 in Philadelphia, Mississippi. He moved to Murfreesboro, where he got a degree in songwriting at the Middle Tennessee State University, before he went on to Nashville. He wrote for many other bands, before he signed a solo artist contract in 2018. In the same year, he already released his debut EP This Ole Boy. In January 2019, he added Where to Find Me. His biggest single of that period was his debut Rednecker, which made it to the Top 30 Country Singles and Country Airplay Charts. The song was streamed 25 million times on YouTube so far. In 2019, he released Hixtape, Vol.1, which is a collaborative album featuring artists list Trace Adkins, Keith Urban or Thomas Rhett. His 2020 single One Beer with Lauren Alaina and Devin Dawson, which is part of A Rock, had slightly better placements. This 2020 album is his debut one.
Hardy – A ROCK – Track by Track
The twelve song album lasts 42 minutes. if you are already using the Buy Me A Coffee link so that I can afford a new keyboard… The track names are really all written in capital letters (I of course still appreciate donations, even though I do not need a new keyboard…).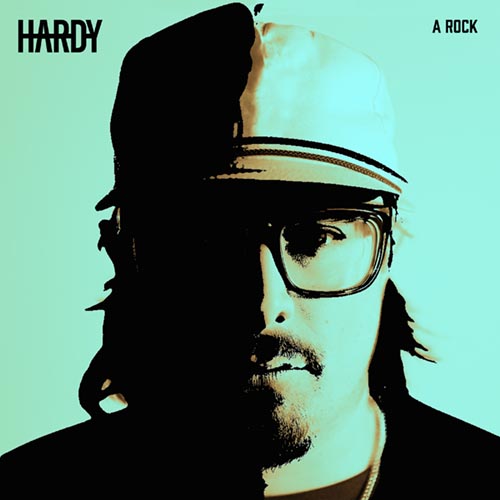 1. TRUCK
TRUCK was one of the last tracks to be released before the album. The song is really fun, having a lot of power. Good start of the album.
2. BOYFRIEND
Yeah, I've been thinkin' a lot
'Bout goin' all-in on what we got
I got my eye on a twenty acre spot
With a fence in the dirt
Yeah but first, girl
I wanna call up your dad
Spend all of my coffee can stash
And ask you "What's it gonna be?"
Puttin' one knee on the floor
'Cause I don't wanna be your boyfriend anymore
A very typical modern country sound song. Ain't that an amazing way to do a marriage proposal? I definitely love that song.
3. GIVE HEAVEN SOME HELL
The closer you come to current Nashville mainstream modern country sound, the more it is important to me that you have catching elements in your songs – otherwise, music tends to be great for the moment, but forgotten for the next. It may sometimes just be a tiny nuance between great song and bulk-style mass music. I was a bit afraid after listening to the first songs of Hardy that he may not make that cut – but so far, I am very pleased. His voice, his stories are signature elements, luckily.
4. BOOTS
I woke up in my boots this morning
Fell asleep in my boots last night
Had a feeling that I'd run out of warnings
Girl I couldn't have been more right
Yeah I knew I wouldn't have to take the time putting em back on when I'm sober
Yeah I knew you'd be pissed off over me and I'd just be hungover
Girl I knew I'd open my eyes in a house fit for a dog
Knew I'd need 'em come the daylight so I didn't even take 'em off naw
I woke up in my boots this morning
A hangover which makes me smile. Rocking, angry tunes, also some rather spoken passages. I don't consume too much alcohol, but this sounds like a good story 🙂
5. WHERE YA AT
Fasten your seatbelts… This is a beats-per-minute high speeder! WHERE YA AT is a lot of fun. I talked about Nashville mainstream some songs before – this one is definitely country music, Hardy style. If it wasn't so fast, I might even dare to bang my head here and there. Fun!
6. AIN'T A BAD DAY
The sixth track is slowing down the pace significantly again. Highly appreciated relax – and a good song as well.
7. ONE BEER (feat. Lauren Alaina & Devin Dawson)
After Lauren Alaina is releasing her new EP the same day as A ROCK and discussing If I was a Beer on it, she feels to be an expert for this kind of topic. This three-artist collaboration is definitely a cool song, no matter about alcoholic expertise. Next time whiskey with Lauren Jenkins, please!
8. SO CLOSE (feat. Ashland Craft)
For SO CLOSE, Hardy is joined by The Voice contestant Ashland Craft. The result a lovely country power ballad. One of the best songs of the album to me.
9. BROKE BOY
With BROKE BOY, Hardy presents another song with a lot of energy. The song is catching. Don't listen to that one while driving, you might just have to push the pedal to the metal.
10. HATE YOUR HOMETOWN
I hope you hate your hometown – and come back to me. If you are curious about what is behind that title, sorry for spoiling. However, I won't tell you more about the hilarious lyrics – to me, one of the best of the whole album. And if you are an electric guitar lover, Hardy will make you happy on top of the story.
11. UNAPOGETICALLY COUNTRY AS HELL
UNAPOGETICALLY COUNTRY AS HELL has maybe the strongest classic country touch of all songs. Hilarious lyrics again. Nice!
12. A ROCK
Did you miss the title track? Here we go. The album closes with an easy tune. Nice song, even though it is not my favorite track.
Hardy – A ROCK – Spotify
Here is the Spotify widget for The Rock:
Hardy – A ROCK – My View
I ran into the music of Hardy a few weeks ago – and he definitely won my heart with A ROCK. Great songs, very often a catching and ironic way to tell stories, a lot of power, but still a great listen – this guy has it all. Music straight for my heart, music straight to the Top Pick! selection of records. This is an A mark.
Top Pick Country Media Reviews
Here are all other country music media reviews, which have been awarded with Top Pick! status:
Flyctory.com about Memphis
Here are all postings related to Memphis