Quite surprisingly, there seems to be a quite sudden competition about the promotion and management of country music concerts in tours in Germany this year. After the Country 2 Country 2019 in Berlin, Semmel Concerts found the Sound of Nashville concert series, which feels to be a very clever marketing label for the genre. In addition, they brought the Country Music Week to Germany with season tickets in the different cities where the different acts will play. Thus, I was very much looking forward to take part at a press event at the Semmel Concerts Cologne offices on 11th September 2019, which also included a show by Logan Mize.
In addition to the pictures in this posting, there is a 151 major size picture gallery in the Concert Galleries.
Logan Mize – About The Artist
Logan Mize is country music artists and songwriter, who is originally from Clearwater in Kansas. Though he is an active musician since 2000, his first album, Logan Mize, is as of 2009. He signed is initial record deal in 2010. He overall released three albums so far. The second one, Nobody in Nashville just made it to the Top 50 in the US Country album charts and placed 15th as peak positions in the US Heat Album charts. In 2015, he released his first EP Pawn Shop Guitar, which had two comparably successful songs. Though it "just" placed 49th as peak in the US Country Airplays, his 2019 song Better Off Gone was a significant boost to Mize's reputation and presence in the country music scene.
Logan Mize in Cologne
Before the acoustic set, there was a photo shoot with Logan Mize in Cologne's old town around the Heumarkt square. It was amazing to see how friendly Mize took over that task, and interacted with the press people. Likely, the nicest place for the photo shootings was the Willy Ostermann Fountain, a place which reminds of one of the city's most important writers and performers of carnival music.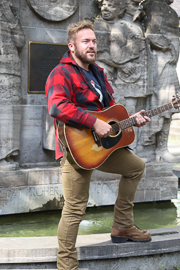 Logan Mize Acoustic Set
After the photo shoot, Mize gave a four set acoustic set in the Semmel office. He started the set with Better Off Gone, followed by the so-far unreleased Prairieville, a song about a fictive town in Kansas, similar to the one he grew up in. Finally, he played Only This Town. Due to a late arrival of one journalist, he added Sunflowers. He was accompanied by his percussion player Jimmy. Amazing to see an artist who has a triple digit number of million streams in that atmosphere.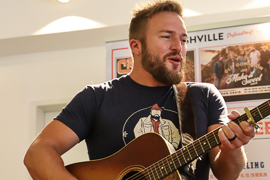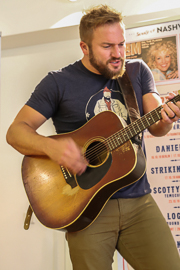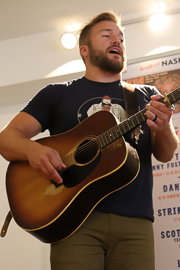 Sound of Nashville Press Event – My View
It was great to see Logan Mize in that promoting the Sound of Nashville series and the Country Music Week (which will rather be a Country Music Month at its German debut) in the Semmel Concerts offices. Mize was just another proof that country music is straight, handmade and the artists are very close to their fans and people. A fascinating event in a very friendly and intimate atmosphere, which definitely
Sound of Nashville – Concerts
The following Sound of Nashville events are currently running or will take place in the following weeks. Artists in italics do not feature the whole set of concerts given. Shows in bold are the ones I am planning to attend with Flyctory.com. Hyperlinks in the right column lead to concert reports on flyctory.com:
Main Artist
Support
Date, City, Venue
Jillian Jacqueline
Lauren Jenkins, Austin Jenckes, Gary Quinn
09.09.2019 Cologne, YUCA

10.09.2019, Berlin, Franzz Club

11.09.2019, Munich Backstage

12.09.2019, Hamburg, Indra Club 69

Austin Jenckes
Frankie Davis, Joe Buck
13.09.2019, Cologne, Luxor
CAM
Sam Williams
13.09.2019 Hamburg, Fabrik

14.09.2019, Berlin, Huxleys Neue Welt

Old Dominion
Jordan Davis
06.10.2019 Berlin, Astra Kulturhaus

07.10.2019 Köln, Live Music Hall

Sarah Darling

(in the Round)

Kenny Foster, Robert Counts
12.10.2019 Cologne, Helios 37

13.10.2019 Frankfurt, Das Bett

14.10.2019 Hamburg, Nochspeicher

15.10.2019, Berlin, Musik & Frieden

Daniel Donato
16.10.2019 Berlin, Privatclub

17.10.2019 Munich, Feierwerk

18.10.2019, Cologne, Helios 37

22.10.2019, Hamburg, Nochtwache

Scotty MyCreery
Temecula Road, Tebey
23.10.2019, Berlin, Privatclub
Logan Mize
Fairground Saints, Kyle Daniel
26.10.2019, Cologne, Club Volta

27.10.2019, Frankfurt, Das Bett

28.10.2019, Berlin, Musik & Frieden

29.10.2019, Munich, Feierwerk

31.10.2019, Hamburg, Nochtspeicher

Willie Jones
Tyler Rich, Tenille Arts
29.10.2019, Cologne, YUCA

30.10.2019, Berlin, Musik & Frieden

01.11.2019 Hamburg, Indra Musikclub

James Barker Band
Julia Cole
15.11.2019, Munich, Backstage Club

16.11.2019, Hamburg, Nochtspeicher

17.11.2019, Cologne, Helios 37

18.11.2019, Berlin, Musik & Frieden

19.11.2019, Frankfurt, Das Bett

Noah Guthrie
Nik Wallner
09.12.2019, Cologne, Studio 672

10.12.2019, Hamburg, Indra Musikclub

Brett Eldredge
Lauren Jenkins
24.01.2020, Cologne, Carlswerk Victoria

25.01.2020, Hamburg, Docks

Jimmie Allen
A Thousand Horses

Kassi Ashton

Filmore

10.03.2020 Hamburg Indra 64

11.03.2020 Frankfurt, Das Bett

Noah Schnacky
Abby Anderson

Tenille Townes

10.03.2020 Cologne, Club Volta

11.03.2020 Munich, Hansa 39

Lee Brice
30.06.2020, Berlin, Columbia Theater

01.07.2020, Hamburg, Gruenspan

02.07.2020, Cologne, Gloria Theater
The venue of Noah Guthrie's concert in Cologne has been renamed between the announcement and the concert. The new name of Studio 672 is now Jaki Club.
Sound of Nashville Press Event – Gallery
I added 151 pictures of the event to a designated gallery:
Sound of Nashville on Flyctory. com
Here are all other postings related to the Sound of Nashville concert series in Germany and the Netherlands:
More Postings with Gallery
Here are all Flyctory.com postings, which come with a larger size picture gallery: