Wonderland is the fifth studio album of US country singer and songwriter Sarah Darling. Sarah released it on 7th June 2019, right during CMA Fest 2019 in Nashville. I was quite much looking forward to listen to the full set of her latest lyrics. Here is a review of the album, which was released on the same day as Andreas Dorau's album Das Wesentliche.
Sarah Darling – About the Artist
Sarah Darling is one of the many US artists who started her career in a TV show: the 1982 born Iowa girl attended The Entertainer in 2003. As country music was not sufficiently popular to drive a Las Vegas show, she did not have a chance to win and went to Nashville instead. Her first album was released in 2009. Later she also appeared in Rising Star on ABC. While I love her Where the Cowboys Ride, which I voted to be one of my most beloved songs at the Country 2 Country 2019, Darling's most successful track is the 2012 Home To Me:
As she is married with a British man, she is quite frequently in the United Kingdom and also has a certain level of popularity in that country.
Sarah Darling – Wonderland – Track by Track
Wonderland is a 13 track album. It lasts roughly 46 minutes. A very special property of this albm is that it has been fully recorded in Great Britain.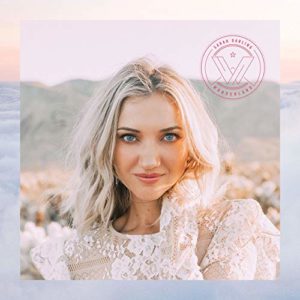 1. Blue Sky
I knew Blue Sky from Sarah's previous live performances. While it is especially a very slow, but impressive song, when it is played just with a guitar, I absolutely like the way it has been arranged for the album.
2. Call Me
I feel that this track is showing so much of the talents and potential of Sarah Darling and her music. A song you can dance to and have a good time, but on the other hand lets you think and listen to the lyrics. Her voice is so strong on this track. I love the chorus:
I'll be there, head rush, little too much
Moonshine buzz, party crashin', Appalachian honey
I'll be that song you wanna sing
Like you're seventeen, wild and reckless
All you gotta do is call me
The more often I listen to the album and this song, the more I felt how outstanding it is. Thus, it was an easy selection to put it into the initial set of songs for the Flyctory.com Country Music Playlists.
3. London Fog
The song is very decent, fragile, quiet. Nevertheless, I like it. The chorus (below) is a bit more present.
What if we fall like London fog, London fog
What if Big Ben strikes at dawn, strikes at dawn?
Will I wake up in your arms or was this crazy all along?
Was it love or was it just the London fog?
4. A Boy Like You
A Boy Like You is one of these signature Sarah Darling song. Her voice is very present, gently flowing on lovely arranged sounds.
5. Shine
From the way voice is put on top of the strong Sarah Darling voice, Shine may remind of A Boy Like You before. I like this song much more, though, as there is a stronger rhythm, even some guitars in it. That leads to a really good song, which might have more potential of a wider audience.
6. Light It Up
A lovely love-song, which you can dance to. Unfortunately, I could not find the album version somewhere, as this is definitely one of the highlights of the album. But this acoustic version is nice as well. Just imagine some more beats.
7. Enjoy The Ride
Enjoy The Ride illustrates how versatile Sarah Darling is as an artists. This is a nice arrangement for a classic radio song. Feels quite like pop.
8. Timelapse
I like Timelapse, also due to its nice rhythm and hookline. I also like the chorus quite much.
Feels like I'm living in a time lapse
Flashing frames going so fast
These days I don't wanna slow down
I know it's getting kind of reckless
I see it all but Heaven knows I miss
All the moments blurring as they rush past
Living in a time lapse
9. Fire
Fire was one of four tracks previously released. I love that melodies on which Sarah Darling lets you travel on this song. I feel like being on a soft cushion, hovering gently on a magic carpet ride. It is just a lovely song with beautiful lyrics.
You could light a city
With this fire
Never getting smaller
Only gets wilder
Testing me like crazy
Just for once I'd like to walk the easy road
And try the ordinary
But the fire won't let me
10. Diamonds
Diamonds is a fragile track. I just love to listen to it. Sarah's voice is a bit more dominant than in other tracks.
11. Dreams Fade Away
Dreams Fade Away catches you with the first chorus latest. It is also a nice sing-along one for concerts, due to the simple chorus structure.
12. A Little Bit Of Rain
Lovely lyrics in this track, which was also part of the previously released songs. Very poetic song where the music is just giving a decent background to the story told.
What starts out as a little bit of rain
Can turn into a hurricane
Much stronger than you'd ever thought it be
Get swept up in the aftermath
Before you know it you can't go back
In a minute your whole world could change
From a little bit of rain
13. Talk About The Weather
The final track of Sarah Darling's travel to Wonderland is again a fragile ones. From that perspective, if the weather would be like this song, we would be full of warm spring days. Not a too bad perspective. However, the song is not petty at all, as the chorus tells:
It's too late
You walked your way
And I walked mine
People change
Can't stay the same
We had our place in time
Sarah Darling – Wonderland – My View
Congrats, Sarah Darling! Thank you for taking us in your Wonderland. I generally love Sarah Darlings songs, but I feel that Wonderland is a very versatile, well produced album. There are no trivial or cheap songs. I like that wide range of songs, which are nonetheless concentrating of Sarah's strengths. I feel the album is absolutely worth a listen.
Sarah Darling – Wonderland – Amazon.de Link
Here is an Amazon.de download link for the album:
Flyctory.com Media Reviews
Here are all CD, book and movie reviews: