After Sarah Darling's amazing performance on Day 1, Saturday evening had a massive Ballroom line-up, featuring Twinnie, The Adelaides, Honey Ryder and Ward Thomas.  But there were also some other interesting acts on that 14th September at The British Country Music Festival in Blackpool, like The Luck, whose album Ready To Run I recently reviewed.
In addition to this posting, there is a dedicated major size picture gallery with 1,639 pictures in the Concert Gallery seciton.
TBCMF – Day 2 – Minor Stages
I was a bit late to the arena, so that I did not expect to see The Outside Chancers to be still on stage. The reason for that the Dusk Brothers' van had a break down so that they could not show up. This gave additional playtime to the additional acts.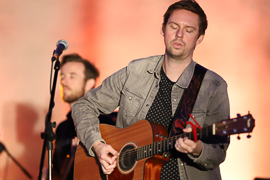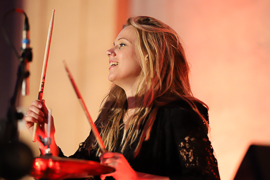 The second act on the major arena stage were the Recovering Sattelites, whom I liked quite much (also off stage, by the way, nice guys!). Quite powerful music – nice stuff to wake up after a long Adobe Lightroom night.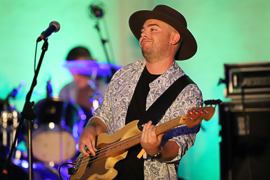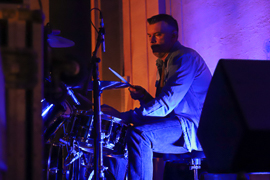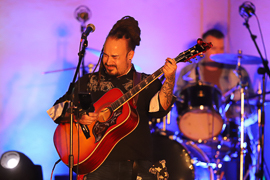 The first act on the smaller stage was Meghan Louise, who did a really nice performance there. I liked to watch her telling her stories definitely.
Beth Rowley on the major stage proofed that she is an amazing singer. Unfortunately, her stage performance is close to the debut appearance of a young boys choir. She partially held both hands behind her back for a whole song. Might be worth a listen on the recorded side of music, but she confused me too much in the Arena.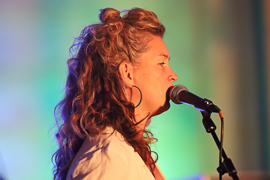 Norwegians in the Arena in Blackpool
Hannah White, the next act on stage, brought some international flair to the British Country Music Festival. Her band, The Nordic Connections all were Norwegians. A nice combo, fun to watch and the front-lady shows that she enjoys being on stage.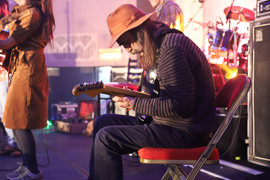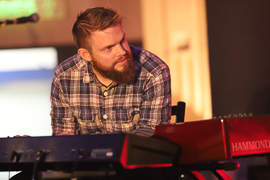 Unfortunately, I missed Jeannine Barry, as the songwriters round ran in parallel (see below). When I came back from Gillows Bar, I saw the last two songs of The Blue Highways, who seemed to be a really interesting and worth having an eye on band. They even had three brass players on stage, which added some nice tunes to a nice musical performance.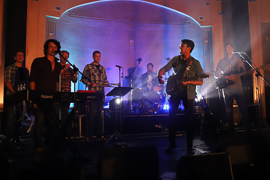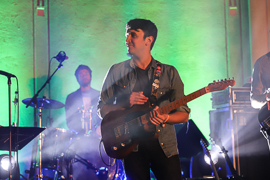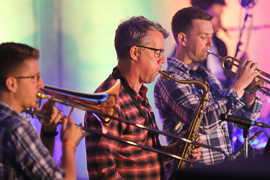 The Luck presented their album Ready To Run on the minor stage just a short break after they performed in Gillows Bar. I liked their album, but I even enjoyed them more on stage (in the round and on the minor stage). They just show that they are happy and feel comfortable to present their music to the people, love that!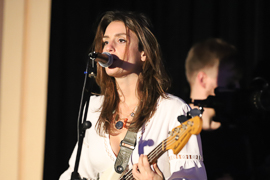 It was up to Katee Kross & The Amberjax to conclude the Arena Saturday. I would comment on her very similar to The Luck before: nice music and fun to watch her performing. She is nicely interacting with her band and with the people as well.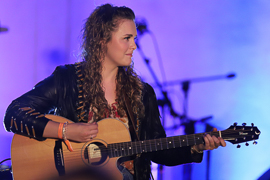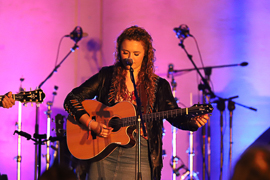 Gillows Bar
I unfortunately did not have too much time to spend in Gillows Bar on Saturday. The first act I saw was Kate Ellis, who played a set there besides two other musicians. Have to admit that it did not touch me overwhelmingly.
The next act I saw was Rosenblume – interesting combination of two words meaning "Rose Flower". There was no combo on stage, but just a single singer with guitar. His performance was definitely fascinating – definitely an artist, which one should keep in focus.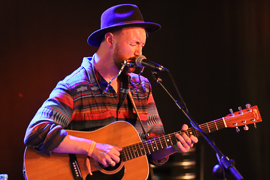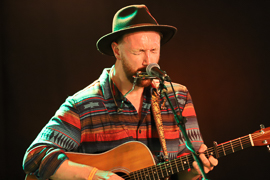 Twinnie and The Luck Break The Unwritten Round Rules
After Rosenblume, there there six barstools on stage – time for a songwriters round – or Songwriters Carousel, how they called the Blackpool version of it. Tim Prottey-Jones was leading the round (but not performing by himself), which was formed by The Luck, Twinnie and Jake Morrell. A really impressive round, which Morrell and Twinnie used to showcase some new songs. The Luck seemed to be a bit nervous and played the first song without any explanation. Twinnie just does not seem to be made for three songs on a chair – she left the barstool for the last performance and did at least a slight performance on the narrow stage.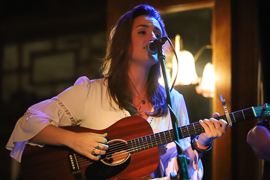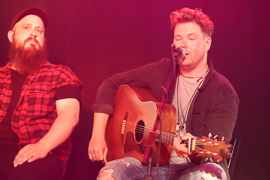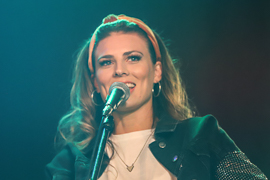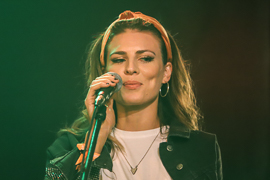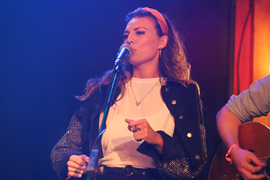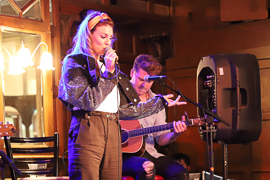 After that round, I had a short look at Jack Blackman, who had the quite unfortunate role to follow after these three good acts. He struggled with it to keep on catching the audience so that many people left the bar.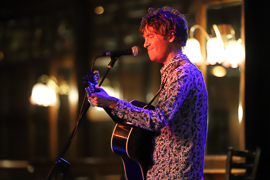 TBCMF – Day 2 – The Ballroom
The first act to be on stage on that Saturday evening was Blair Dunlop. Maybe not a massive blast, but well written and absolutely fine performed music – definitely a good choice as an appetizer before the other artists.
After Dunlop, Twinnie entered the stage for her first set. First set? Yes, her set was split in two parts. One of the key motivations was that she has been booked before her massive success with Better when I'm drunk and Social Babies, which was the last song of this set. She showed impressively that she is maybe the most promising act of the genre in the UK currently. Her songs are good, she is a bit crazy and her acting background helps her a lot on stage. In addition, her vocal range is massive.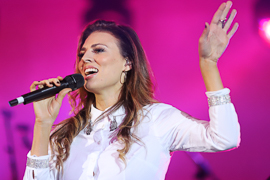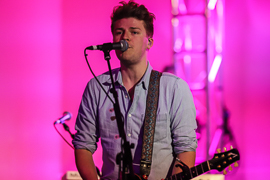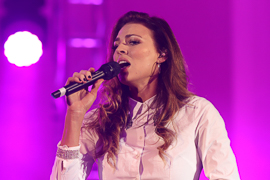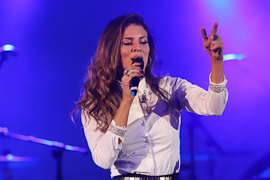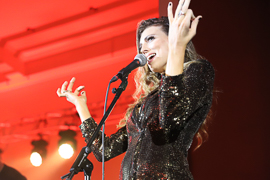 I have to admit that I am not too much a fan of The Adelaides – but on that major stage in Blackpool, the three ladies showed a very good performance. They interacted much more between each other than I had seen it before (on smaller stages as well). Definitely a good show and nice music.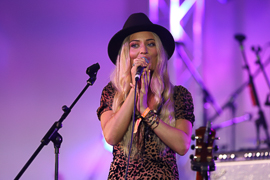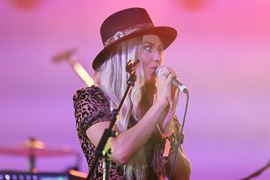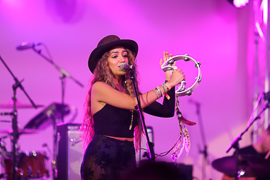 The next act was Honey Ryder. The band reminds me a lot of Lady Antebellum in the way they write songs and arrange them. Their music is massive and I feel that it must be a real treat to listen to their albums (I have do admit that I do not own one). They definitely could attract the crowds and made them dance – but I feel that they have much more potential than they showed on stage.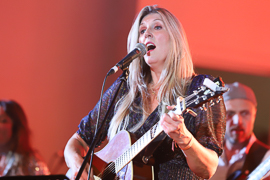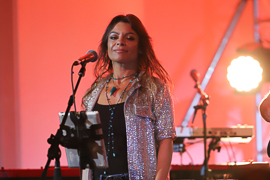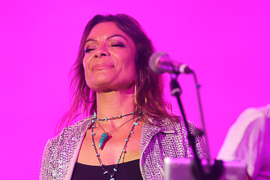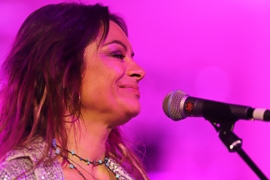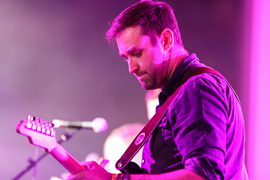 In the second last slot, Twinnie was back and performed some additional songs like Daddy Issues. Again, it was a real blast to watch this young lady. Not just because I like and admire her in general, she was the act of the day to me.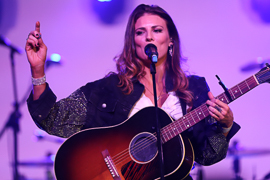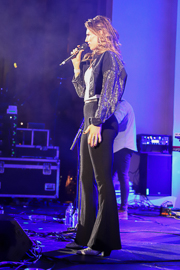 Finally, the stage was set for Ward Thomas, who are likely the most successful country music act of Britain. The show was very professional and had good music, but did not touch me as much as some of the performers before.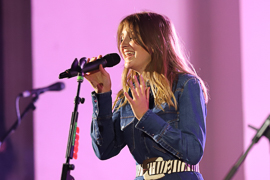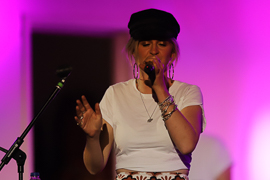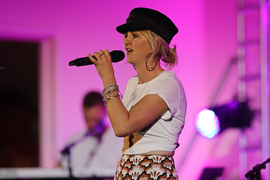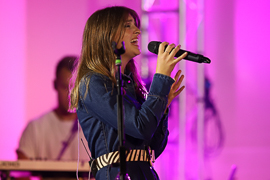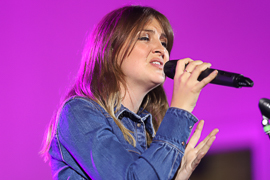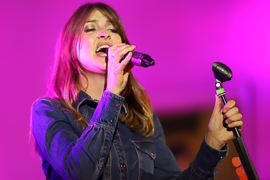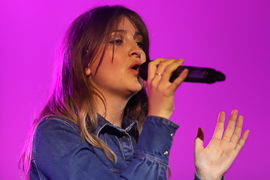 TBCMF – Day 2 – Splitter
There are always funny – and non-funny things happening. Here is the my daily splitter.
While there were quite some obvious lacks in organisation in Day 1, the organizers really did a great job overnight. Tables in the press room, daily schedules at the entrance and many more – thanks for a likely short night with a lack of sleep. By the way, the schedule for the Ballroom was still wrong as Twinnie played that split set… But that is just a side note.
In general, merchandise is limited at Blackpool. Some band bring some shirts and CDs, which are sold close to the venue. There is no festival shirt ot similar memorabilia available.
There were CDs of Twinnie in the main arena as well – however, there was just one shirt with a sign that you can order shirts online – forgotten the merch? Not sure – at least, her guitar player and she forgot to bring a guitar for the songwriters "carousel" – Gary Quinn helped the uprising British artist out.
TBCMF – Day 2 – The Gallery
Here is the gallery of the second day of The British Country Music Festival, featuring amazing 1,639 major size pictures:
Postings about Concerts
All postings about concerts I visited:
Postings about the United Kingdom
These are all postings dealing with United Kingdom topics: