Quite a lot of interesting music on Flyctory.com in November: after the Alexander Ludwig and Nik Wallner show in Cologne, I was looking forward to another Sound of Nashville event. The concert promoter brought Brett Young to my home town, supported by the amazing uprising artist Callista Clark. An exciting back-to-back weekend of concerts, right after my visit at the Milky Chance show the day before.
This posting comes with 362 major size pictures as part of the concert gallery.
Carlswerk Victoria – About The Venue
The Carlswerk Victoria is a relatively new venue in Cologne. I already have reviewed a show in the venue in a former industrial area of Cologne-Mülheim, a Brett Eldredge and Lauren Jenkins show in January 2020. The capacity of the venue is roughly 1,600 specators, it does have very decent parking and public transport options around as well.
Brett Young & Callista Clark – About The Artists
The headliner of the day was Brett Young. The 1981-born country pop artist from Anaheim in California was originally on a professional baseball career before he had an elbow injury. With his self-titled album in 2017 latest, he stormed into the top group of country music artists. The album was a platinum one in the USA and in Canada and featured quite some very successful hits like Sleep Without You or In Case You Didn't Know. Apart from a 2021 Christmas album, he released two more albums thereafter, Ticket to L.A. (2018) and Weekends Look a Little Different These Days (2021).
Support act Callista Clark is truly what you name an artist on the rise. Being 22 years younger than Young, she is also representing a new generation of country artists. She had her first major songs on Facebook, e.g. a cover version of Have You Ever Seen the Rain?, originally by Creedence Clearwater Revival. This made her sign Big Machine at the age of 15 already. However, it took her until 2021 to release her debut EP Real to Me, which she finally recently upgraded to an album, Real to me: The Way I Feel.
Brett Young & Callista Clark – The Show
Callista Clark opened the evening with a slight delay of a few minutes. The some 30 minutes set  She presentedd songs like Brave Girl and Worst Guy Ever (second and third song) in her setlist. Fun fact about the setlist: half of the paper stuck to the ground stated "Cologne" in large letters – better know where you currently are. Unfortunately, that was also somehow a symbol for her show. This young lady is full of talent, but she just felt to do a show. Like the show she did the day before in Amsterdam – or the show she will likely do the following day. Such a charming, amazing artist – but just not emotional enough to really get in contact with the audience. She is young, she will learn it – and her 17 million Spotify stream closing song It's Cause I Am illustrates her ability to perform really great songs on that evening in Cologne. She almost closed her set on time on 20:30 hrs. .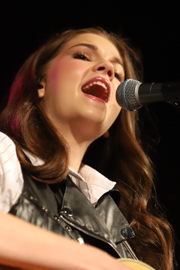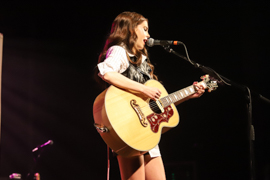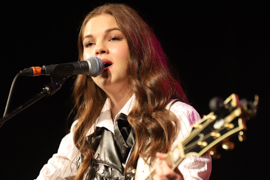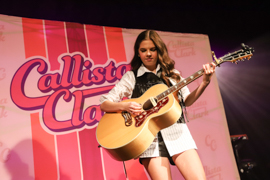 Brett Young's set started at after a less than 20 minutes break and almost lasted 90 minutes. Young was very interactive, ran up and down the stage and the Cologne crowd thanked him with a good atmosphere during the first songs of the evening, which opened with Catch and 123 Mississippi. Some parts of the show, though, did not connect to that, so that the atmosphere in the Carlswerk Victoria. One fun fact of the evening was that the neighboring Club Volta, which shares the same entrance area with the Carlswerk Victoria, hosted a metal concert the same way.. Here and there, metal fans had a look into the major arena and wondered what was going on in there. Some definitely enjoyed it as well.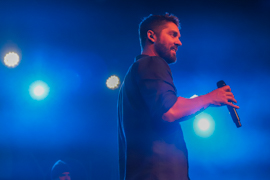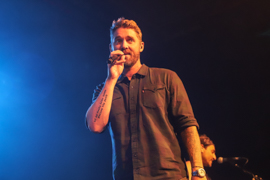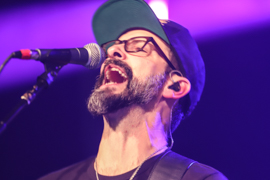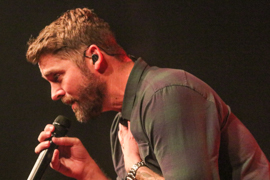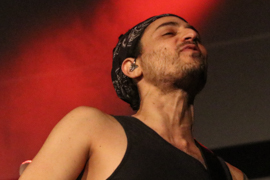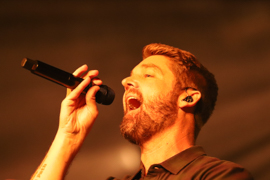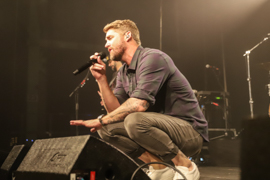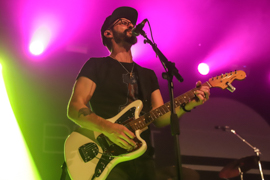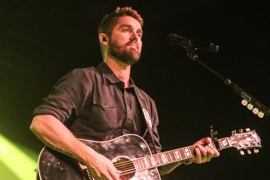 Apart from Brett Young's amazing ballad In Case You Didn't Know, the middle part of the show had some rather lengthy periods. There were also some major breaks, which did not really boost the level of positive vibes. Brett Young also played an acoustic part with Don't Take The Girl and Love Goes On, which would have been a nice opportunity to grab a Polish lentil soup at the catering… But unfortunately, the metal fans had been quicker. With Mercy, Brett Yound came back on track. Songs like Leave Me Alone or the last one before the encore, Here Tonight, brought the emotional level at the venue back to the beginning of he show..Brett Young closed the evening with two additional songs before his crew prepared for the next tour stage in Berlin.
Brett Young (19th November 2022, Cologne) – The Gallery
Here are 362 major size pictures of the show. They are located in the concert gallery:
Brett Young & Callista Clark- My View
Sound of Nashville brought two very interesting artists to Germany. Both could not fully persuade me. Callista Clark's show felt very "mechanical", like a choreography. I hope she enjoyed being in Cologne and playing for the crowd. Her talent is amazing, maybe she just needs some more experience and confidence to do what she enjoys to do.
Brett Young had a great start and a big finale – but major parts of the middle section of his show could unfortunately not connect to it. Bad luck, he is an excellent writer and singer. I also loved the way he performed and interacted with the crowd during the "strong" parts of the show. Nonetheless, the show had its highlights and enjoyable moments.
Flyctory.com Country Music Concert Coverage
Here is a list of all concerts I covered, limited to Country Music:
20 Worst Hotel Reviews so far
Here are the 20 Hotel & Accommodation reviews with the lowest rating so far: