Midland seem to be really active during 2021. Just some four months after their great and unique soundtrack album The Sonic Ranch, they are back with a major release. The single Sunrise Tells The Story told the fans already some new Midland stuff is coming. Finally, on 16th July 2021, there is The Last Resort, a new Midland EP which is rather going towards the traditional, a bit of thick and sad-feeling sound of the band. Here is my review.
Midland – About The Artists
After Let It Roll and The Sonic Ranch, this EP is already the third review of Midland on Flyctory.com. Thus, I just refer to Let It Roll if you want to learn a bit more about Mark Wystrach, Jess Carson and Cameron Duddy from Texas – the band's name is by the way a reference to Dwight Yoakam's song Fair To Midland.
Midland – The Last Resort – Track by Track
The five song EP lasts 17 minutes.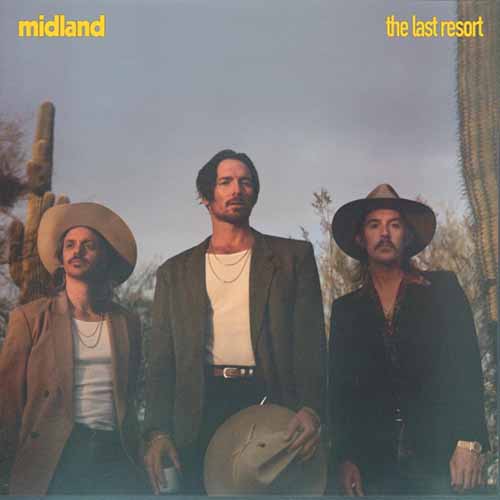 1. And Then Some
And Then Some is a comparably slow Midland song. The song comes with the wonderful, somehow plushy and warm Midland feeling. The steel guitar sounds give an extra portion of that one. Great way to start the EP.
2. Sunrise Tells The Story
The second song is the only single release of the EP so far. Over 650k streams on Spotify only shows that the band is still loved by country fans – even if the figure compares so badly to the 126m streams of Drinkin' Problem. The song is a great one for a beautiful country music evening. Nice for a dance – if you go for a slow one. Or just enjoy it after a really long night at sunrise?
3. Two To Two Step
That's classic Midland sound. The song feels too familiar somehow. Midland fans will celebrate this nice country song with a nice vibe and powerful riffs, I am sure.
4. Take Her Off Your Hands
Let Me Take Her Off Your Hands – a song which is full of self-confidence about winning a lady's heart at a party night. A song which is one of these typical, hilarious Midland stories. Would love to see if Mark Wystrach and his mates are really that successful heartbreakers.
5. Adios Cowboy
I listened to Adios Cowboy for the very first time – and I just smiled after ten second already. Ain't that the Midland sound we all love? Feels like a riding through the prairie on a horse, which is already not at its very best days. Great song – Adios Midland, Gracias!
Midland – The Last Resort – Spotify
Here is The Last Resort on Spotify:
Midland – The Last Resort – My View
Midland do Midland stuff – that's about how I would sum up the EP. If you like the band, this EP is a must listen and/or a must-buy for you. If you struggled with their music in the past, The Last Resort will not convince you to buy your first Midland t-shirt and some concert tickets for the next tour. They do their style, they do it good – and their fans love them for that. Well done – even if they lost the ease of their very first songs a bit and thus just don't make it into the very high ratings.
Country EPs Reviews 2021
Here are all Media Reviews of EPs with country music I did in 2021:
The Worst Ones in Travel
Here are all my travel reviews, which lead to a rating lower than 3.0: