Many people in the German country music business see a lot of potential in Southern German artist Nik Wallner. At the C2C Country To Country Festival in Berlin last weekend, he played the amazing volume of eight sets on the three festival days. For the first time, by the way, I saw Nik Wallner supporting Noah Guthrie in Cologne in December 2019 – I feel that in the meantime Wallner has again improved significantly.
In my second edition of Spotlight – Flyctory.com Interviews I chatted with Nik about his recent experience in Berlin and about his future plannings.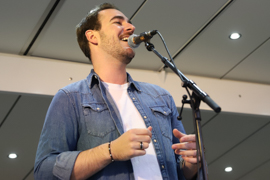 Spotlight – Flyctory.com With Nik Wallner
FLYC: Nik, first time playing the C2C in Berlin. How was it like to be at a place where everybody loves country music and does not ask you why you chose it as your genre?
Nik: There's nothing left to say than: It was completely awesome, amazing, exciting, brilliant and all the other words which describe this feeling!
The audience was perfect and it seemed to me that they all had a great time and enjoyed every second of this beautiful event!
FLYC: You took a lot of opportunity to showcase yourself and played eight sets there, more than anyone else. How did you feel after the final one on Sunday?
Nik: First of all I'm so honored and blessed that I had the chance to play eight times there! That's a big bunch of trust from the organizer of the event in me and my crew and definitely not common. After the last show at the Alex Stage I was relieved that everything went as well as we wished but on the other side very sad that all of the event was over now.
FLYC: Has there been any set you especially liked?
Nik: I was completely in shock during Jimmie Allen's show. Like, in a damn positive way! He nailed the stage and brought the whole crowd to a such energetic level! But all the others did an amazing job as well and I liked every second of the other shows!
Playing eight times at the C2C Berlin is a big bunch of trust from the organizer
FLYC: In Berlin, you have been one of two German artists (apart from Van De Forst), but the only one singing in German. Do you think that made it easier for you?
Nik: For me, it was a quite exciting thing to play my songs in German in front of a crowd of pure country fans. There never was a German act like us who tried this kind of music in our language. So it was quite hard to know how the people would react to my music. But happily they liked it and that gave a very good feeling that we are heading the right way with our style.
FLYC: There has been a tradition of German lyric country music in the past, especially from Southern German / Bavarian artists, e.g. Nicki or Wolfgang Fierek. Before the hockey match on Sunday, people passing by stopped at the truck stage and enjoyed the sounds. What do you think we have to do that German country music is becoming successful again?
Nik: I think that our whole society is changing in the moment and that a lot of people try to escape their daily routine. Country music, especially german country, could help them to get some peace and calm of their daily hectic life. So we can't do anything to make itsuccessful, except to give them our music so that they can let go of their everyday business.
FLYC: And, of course, what can Nik Wallner do to promote the genre?
Nik: The only thing I can do is trying to play as often as I can live and bring the music to the people. Music is always a matter of taste and that's good.
I have never been to Nashville – But we applied to the CMA Fest 2020 in June
FLYC: In Berlin, you played with some additional musicians. How was it like to play with them?
Nik: They are all amazingly talented musicians who are having the same passion to the country music as I have. It's an honor to play with them and have them in my team!
FLYC: For any country music artist, it is a "must" to go to Nashville one day. Have you been there? 
Nik: Unfortunately I've never been there till now. BUT we applied to the CMA Fest 2020 in June, so if we're getting picked I'll go there very soon! And if that's not working, there will definitely be a time to visit that city!
FLYC: Looking forward, what are your next steps? What are you planning to do in 2020?
Nik: Next steps are: playing live, live, live! We are also working on getting a EP out this year. But when this is exactly happening, I don't know yet. So 2020 has still a lot for us to do 😉
FLYC: Thanks a lot.
Nik: My pleasure!
German Artists
Here are all Flyctory.com postings dealing with German Artists:
Flyctory.com about Country 2 Country
Here are more postings related to the Country 2 Country festivals in the UK, Netherlands, Ireland and Germany: