There is an easy musical way to make myself happy while driving my wife nuts in parallel: Andreas Dorau. I am a fan of the Hamburg artist since the 1990s, which you just can either love or hate – nothing in between. The borderline is running straight through our home, definitely. Dorau published his 2019 album Das Wesentliche (The Essential) on 6th June 2019. Due to the CMA Fest (see my road trip diary here) and Sarah Darling's Wonderland, I had to delay the review by some days. I just felt that Andreas Dorau has to be the first-ever German-language album review on flyctory.com.
Andreas Dorau – About the Artist
Andreas Dorau, born in 1964 is one of the key stars of the Neue Deutsche Welle, the German early 1980s genre, which brought songs like 99 Red Balloons. Dorau's key track was Fred vom Jupiter, which has been written as part of a school project.
In the mid-1990s, Dorau had some significant songs like Das Telefon sagt Du and So ist das nunmal. The most successful song, however, was Girls in Love, which reached the Top 10 in France.
Dorau typically uses very simplistic linguistic structures like consecutive rhymes in his own songs. Apart from that, he was quite successful as DJ.
Andreas Dorau – Das Wesentliche – Track by Track
The album contains 15 tracks, but is only 33 minutes long. The reason for this is the concept of the album: it does not contain any verses, the songs only have an intro, a chorus and maybe a bridge. Thus, there are a couple of songs which are significantly less than two minutes. Due to the German lyrics, I will translate some of the wordings.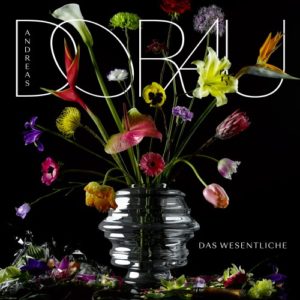 If you ordered the album at Tapete Records directly, there is a bonus CD of 14 additional tracks.
1. Nein!
Nein! (No!) was the first track released of Andreas Dorau's album. I love the song – and the video.
2. Unsichtbare Tänzer
This track (Invisible Dancers) is the latest one for which a video has been released. I feel that this one is definitely one of the best tracks on the album. You just have to dance to it.
3. Identität
Identität (Identity) has a very classic Andreas Dorau sound and is quite catchy. It has one of the rather complex lyrics of this album – which means that the chorus is having maybe some ten lyrics. It is about looking for a new identity, which rather fits to what you would like to be.
4. Menschen tragen graue Hüte
This track reminds me of Andreas Dorau's very early 1980s songs. Flowers are blooming, Human are wearing grey hats is the simplistic message of this song.
5. Wieso
Wieso (Why) also has this childish, naive sound, which is characteristic for many Andreas Dorau songs.
6. Dinge können sich ändern
This is one of the shortest tracks of the album – Things may change, human unfortunately not is the key message of this track.
7. Gebrauchtes Herz
Used heart,
For sale at a cheap price
Slightly bruised
due to frequent drinking
Unfortunately, it did not lead to luck to him
Maybe, it was too large or simply wrong.
A very characteristic, but also catching lyric for this album. I like to listen to this song and reflect about its mesasge.
8. Du bist eine Insel
You are an island is the translated name of this track, which is quite long with some three minutes.
9. Naiv
This track stating You are that naive is quite house-alike and a step back to the roots of Andreas Dorau. I like it.
10. Vielleicht
Vielleicht (Maybe) is the most concentrated track of Andreas Dorau's album, as it just longs 65 seconds. Nevertheless, it is amazing that this track still is quite catchy.
11. Hey Tonight
Tonight ain't the night – this is no translation, but the in fact lyrics of this track are English. They still work and after that very short period of time, you are in the song and just have to sing it.
12. Fallen
Another track, which makes you dance. The song plays with the word "fallen" in German (to drop). I have to admit that I felt that this track is slightly weaker than the ones before.
13. Instant Magic
The 84 second track states Instant magic, you think you're instant magic. The second English track on this album is definitely a good one again. One of the few ones, which really felt too short to me, though.
14. Schwierigkeiten
This track has a quite normal length of 2:41 minutes. Nevertheless, you won't feel Schwierigkeiten (Difficulties) to be boring. Dorau is just a master in dealing with these minimal methods.
15. Was immer Du auch vor hast
The very last track of the song has hymn- and ballad-alike elements with strong piano samples. It feels like a very nice closing of the Das Wesentliche album.
Andreas Dorau – Das Wesentliche – My View
We are living in a fast-paced time. We are more and more used to deal which short messages, process and forget them quickly. Thus, Das Wesentliche seems to fit into modern times perfectly. I read another review of this album stating that it is so remarkable how quickly you get into this album. You likely need to at least have limited German skills to get into it – but then it is a fascinating one. One of Andreas Dorau's best albums due to its general message. A really iconic piece of work.
Andreas Dorau – Das Wesentliche – Amazon Link
There are multiple versions of this album. Here are some Amazon.de links:
Andreas Dorau – On Tour 2019
After some album release gigs, Andreas Dorau is doing a quite remarkable tour in fall and winter 2019.
| | | |
| --- | --- | --- |
| Sa 14.09.2019 | Muenster, Gleis | |
| Fr 20.09.2019 | Paris (FR), Popfest | |
| Do 26.09.2019 | Cologne, Luxor | |
| Fr 27.09.2019 | Berlin, Festsaal Kreuzberg | |
| Fr 04.10.2019 | Wien (AT), Replugged | |
| Sa 19.10.2019 | Hamburg, Knust | |
| Mi 23.10.2019 | Munich, Kammerspiele | |
| Th 24.10.2019 | Heidelberg, Karlstorbahnhof | |
| Fr 25.10.2019 | Essen, Hotel Shanghai | |
| Mi 11.12.2019 | Frankfurt, Mousonturm | |
| Th 12.12.2019 | Nuremberg, Z-Bau | |
| Fr 13.12.2019 | Jena, Trafo | |
Flyctory.com Media Reviews
Here are all CD, book and movie reviews: