If you drive the US-61 between Tunica, Mississippi, and Memphis, you just cannot miss the iconic wooden building called Gateway To The Blues which is right next to the highway. Apart from a visitors center, it houses a small, but nice museum about the musical genre. I dared a visit during my trip to the 2019 CMA Fest in Nashville. Here is my view of the visit.
Gateway To The Blues – Location & Admission
The museum is located right at US-61, North of Tunica and the access roads to its casinos.
The visitor center is of course free of charge. The museum is a 10 USD adult admission. The weekdays opening hours are 9:00 to 17:30, Saturday 10:00 to 18:00, Sunday 13:00 to 18:00. In winter, the closing time is one hour earlier.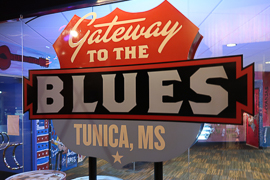 Gateway To The Blues – The Museum
The museum starts with several videos and even two lap steel guitars, which you can try to play. A great part of the exhibition is how the links between life in the age of slavery and the music genre are explained. After that, there is a stronger focus on instruments (like the impressive harmonica collection).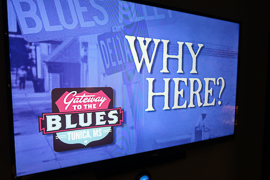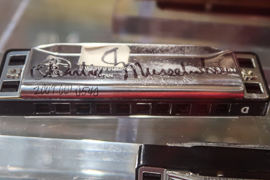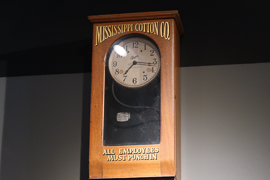 Roughly in the middle in the building, the major blues artists are honored with lovely paintings and some commemorative items. B.B. King is likely the most well-known one in display.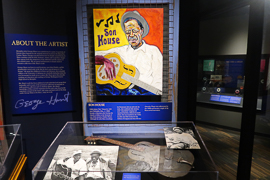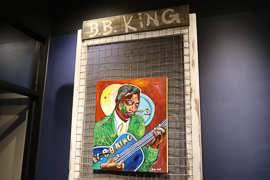 With a recording studio and a Diddley Bow to try out, there are some additional elements towards the end. The exhibition is compact and took me some 45 minutes.
In addition, there are also other points of interest about the history of blues in the area, which can be very important when you are planning a trip.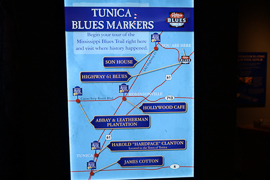 Gateway To The Blues – Visitor Center & Gift Shop
The visitor center is beautifully decorated. It hosts a lot of brochures and some souvenirs to buy. Apart from that, there are the expected sanitary services.
Gateway To The Blues – My View
I was initially struggling with visiting the Gateway To The Blues. It just felt too catchy and like a risk of being a tourist trap. I would have been completely wrong if I hadn't stopped there. I loved the way the museum is done. It is not an overwhelmingly huge collection, but a very nice one. All the video illustrations and especially the hands-on exhibits just give you a great experience. It is a good starting point to get into other Blues exhibitions like the Delta Blues Museum I visited on the same day of my trip.
Musical History
These are all articles, in which I dealt with events and places influencing musical history:
USA – All Postings
Here are all postings which deal with the USA: