When you ask for promising new country acts, you very often run into the name of Kyle Nix. However, Nix is quite well known as a band member – his looooong named album Lightning On The Mountain & Other Little Stories has been released on 26th June 2020. It is his solo debut.
Kyle Nix – About The Artist
Kyle Nix became well known as the fiddle player of the Turnpike Troubadour's, an Oklahoma-based band, who especially were successful with their last two albums, a 2015 self-titled one and the 2017 A Long Way From Your Heart. Both albums peaked third in the US album charts. The band decided to go for a break, which finally lead Nix to the decision to pursue a solo career. For his debut album, though, he still used quite some Troubadour's former band members.
Kyle Nix – Lightning On The Mountain & Other Little Stories – Track By Track
The 17 song album lasts 59 minutes.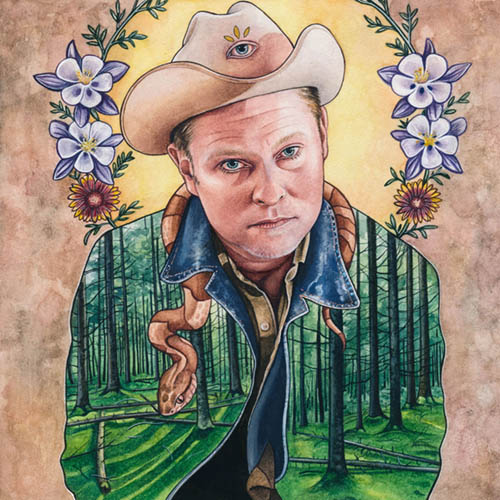 1. Intro
The Intro is instrumental. It feels quite dark, so I had to think about Redeye Caravan. Stylish.
2. Manifesto
Not too often my come country is part of a country song – here in a quite interesting comparison about Nix and his music.
Hell, what have I ever done?
My Grandpa fought the Nazis and won
All I do is bow bluegrass & blues
I hope you like it some
Kyle, I definitely like it!
3. Lightning on the Mountain
While Manifesto was a rather slow one, Lightning on the Mountain has quite a lot of speed and power. Really cool track. Love it!
4. Sweet Delta Rose
Oh, Susanna, I'm alone again
You're in Louisianne 'til Lord knows when
I'm stuck up here where the firewheels grow
Waitin' on word from my Sweet Delta Rose
I love the way Nix tells his stories. This slower love song track is definitely a beauty. Great listen.
5. Prelude: Meet Your Match
Another instrumental track. Sounds more electric, but again gives a dark, threatening mood to me. No wonder, as we are heading to the Graves now…
6. Graves
… or not? The song starts with the same sound as the prelude, but then immediately turns his character and at least feels a bit more bouyant.
Hand him the spade, take your seat
Enjoy the show
Pretty girls make graves
But a fool will dig his own
No comment. Just a smile.
7. Blue Eyes
She stood there on his steps cryin'
Told him that his friend had been lyin'
And "I got nowhere else to go
And the night is getting cold
Could I stay here with you for a while?"
What could he do – with her eyes that blue?
The writing was on the wall
But lovin' and losin' sure beats not living at all
I am not too much into bluegrass, but the sound of Kyle Nix is really cool. Nice sound, nice lyrics… Just makes a good one.
8. Shelby '65
That's definitely (another) great one. I just love that classic sound, especiall as Nix does it in a very modern and powerful way. Great!
9. Josephine
A slow, sad-feeling song at the beginning, which is becoming a bit more powerful and rocking with the first chorus. Not my favorite track so far, but I like the style of it.
10. The Wolf at the Door
The Wolf at the Door is very lyrical, does a nice storytelling – the slower track is definitely a cool one.
Oh, you don't know 'til they get close
If they're rootin' 'round for sheep
So keep your powder dry and your sharp eye
For when the wolf shows it's teeth
11. Little Miss Jones
At Little Miss Jones, the fingers need to be much quicker again compared to the song before – this one got speed! Cool listen!
12. Good Girl Down The Road
This song is very melodic, does not feels that bluegrass-alike, especially at its beginning. Nice song, nice melody. Good one.
13. If Ruby Ain't Happy
The thirteenth song of the album has a quite happy and cheery sound. Very repetitive lyrics, but it definitely makes me smile.
14. Woman of Steel
Another song with that very interesting bluegrass-rock style. Cool story. I definitely recommend a listen.
15. Lonesome For You (Widower, Pt.1)
They tell you it gets better
That the pain subsides
Slap your back, shake your hand, and say
"Son, you'll be just fine"
Then pack into their cars and go on with their lives
But when I get home
You'll still be gone
And I'll still be Lonesome For You
The last "full song" track of the album is going to the tough topics. A slow, whiny, intense breakup song. Amazing!
16. Old Joe Clark
Is there something like power-fiddling? Then Old Joe Clark would fall under this category. Kyle Nix shows his extraordinary skills on the violin in this instrumental one.
17. Reprise: Hacia El Ocaso
The reprise comes with vocals. Very majestic finish of the album. It deserves it – as it is a good one!
Kyle Nix – Lightning On The Mountain & Other Little Stories – Spotify
Here is the Spotify widget to the album:
Kyle Nix – Lightning On The Mountain & Other Little Stories – My View
I praised Kyle Nix in the introduction – I praise him at the end. I am typically not the biggest fan of bluegrass music – but Lightning On The Mountain & Other Little Stories is just too good. Quite a range of different songs, I love the way he creates a modern bluegrass sound, which sometimes is close to rock, sometimes has a lot of blues. The album is definitely worth a listen – Top Pick!
Flyctory.com – The Best in Media
Here are all media reviews of products which have been awarded with the Top Pick! award:
Flyctory.com about Memphis
Here are all postings related to Memphis