23rd August 2022 has been a very special day to me. Always great to be able to cover a Lindsay Ell show – even even (much) better to welcome her in my home town Cologne. Especially as Lindsay was also the very first main act I covered in a concert with Flyctory.com, during her March 2019 concert at the Blue Shell in Cologne, she is a very special act to that website. With Kyle Daniel and Shy Carter, two very interesting artists as support acts, Sound of Nashville really brought an interesting lineup to the Helios37. Here is my concert review.
This posting comes with 374 major size pictures as part of the concert gallery.
Helios37 – About The Venue
It's the second time I visited a concert at the Helios37. The previous show I had in this venue in Cologne-Ehrenfeld was the Scotty McCreery Show in October 2019. At that show, the rather low-capacity venue (250 people max) had been very packed, so that I was curious how the Lindsay Ell show would be alike. There a lot of other small mid-size venues around, public transport connection is excellent.
Lindsay Ell & Support – About The Artists
The main artist of this evening was truly Lindsay Ell. The 1989-born Canadian artist's last album Heart Theory was an amazing and very personal release – one of my favorite albums in 2020. She also was support of German schlager-rock artist Ben Zucker on one of his last German tours (or at least half of them), which lead to some popularity outside the German schlager scene. I added some bio information about her in the Heart Theory review.
Shy Carter was the only artist of that lineup I haven't seen live on stage before. He is known as a rapper, producer, but also songwriter and singer. Born 1984 in Memphis, the US-American artist already wrote and worked with artists like Kane Brown, Keith Urban, Meghan Trainor or Jason Derulo. During the last years, however, there was a certain focus on country songs. One of the latest famous writes is God Whispered Your Name, interpreted by Keith Urban.
In line with Lindsay Ell, the last time I saw Kyle Daniel live on stage has been during the 2020 Country to Country Festival in Berlin. He is an amazing storyteller and songwriter, people really loved him. He is rather closely connected to the German country music scene. In the German shows, he also presented his brand-new EP Following The Rain, which has been released in 2022 (see some more bio in that review as well).
Lindsay Ell & Support – The Show
The show started right in time at 20:00 hrs, when Kyle Daniel started his 30 minute set. Daniel was supported by guitarist David Henriksson on these shows. They played a nice set of new songs like Everybody's talking to rather classic tracks like God bless America (Damn Rock n Roll) from the 2019 What's There to Say? EP. It was already getting really hot and humid in the poorly ventilated Helios37, not only because Daniel could really catch the masses.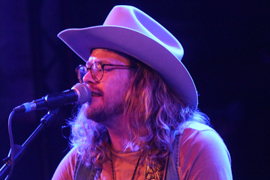 The Sound of Nashville organizers had to prolong the intermissions between the artists for some fresh air in the narrow venue. Thus, Shy Carter entered the stage together with his guitarist at about 20:45 for a forty minute set. You could see that Carter was likely the least familiar face to the audience at that evening. But with songs like Heaven, most popularly interpreted by Kane Brown, but written by Shy Carter, he could quickly win the love of the Cologne crowds, even though they more and more had to fight the heat in the Helios37, which rather felt like the Hell-ios this evening.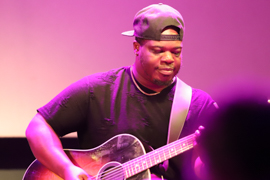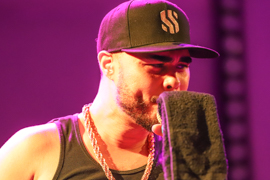 Last, but absolutely not least, there was Lindsay Ell and her some 60 minute set. Lindsay was the only artist who stepped on stage on her own this evening. Accompanying guitar and keyboard parts were partially pre-recorded and looped. The Canadian played a wide range of track and also featured tracks like Gravity from her 2018 album. She felt pity with the sweating audience and partially turned her ventilator in the direction of her fans to help them cool down. In songs like The oTHEr side, Lindsay showed her rock voice. Of course, Lindsay Ell concerts do come with some virtuously played guitar solos as well. The set even allowed to have a happy birthday song for the sound-mixing guy. make you has likely been the emotional highlight of the evening. Lindsay closed her set with Criminal, before her fans could choose the encore before going home.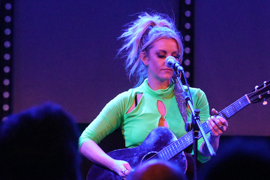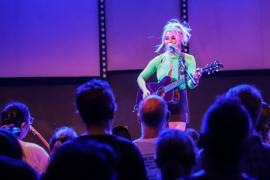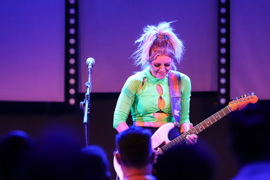 Lindsay Ell & Support (23rd August 2022, Cologne) – The Gallery
Here are 374 major size pictures of the show. They are located in the concert gallery:
Lindsay Ell & Support – My View
Three amazing, but very different artist lead to a very interesting evening in Cologne. Shy Carter impressed me with an amazing set, Kyle Daniel is a German country fan favorite anyway. And Lindsay Ell? You could feel any second how much she loved to play for the Cologne audience – even though people just head to care a lot about the heat in the venue. Amazing artists and just great to have Sound of Nashville and the country music concert season kicked off again in Cologne.
Postings with Gallery
Here are all Flyctory.com postings, which come with a larger size picture gallery:
Concerts (All Around Cologne)
Here are all my Concerts postings related to the Greater Cologne area: