2.8 million followers on Instagram only – Wikipedia names Gabrielle Jeannette Hanna – or simply Gabbie Hanna an internet personality. Apart from an acting career, she is a very successful musician. On 23rd December 2022, the US-American released a new album, This Time Next Year. I had a listen.
Gabbie Hanna – About The Artist
The Gabbie Show, the main YouTube Channel by Gabbie Hanna, is subscribed by over five million people. Her story began in New Castle, a town near Pittsburgh, where Hanna was born on 7th February 1991. She studied at the University of Pittsburgh and graduated in psychology and community. In the mid 2010's, she grew her YouTube channel, but also worked in other projects. She appeared in several TV and movie productions, for example. In 2017, Gabbie Hanna also released her first two singles, Out Loud and Satellite. The song gained a certain popularity in the USA, Canada, but also the United Kingdom. This Time Next Year is Hanna's sophomore album, after the July 2021 Trauma Queen and an EP release each in 2019 and 2020.
Gabbie Hanna – This Time Next Year – Track by Track
The ten track album lasts 26 minutes.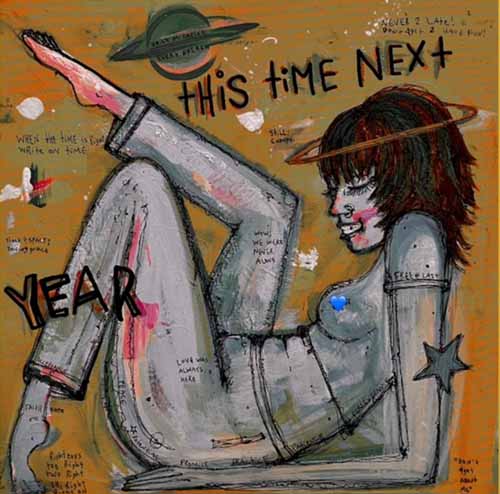 1. Sorry I'm Late
The 2:50 minute opener almost feels like a Chrsitmas song. Happy melodies, which could be a sleigh ride soundtrack and bells in the background. A very personal and cheeky way to look back a year – I like it!
I've been having more bad than better days
Fed up, messed up, fucked up in every way
But who cares?
2. Year Like This
The second track is rather a 50 second interlude. Gabbie Hanna is asking Could you really do another year like this? Better no positive answer to this after listening to the opener.
3. Easy
Easy is a song with is coming with pop elements, but also a bit of an angry rock style. Very groovy sound, which is having a touch of hip hop and R&B. Very catching track, which is also profiting from a very present chorus.
4. Ex
I don't want to talk about your ex are the first words of this fourth song, which is one of the key listens of the album. Again, the song is feeling very modern, merging elements of different genres. Nice.
5. Give You Up
The interlude tracks is what is causing the relatively short album duration. Give You Up is a 57 second listen. Despite the short duration, this one feels already a bit like a short full track and not like the bridge between two songs (in contrast to Year Like This).
6. Haircut
We all try to change ourselves
'Til we don't recognize ourselves
Fit the mold cast by somebody else
Just cut it off, cut it off, cut it off, cut it off
I don't want to face myself
So I go and I change myself
'TiI look like everybody else
Just cut it off, cut it off, cut it off, cut it off
The sixth song is the only one which has already been fully known to Gabbie Hanna fans. Very nice songwriting with a strong R&B touch. I would love to listen to this song in the radio, for sure. Very good one.
7. IDK
The fragile IDK does not need much more than Gabbie's voice and an acoustic guitar. Thus, the song does not only lead to a very intimate listen, but also adds a flavor of folk music to the album. Nice deviation in genre – very good listen.
8. Open Your Eyes
The eighth song continues with song being lead by the guitar. The song feels a bit more rhythmic and soulful. Is there something like an R&B folk ballads? I feel that Open Your Eyes would be a beauty in this genre.
9. Today
Clapping rhythm, a happy melody and a great, energetic post-chorus – Today is the song to make you smile and move to the rhythm on This Time Next Year. Unfortunately, the energetic touch of the song in the chorus section is slowed down a bit too much in the verses.
10. Everything Makes Sense
Listening to the closing song has been another rather surprising event for me. Everything makes sense starts with a rather dark and rocking sound. Later, it also shows some slightly brighter sections. Great closing
Gabbie Hanna – This Time Next Year – Spotify
Here is the album on Spotify:
Gabbie Hanna – This Time Next Year – My View
Bad luck that you in fact just get eight songs and two short tracks in here. This Time Next Year has a lot of different musical options in stock and has some really nice listens. Very good songwiriting, entertaining listens – you should absolutely dare to listen to Gabbie Hanna's tunes, even underneath the mistletoe.
Flyctory.com in Pittsburgh
Here are all other postings by Flyctory.com related to Greater Pittsburgh:
Social Media Contents on Flyctory.com
No matter if YouTube, Spotify or TikTok – here are all my postings related to Social Media: