Using tennis language, Haley Mae Campbell was some sort of lucky looser of my review selections on 12th February 2021. I was already done with my EP and album selections for the weekend and preparing for the playlists, when I ran into Growing Up. Campbell's latest EP just felt too strong not to be shared on Flyctory.com. Here is my review.
Haley Mae Campbell – About The Artist
Haley Mae Campbell was born in New York, but then grew up in Charleston, South Carolina. She released her debut album in 2015 and then grew quite quick, supporting several artists. She had her first CMA Fest appearance in 2018. One year later, she released Anything but Yellow, which had more than 2.3 million streams on Spotify so far. Last year, she released I Should Be Asleep alongside Ian McConnell, which has been another big hit for the young artist.
Haley Mae Campbell – Growing Up – Track by Track
The six track EP lasts 21 minutes.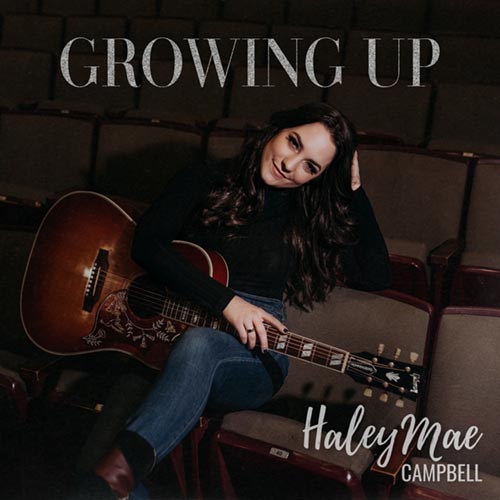 1. Anything but Yellow
Baby give me green light
Tell me to go, go, go
We can drive all night
Don't need to take it slow
Or give me solid red
Tell me it's in my head
Show me every stop sign on this road
Give me everything and nothing baby
Give me anything, anything
Anything but yellow
Not only male artist can do songs about cars and driving – at least in a metaphoric way. Glad that modern country has this way of emancipation – and the result is a modern country track, which is a lot of fun to listen.
2. Ghost Stories
You find live versions for most of the tracks of the EP in the web – but Ghost Stories is indeed a proper single of  Campbell's Growing Up EP. A straight modern country song, well performed, well recorded.
I tell 'em how I fall asleep dreamin' of you and wake up into a nightmare
I tell 'em at night I see you pull in the drive even now that you're not there
I tell 'em how I hear you talkin' on the phone
But when I call there's no one home
You're gone but I ain't alone, boy, you know how to haunt me
And I'm tellin' ghost stories, yeah
I'm tellin' ghost stories
3. Grey
Grey has a nice focus on Haley Mae Campbell's voice. Apart from that, there is unfortunately not that much contrast to the songs before.
4. Paradise
Paradise is my favorite song on the EP. Very present and catchy, the chorus comes with a signature rhythm. Really good listen.
5. Highway Honey
With Highway Honey, the EP significantly reduces the speed and leaves some time for a more emotional song. The song becomes very pop-ish, but it is a straight and good listen.
6. Growing Up
The title track is the slowest song of the album. I really love it – it is a beautiful recording with acoustic guitar, which leaves a very strong focus on Campbell's voice.
Haley Mae Campbell – Growing Up – Spotify
Here is Haley Mae Campbell's EP on Spotify
Haley Mae Campbell – Growing Up – My View
First of all, I really love that Haley Mae Campbell – in contrast to many Nashville young acts – is not recording Nashville streamlined mainstream. The songs come with a characteristic style and thus have a higher memorability than many tunes of her peers. I still feel that the first three songs are a bit too close together to justify a top ranking. Apart from that, fans of the young lady won't hear too many unfamiliar chords – most of the songs have been published. Some very catchy songs lead to a pretty nice showcase.
Women Country EP Reviews on Flyctory.com
This is Women Country: here are all my reviews of EP recorded by the ladies:
Flyctory.com about Weird Al Yankovic
Here are all postings related to Weird Al Yankovic: