Even though Jillian Jacqueline is on stage since 2000, it took her 22 more years to release her debut album. On 10th June 2022, fans may listen to Honestly. I did have a listen – and share my thoughts with you.
Jillian Jacqueline – About The Artist
Jilian Jacqueline Arciero was born in 1989 in Chester Springs, Pennsylvania, a Western suburb of Philadelphia. Her family moved to New York City, however, where she was discovered by nobody but Kenny Rogers at the age of eleven. She even was part of a Christmas show with the well-known country artist. In 2001 already, she released her first single. Together with Billy Dean and Suzy Borgguss, she published Keep Mom and Dad in Love, which just missed the Top 50 of the US Country Charts. Her solo single debut, however, was Overdue fifteen years later. Her second single Reasons made it to the US Country Charts. In 2017 and 2018, Jacqueline released two EPs, Side A and Side B.
Jillian Jacqueline – Honestly – Track by Track
The eleven track album lasts 38 minutes.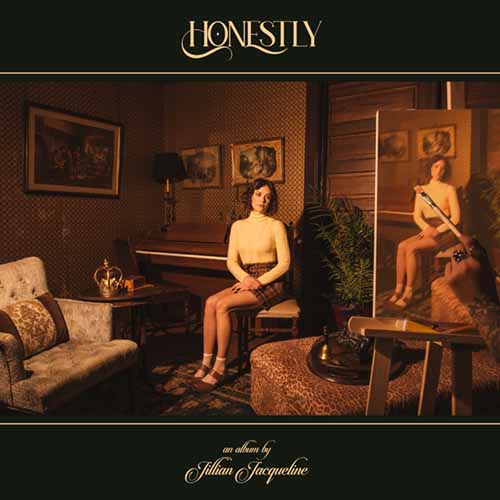 1. The Ocean (feat. Charlie Worsham)
Honestly is opening with The Ocean, a really nice collaboration with Charlie Worsham. A slower track, which is trying to aim to create a lot of atmosphere. Works out rather well.
2. When It Rains
I feel that When It Rains creates much more of the "honest" atmosphere the album title is promising. A slow track with a good vibe and nice work on the guitar as well as on the vocal side. Nice lyrics.
I only miss you when it rains
When the sky is grey and white
When the day feels like the night
And I guess it makes sense
'Cause you and me we're always bound to be one long sеt of clouds
Waitin' for the rainbow that never camе
I only miss you, I only miss you when it rains
3. Bandwagon
The third song has some touch of folk and pop. This leads to a beautiful blending of sounds, which beautifully supports Jacqueline's voice and the story. One of my favorites.
4. Hummingbird
Every time I get where I'm goin'
The first thing I wanna do is leave
The album stays on the slow side so far. Hummingbird is a country ballad with a melancholic flavor. The song is beautifully arranged, so that it creates a really intense atmosphere while listening.
5. Better With A Broken Heart (feat. TJ Osborne)
This collaboration with TJ Osborne was one of only three songs which have been featured before album release. I feel that this duet with TJ Osborne works much better than the opener with Charlie Worsham. TJ adds a nice, dark feeling, especially during his solo parts.
6. Iconic
Iconic is another single release. The song does not need too many elements to create a very intimate, deep feeling. Maybe even a bit too much in the context of the other songs of the album.
7. Compliment
I don't know what scares me more
The fact that you sound so happy
Or the fact that you don't care enough
Compliment feels like the hidden title track of the album to me. The guitar almost feels like a harp the way it is played in the background. A very deep and intense listen.
8. Magic
Even though Magic is not a fast song full of power at all, it still feels like an uplifting release after the very intense listen before. A beautiful track for having a romantic sunset together.
9. Hurt Somebody Else
Why's it always one's the winner, one is the loser?
One's the saint and one is the sinner
That's how we break it down
But nobody talks about how much it hurts to hurt somebody else
Breaking up and sad feelings are the key topic of this album – and Hurt Somebody Else continues with that storyline not too surprisingly. Thus, the album hurts a bit while singing, even though the songs are beautiful.
10. Sure
The style won't change too much any more, for sure. Jillian Jacqueline partially feels as whiny as the instrumentation in here. Luckily, the melody is a really nice one, which makes me enjoy the listen.
11. Honeymoon
Need the honeymoon suite with you
I know nothing lasts forever
So I'll hold on to
The light on your skin when it all felt so new
The sky turning pink into blue
I'll always remember you
In the glow of the honeymoon
That's the chorus. The song comes with nice gentle piano background. A song as expected.
Jillian Jacqueline – Honestly – Spotify
Here is Honestly on Spotify:
Jillian Jacqueline – Honestly – My View
Honestly is one of these albums which make me struggle. I feel the album is really an honest description of feelings. But it is so melancholic, almost depressive. After almost 38 minutes of listening, you just want to have her number, call her and just ask "Are you okay?". Better don't listen to this one if you are in a breakup situation. To me, the album is nicely written, very straight – but just a bit too monotonous.
Media Review (2022 Women Country)
Here are all my Media Reviews of 2022, which are related to female country artists:
Flyctory.com in Philadelphia
Here are all my postings about Philadelphia: