Three of the six songs on his debut EP Didn't Go Too Far have already been published – and none of them has less than 1.3 million Spotify streams. Just one stat which shows that Conner Smith is a somehow special artist. I definitely had to have a listen to the tracks released on 14th January 2022.
Conner Smith – About The Artist
Conner Smith is a Nashville native. It's hard to believe, but his website states that he did not even start writing songs at the age of 6, but even had an initial writer's contract with BMI three years later. His mother has been working in the industry at that time. In 2021, he started to release country music songs. Already his debut single Learn From It, which is on Didn't Go Too Far, had 2.2m streams on Spotify only so far. Even the B-side Tennessee lists 350k ones.
Conner Smith – Didn't Go Too Far – Track by Track
The six song EP lasts 19 minutes.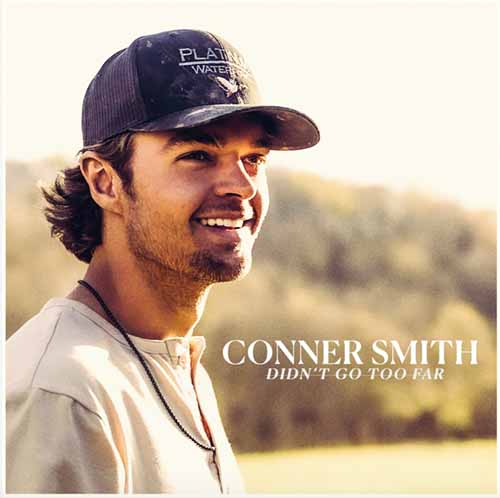 1. College Town
Ain't nobody party like they do in a college town
Monday to Friday, Friday to Sunday, Sun up 'til sundown
If you're lookin' for a good time, you know where one can be found
'Cause ain't nobody party like they do in a college town
Wow, that's tough. Conner Smith is somehow telling me with the very first song already that I am out of the target audience for these six tracks. This one is for college people, partying to country music. Dear Conner, I nonetheless enjoy your song – cool country party rock track.
2. Learn From It
You are in that song from the very first song. It is so amazing that this track is really part of a debut release of a Nashville artist. It feels so complete, so mature, so professional. Modern country rock at a very high level.
3. Didn't go Too Far
The third song gives a much more personal feeling. Not a ballad, but a bit less on the party-rock side. Very straight, a bit of too mainstream – but definitely a feast for the hat-and-boot radio stations over there in North America.
4. Take It Slow
Take It Slow comes with a nicely flowing melody line with a lot of vibe. The song is a bit too thin and too predictable to me… Sometimes you just have to argue, even despite 1.3 million streams on the big "S" platform of music streaming.
5. I Hate Alabama
I hate Alabama
I hate Crimson Red
And I hate how they yell Roll Tide
When I got a Braves hat on my head
And I love Lynyrd Skynyrd
But Lord I hate Sweet Home
'Cause when I hear it all I see
Is a girl with houndstooth on
In the stands in Tuscaloosa
Might've lost by twenty two
But I hate Alabama
'Cause that's where I lost you
Yeah, if your career starts like a jet with afterburners, you can also effort to kiss a** one of the 50 U.S. states. The song is actually really good and catchy. This time I am not arguing anything. Three million streams are a too strong argument as well…
6. Somewhere In A Small Town
The closing song is another really well written and recorded song. I just struggle that this song is faithful, that it fits to the bio of this guy. Girls, countryside life, party / beer and chicks (sorry, ladies) … Nashville is check-boxing the country music stereotypes again.
Conner Smith – Didn't Go Too Far – Spotify
Here is Didn't Go Too Far on Spotify:
Conner Smith – Didn't Go Too Far – My View
I am sure many Nashville music journalist raise the full score for this release right now. I do struggle a bit. No doubt, Didn't Go Too Far is impressive. Six high quality songs. But I also see six very mainstream songs, which are simply lacking something personal too much. Maybe the tile track is the only exception. Like at too many US debut releases I would love to shout out: be more self-confident and add more of yourself. If you grew up in Nashville, topics like Somewhere In A Small Town can wait for a second or third major release. Despite that critics, I am really a damn much look forward to future releases.
Postings about Nashville
Here are all reviews and more about and around Music City:
The Cumberland River Project
Here are all my postings about the German country music The Cumberland River Project: