After her world hit debut A Thousand Miles, Vanessa Carlton could not keep up with that success. Her sixth album Love is an Art is thus (at least) her fifth try to finally avoid a status as one-hit wonder. The album has been released on 27th March 2020.
Vanessa Carlton – About The Artist
In Milford in very Northern Pennsylvania, Vanessa Lee Carlton was born on 16th August 2020. At the age of 14 years, she enrolled to the School of American Ballet. After a series of minor gigs, which improved her stage presence, she signed her first record deal in 2001. One year later, she released her debut album Be Not Nobody, which was quite an economic success with a total sale of some 1.4 million units. The key driver for that was Carlton's debut single A Thousand Miles, which topped the US Pop and Australian charts, but was also top 10 in several other counties. The only other commercial success was the single Ordinary Day, which placed ninth in the US Pop charts.
None of her singles as well as none of her studio albums could keep up with Vanessa Carlton's success. Love is an Art is already Carlton's sixth studio album.
Vanessa Carlton – Love is an Art – Track by Track
Love is an Art features eleven songs and lasts 36 minutes: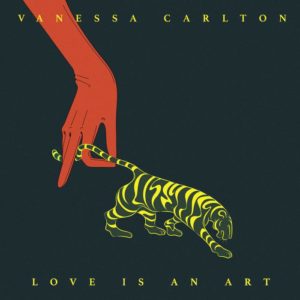 1. I Can't Stay The Same
A slightly distorted voice, very simplistic melody and lyrics. I Can't Stay The Same is quite a heavy musical message at the beginning of Love is an Art. Honestly, when I listened to it for the first time, I felt it could have been a mistake to choose this album for review.
2. Companion Star
Leaving the garden, I must move on
Just like the ivy as it climbs the stone wall
Walk to the edge of me for the sake of change
Who is the one, is the one, is the one who will bring me back?
Northern star
When I've gone to far
Pull me back to love
You will be the bridge between
I like Vanessa Carlton's way of storytelling in this song – the song has a lot of atmosphere. The track was a bit confusing to me at the beginning, but I started to like it more and more. No, this is no radio hit, but it is cool music.
3. I Know You Don't Mean It
I Know You Don't Mean It is the first track which I feel has a certain radio potential (the first two ones were very special… characterful… 😉 ). No chance for a chart-topper, though.
4. Die, Dinosaur
Writing about all these girls-beer-cars-country songs, it is definitely a refreshing option to run into a track called Die, Dinosaur. Quite an interesting track (including the undeniable fact that the word interesting always includes a touch of "strange"…).
Young courage never fades
Keeps thinking of brand new ways
Counting down the days
Until you die dino, die dino, die dino, die dino, die
It's the way of his world
There's nothing you can do
Careless captain ignoring the moon
Man in the weather, changing
A new school is dreaming
Throwing out his rules
He clings to his weapon
But they're not afraid to lose
Man in the weather, changing
Withering away
5. Love Is An Art
Will you tell me your story?
I just want to listen
I just want the words to sink in to me
I know it's been hard for you
I know that you're getting through
If I could be the knife that cuts you free
The words above are the beginning of the song. The title track does not really allow me to
6. Future Pain
The powerful and intense Future Pain is one of my favorite tracks on the album. A very nice combination of nice melodies and Carlton's gentle voice. Just a good listen!
7. Back To Life
Though Back To Life is one of the more melodic, piano- and voice-driven songs, I don't get into it too well. Somehow I struggle with the song.
8. Patience
Patience is a short 76 seconds interlude between two songs. Or is it an own song? It is not too bad, definitely.
9. The Only Way To Love
The Only Way To Love is my favorite track on this album. I love to listen to stories, to nice voices – I just felt in other songs of the album that I need to concentrate too much to follow their message.
10. Salesman
Vanessa Carlton fans will kill me – I just like her melodic-radio alike songs. Salesman is definitely one of them – even though its end is a bit too much on the experimental side
11. Miner's Canary
Miner's Canary is a weird song. I like the story, I like the song – but the end of the track is just too weird.
Vanessa Carlton – Love is an Art – Spotify
Here is the Spotify widget to pre-listen to Love is an Art:
Vanessa Carlton – Love is an Art – My View
I have to admit that I was totally confused of Love is an Art, when I was listening to the album, especially to the first tracks. But I gave it another try – and the more I listened to the today's sound of Vanessa Carlton, the more I found interesting bits and pieces. No, there will not be a chart song out of that – which is a bit of a shame as Carlton illustrates a lot of musical talent in these eleven compositions.
New York on Flyctory.com
Here are all postings about the "Big Apple":
Postings: Museums & Exhibitions
Here are all my postings about all kinds of museums and kind of other exhibitions: