It feels a bit like Ilse deLange wants to push towards the German music market nowadays: the Dutch country and pop star is not just currently part of the German Sing meinen Song ("Sing My Song") TV show, which is quite popular in my home country and also features Nico Santos, who recently released his second album. Her new album Changes also features a duet with German Michael Schulte. To be very sure, she adds four of her most successful tracks in new version. This just needs to work out, doesn't it?
Ilse DeLange – About The Artist
Ilse Annoeska de Lange was born on 13th May 1977 in Almelo. In her childhood, she started with lip-synching, in which she even won contests. Due to some success in talent shows, she got some national TV appearance. She started to record country music and won the Dutch Country Music Awards at the age of 17. In 1998, she traveled to Nashville and recorded her debut World of Hurt. The album got very popular in the Netherlands. Until 2012, five more of her albums topped the Dutch charts, only the second album, Living on Love, just made it to the fifth spot. The 2018 and 2019 albums, Ilse DeLange and Gravel & Dust, "just" placed third and second. Despite that popularity in her home country, she never made it big in any other European country. None of her album even made it to the Top 100 in Germany or the United Kingdom, for example. There were some average placements in the Flemish charts of Belgium, though. Changes is Ilse deLange's tenth studio album, released on 15th May 2020.
Ilse DeLange – Changes – Track by Track
Changes contains 12 songs and lasts 43 minutes.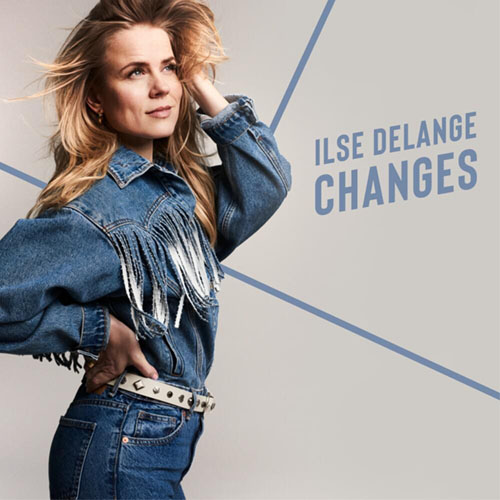 1. Changes
The album starts with the title track, which we already know since about a month. Very pop-alike, hardly any chance to spot her country roots in this one. It is a good pop track, definitely, though.
2. Wrong Direction (feat. Michael Schulte)
Michael Schulte placed third in the 2012 The Voice of Germany and represented his home country in the Eurovision Song Contest 2018 (fourth place). Wrong Direction is a pop duet, nicely done, with a lot of radio potential – though it sounds a bit like German Schlager to me. I saw quite frequent superb reviews of this track, but I don't see it to be that strong. I also somehow feel the two voices do not match too well… Matter of taste, likely.
3. Flow
In some of the previews of the album, I read about that DeLange is departing from country with Changes. The background chorals in this one are a bit too souly maybe, but overall, you could put that track on a Nashville modern country album as well. It would, however, likely be one of the strongest tracks on a really good album. But Flow is definitely pretty solid.
4. Way Back Home
This summer-like pop dance song might not be the deepest song ever, but it makes me smile, makes me dance – so it is a good one. Pop music does not need to be deep all the time.
On my way back home
Where the lights are burning bright across the sky, across the sky
On my way back home
Where the sun is always dancing through the rain, where I can stay
I'm going 'round and 'round and 'round and 'round, I do
I always find my way back, find my way back home
And it could be much worse than these lyrics. Definitely on the plus side 🙂
5. Homesick
Homesick is one of my favorites. A piano ballad, which just is that intense. It has very intense moments here and there, I would even love to have more of them. Cool production, really good song.
6. Deep Sea
The chorus of Deep Sea is cool, definitely. Unfortunately, the verses are a bit too boring and lacking character. Thus, I smile between the When you're diving in the deep sea and I'll be with you words… and take a nap in between. Mixed emotions.
7. Clouds
This guitar ballad has a strong country touch to me. The song is very intense, I just enjoy to listen to this track.
You are not your own God, no universe conductor
And you can't control the clouds that you are under
A symphony takes patience, a little pain and wonder
Some days are violence, and some are thunder
And when the rain is only getting colder
And the hunger's heavy on your chest
With a thousand tonnes upon your shoulder
Of dreams you can't get over
You can't put to rest
No, you are not your own God, no universe conductor
And you can't control the clouds that you are under
And I even prefer the lyrics to other songs of this album.
8. Old Sweater
There's so many new things to try
A list full of friends you can call anytime
There's no need to have me around
I'm just an old sweater in a dark closet now
Very depressive breakup / disappointing love track. It is cool storytelling, thus I enjoy to listen to the song. It is also the kind of music where I feel most comfortable with Ilse DeLange. Nice, but not outstanding
9. Lay Your Weapons Down
I would say that the album is done after eight tracks and we are in the bonus tracks now. The following four songs are just former Ilse DeLange songs. The first song of this block is the 2018 Lay Your Weapons Down. The original version (or at least a version, which is damn close to the original). What does this song tell me? Easy: that I prefer it over most of the songs I heard before on this album. Thus, the 2018 video down here:
10. The Great Escape
The Great Escape was the first Ilse DeLange songs, which nearly made it to the Dutch Top 10 singles (#11 in 2006). Again, I have to say: this is really good music. But it is old good music.
11. Miracle
The 2009 Miracle was the first Dutch number 1 single for DeLange. Not too surprising: the intense ballad is a great song. Worth listening.
12. Where Dreams Go To Die
Where Dreams Go To Die was part of the 2019 Gravel & Dust album. It is described as a very dark and sad country album – and so is that song. Intense and interesting track, but I prefer the three other tunes of the Best of section.
Ilse DeLange – Changes – Spotify
Here is the Spotify pre-listen to Changes:
Ilse DeLange – Changes – My View
Which route does Ilse DeLange want to travel? Changes just does not give any orientation to me. It feels chaotic – and in fact, it is an eight track, 28 minutes album, which is definitely below average. Does it get better by adding four historic tracks, three of them definitely very good ones? I can at most slightly adjust the rating in a positive side. If you are new to the artist, the last four songs tell you why she has been that popular and successful in the Netherlands, absolutely deserved, without a doubt. But there are these eight songs, the new ones. Changes is great and catchy. Wrong Direction or Homesick have a bit of a touch, some have nice stories. But the more effective way to enjoy Ilse DeLange's 2020 produce is just buying the title track's single.
Media Reviews – Women Country
Here are all my music reviews of female country music artists:
Everything about the Netherlands
Here are all postings related to the Netherlands: