Day 3 of my Weird Al Yankovic trip in April 2022 likely had the most relaxed schedule of all. No rental car pick-up or other organizational stuff, just a rather short drive from Poughkeepsie to the next tour stage, Albany, is very relaxed (83 miles, some 1:30 hours). Finally, the list of sights in either of the two places is limited – so I there is not that "I have to see it, tomorrow I am in another city" pressure.
This posting comes with 118 major size pictures in the concert galleries.
Nothing To Wear… But Great Music for Flyctory.com
The fashion label I brought with me from Germany is something like Weird Al Streetwear 😉 For Day 3, a very tough decision to go for the right set of cloth… Because I will be running into the parody grand-master on the evening.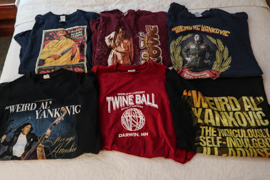 After I made my selection, I by the way reviewed Vita Beata by Stephen Jay, Weird Al's bassist. Hope you enjoyed the review – give this guy a listen:
I Missed That Damn Convenience Food 😉
Breakfast at the Hampton Inn Poughkeepsie… Sounds so weird, but I missed that reliability, even though it is just convenience food, ready-made omelettes and all that stuff… But it is a touch of America to me… So I really had a great start in New York State before heading to its capital.
Woodstock, Part II
The second stop of my trip related to Woodstock – but this time, I went to the real woodstock, the village in the Catskills mountain, after which the festival has been named. Thus, compared to Day 2, a very different experience – this time with a bit of slight rain (again…). Woodstock is such a beautiful place. Second time in my life I have been there – just cannot stop enjoying it! Before leaving, I had a nice sandwich for lunch in a local deli.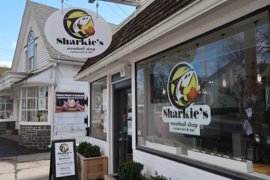 Beautiful Nature
Driving through the Catskills is amazing, by the way. On the route to Albany, I went to have a trip along highway 9W instead of using the Thru-Way. The city of Saugerties is such a beauty. I took a short detour to the waterfront area – unfortunately, the route to the lighthouse was blocked. Heading up North, I crossed a railroad track again and again.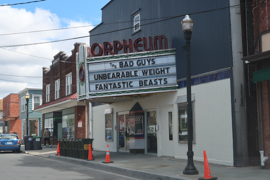 Restocking
During the day, I also had to stop at a Target and a Walmart, grabbing two important items from my bucket list. Mattel / Mega Construx, please do a proper presence of your interlockable building brick sets in Germany! Especially the Hot Wheels stuff is sooo cool. Payday is my favorite US Candy, a mixture of salted peanuts and caramel. Love it… And this retail box is just perfect to take back to Germany 🙂
Less Time Than Expected in Albany
Even though it was just a short distance travel day… I want that tour bus and driver thing, so that I can work while going from A to B. I was at the Hampton Inn & Suites Albany Downtown later than expected – especially as I decided to skip the New York State Museum. A really nice place, rather central… Just a bit more pricey than necessary… And parking fees. This time, staying in the same hotel like Jeremy, so that had some pros as well.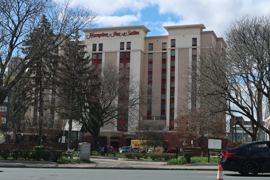 I should have done a slightly different planning than I actually did – especially not going for Boston, but using the free day on Day 4 for some Albany sightseeing and maybe the Cape Cod area. The New York State capital actually has a quite nice city center, what I found out while walking to The Egg. The theater Weird Al was playing in that day is truly iconic.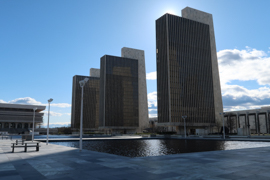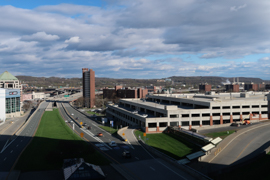 Fun fact of the evening: while I had trouble on Day 2 as I approached the tour bus too closely (which means some seven, eight meters distance), the security in Albany sent me right to the place where the bus was parked twice that evening. The theater bowl features three venues, one over the other. There was a graduation in one of the other theaters. Nobody of that party (who shared the same elevators) wore masks, while the Weird Al tour is very strict in that so far. I highly appreciate it.
VIP Jeopardy and Emo Time…
For Albany, I was VIP guest. No backstage stuff because the band is honoring the German, but best tickets in the house and some extra treatment… For extra money. The 300 USD package includes some extra merch and especially the amazing Weird Al Jeopardy with the great J.W. as host of the show. It has been fun to watch this one.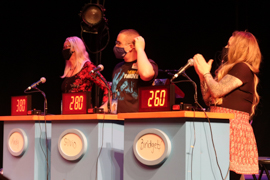 Emo Philips warmed up the crowd with stand-up comedy (like at every show on the tour). I really like this guy.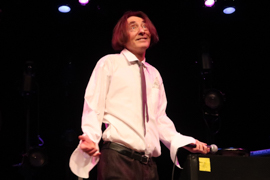 Weird Al – On Stage and Meet & Greet
I had first row center tickets this time, so I had a great view on Stephen and Al and a slightly obstructed one of Kimo. Downside: I did not see Bermuda and Ruben at all. Sorry guys. This time, small size pictures of the show – just because I added the larger ones to a gallery in here (only Emo and Weird Al show pictures). I just used my point and shoot – so they are not have the full quality excellence possible: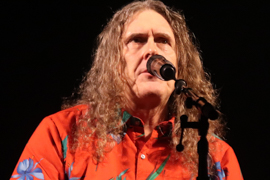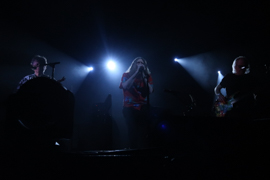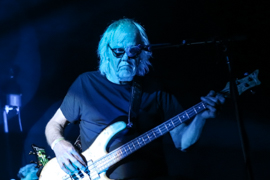 The meet and greet thereafter was cool. Even if you were separated from Al through a plastic glass wall, great to see him again. And thanks to this wonderful heart that he agreed to put down that very special dedication on the tour poster you get for free as a VIP. Don't take it as a real promise or a contract… But I absolutely love the thought:
By the way, I will receive the actual photo in some days… They photoshop the divider between us away… 🙂
Good Night Albany
After this great evening, I walked back to the hotel (of course, passing right in the front of the tour bus… Running gag of this trip I guess). Albany is really nice (and safe) in these areas at night. While working on the pictures, I chatted with Jeremy until I simply fell asleep… Great one!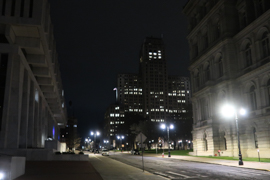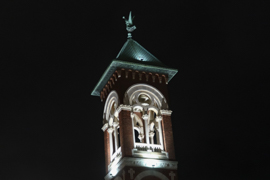 Weird Al Yankovic, Albany, NY, 27th April 2022 – The Gallery
There are 118 major size pictures of the show in the concert galleries:
Weird Al Yankovic 2022 Tour Kick-Off – Day by Day
Here are the episodes of my 2022 Weird Al Yankovic tour kick-off trip report
Day 3, 27.4.2022 – Being VIP in Albany with an informal promise
Weird Al Yankovic 2022 Tour – Flyctory.com Playlist
At the morning of Day 2 of the trip, I decided to create a playlist with all the originals (and very few covers). Just when you need a warm-up soundtrack:
Postings about Road Trips
Here are all road trips on Flyctory.com
Flyctory.com about Weird Al Yankovic
Here are all postings related to Weird Al Yankovic: