It's Christmas time… and while the classic Do They Know it's Christmas? continues with and there's no need to be afraid, music industry really makes me fear that I am too late for the festive days this year. We are writing the 2nd October 2020 – and for this year, Flyctory.com is already reviewing the third holiday album (after the one by Terri Clark and a fail by Carrie Underwood). This time it is nobody but the great Dolly Parton who is sharing her festive thoughts with us. Here is my view on her album Have a Holly Dolly Christmas.
Dolly Parton – About The Artist
74 years old, 64 years of that on stage so far – the career of Dolly Rebecca Parton, born in Pittman Center, Tennessee (not too far away from the nowadays Dollywood theme park, by the way…), is likely outstanding and unique in Women Country music. Even in "country music development countries" like Germany, her name is narrowly linked to the genre. Dolly Parton has eleven siblings, her mother gave birth to the last one at the age of 35. She appeared in a local radio show at the age of ten, and started recording some three years later, when she also appeared for the first time at the Grand Ole Opry. Just listing all of her Hall of Fame inductions would blast this short bio episode already. Wikipedia splits her discography into albums and singles due to the sheer volume – 176 singles as a lead artist (not including the ones she released alongside Porter Wagoner) are just a small numeric example. A Holly Dolly Christmas is her 47th studio album, her second solo Christmas album (the last one was Home for Christmas in 1990 – there was also a Christmas album with Kenny Rogers).
Hard to determine her most important single: 9 to 5 has been turned to the title track of a musical, Jolene is a classic, Joshua was her first chart-lead in the USA. Islands in the Stream, however, even made to the charts in regions, which are not home of a large country music community (e.g. by topping the charts in Austria) – finally, Dolly got them all not just once in her lifetime. And she will do forever, somehow.
D. Parton – A Holly Dolly Christmas – Track by Track
Dolly's Christmas album contains twelve songs and lasts 43 minutes.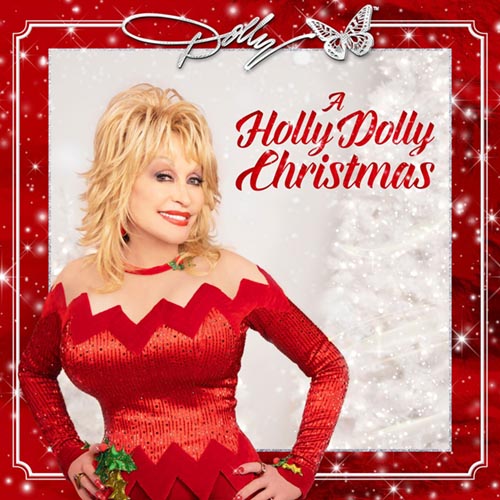 1. Holly Jolly Christmas
The album starts with a very Dolly-alike of the Christmas classic. The track feels a bit like a swing song to me. Her rough characteristic voice may interfere a bit with soft and plushy festive expectations, but overall, it is a nice one.
2. Christmas Is (feat. Miley Cyrus)
Dolly Parton is inviting a lot of celebrities to join her on her Christmas album – and already the first collaboration is a real beauty: partnering Miley Cyrus, the Christmas clash of generations creates a unique, beautiful Christmas pop duet. Love it!
3. Cuddle Up, Cozy Down Christmas (feat. Michael Buble)
Michael Buble in the next duet is not a bad partner at all – and Dolly Parton's new song Cuddle Up, Cozy Down Christmas with hin is a quiet classic sounding US-style festive track as quite many have been recorded. Maybe lacking a bit of uniqueness to the first two songs, but the way the two interact in this recording is definitely somehow magical.
4. Christmas on the Square
Fiddles, dixie stlye, Dolly and Christmas – Dolly Parton tries to make Christmas sound like a Dolly Parton song. I personally feel that this experiment is rather failing and that the fourth track of the album so far is significantly worse than the other songs.
5. Circle of Love
Circle of Love is moving back to slow, intimate sounds, simple recordings as if you would have a little singing and music making with your beloved ones right before the presents – this one just works so much better compared to the song before. A lovely way to say Happy Birthday to you Jesus.
6. All I Want for Christmas Is You (feat. Jimmy Fallon)
I majorly know Jimmy Fallon for his great interactions with Weird Al Yankovic (wouldn't it be cool to have a full weird x-mas album, by the way?) – but now he is doing with Dolly. Dolly is stating that All I Want for Christmas Is You to him and that she always wanted to have a duet with him in a spoken part before they do the Mariah Carey classic together. They do great together – the song feels to get better the longer it takes. One of the highlights of the album, for sure.
7. Comin' Home for Christmas
Not Driving Home for Christmas like Chris Rea did – but this song is another real festive beauty. A Holly Dolly Christmas feels to be at its best in this section of the album. Good listen for the family days guaranteed.
8. Christmas Where We Are (feat. Billy Ray Cyrus)
Maybe it was just cheaper to bring father and daughter into the same album – here comes Billy Ray for Christmas Where We Are. The song is again trying to be more (modern) country alike. I feel that it works much better than for Christmas on the Square. Santa might even do some slight headbanging in the guitar instrumental part – I am sure he is a bit of a rocker as well.
9. Pretty Paper (feat. Willie Nelson)
A triple classic: Dolly, Willie Nelson and Willie's Christmas classic of 1979 – Pretty Paper is just touching the heart of any classic country fan. The two legends just do beautiful in here.
10. I Saw Mommy Kissing Santa Claus
Two of the last three songs on the album have been presented before it as appetizers – and I Saw Mommy Kissing Santa Claus is one of them. The bells, the cheeky sound give this track a strong Christmas pop touch – and make it a lovely to listen song, which even gets more of a country music touch in later parts.
11.You Are My Christmas (feat. Randy Parton)
If you have eleven siblings, you should just include one of them for the family time holidays, shouldn't you? Randel Huston Parton, called Randy, one of her younger brothers, anyway left some marks in the country music business. Rather a Christmas-topic country music song – but not too bad.
12. Mary, Did You Know?
Mary, Did You Know? is a very slow, intimate tune closing the album, which is gaining some power here and there. A beautiful version of the Christmas classic.
Dolly Parton – A Holly Dolly Christmas – Spotify
Here is the Spotify widget to Dolly Parton's album:
Dolly Parton – A Holly Dolly Christmas – My View
A Holly Dolly Christmas might have some parts here and there which I am not particularly fond of – but overall, the country music superstar delivers a much-more-than-solid album for the intimate season. Out of the three country music Christmas albums I now reviewed in 2020, the ones by Carrie Underwood and Terri Clark last week and Dolly now, I would still rather go with Terri – but it is a close competition, for sure. Both albums clearly deserve the Top Pick! status.
Flyctory.com about Christmas
Here are all Flyctory.com postings which deal with Christmas in any way:
Media Reviews – Women Country
Here are all my music reviews of female country music artists: